Midnight, Texas Season 2 Spoilers: How Demon Cancer Led To A Character Leaving Midnight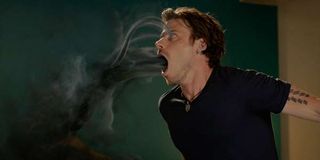 Spoilers for tonight's Season 2 premiere of Midnight, Texas can be found throughout this article. If you haven't bitten into the episode yet, please take a look at one of our other lovely articles.
As much as viewers probably enjoyed the sight of Manfred wandering through the desert in his underwear in the opening scenes of Midnight, Texas Season 2, the really important thing to be discussing from the premiere in particular is the demon blood coming out of Manfred's ears. The so-called "demon cancer" has been a focal point in the months leading up to the second season of Midnight, Texas on NBC. What we didn't know is that it would directly lead to one character leaving the series. Everyone say a heartfelt goodbye to Creek, at least for now.
The episode opened up with Manfred dreaming about walking partially nude through the desert and digging graves. Only, he wasn't really dreaming at all. Instead, he was actually possessed by a sort of demonic cancer--that blood-ish substance we saw leaking from his orifices in the finale last year. Soon, Manfred discovered he wasn't the only person in his family to ever experience the demon residue. He capably pulled a notebook out of a hat from an old uncle and eventually was able to summon that uncle to learn more info about what happened to his own body post-Colconnar. Sometimes being a psychic really comes in handy. Per the resident ghost expert on demon cancer we learned:
Unfortunately, although Manfred knew that he was about to lose control of himself, he chose to keep the info to himself rather than telling his newfound friends in Midnight. Instead, during this time, he leaned on his recently returned dead grandmother for help. However, even though he was supposedly conferring with his grandmother during the episode, it was actually the demon quietly taking over his brain. Manfred eventually lost full control of himself and tied up Creek. After Olivia followed him, he grappled with her and knocked her out as well.
It was newcomer Kai (Nester Carbonell) who saved the day, effectively ridding Manfred of the demonic cancer. But it didn't happen quickly enough and the damage was done in his relationship with Creek. We knew Sarah Ramos wouldn't be a regular on the show during Season 2, and Francois Arnaud, who plays Manfred, told CinemaBlend ahead of the new season that Creek has just about had enough with Midnight, noting,
While Manfred's comments seemed to indicate that wouldn't be the last of Creek, she definitely grabbed her stuff and left Midnight at the end of the episode, pushing back at Manfred's offer to follow her to the big city to pursue her dreams. One of the last things she told Manfred was that she didn't "want to be serving patty melts forever," which seems to fall in line with what Francois Arnaud was indicating would happen with the Creek and Manfred relationship. It was doomed from the start, thanks to her murderous brother combined with a desire to achieve.
Or as Creek put it:
Meanwhile, Kai and Patience Lucero are still big mysteries now they've officially been introduced in Season 2. Kai showed his hand when he saved Manfred from demon cancer, proving his Crystal Desert healing powers were legitimate and not simply smoke and mirrors. (Strange, but legitimate.) However, at least some of the residents of Midnight seem to be suspicious of the couple still, and perhaps with reason.
The premiere showed Kai speaking to a strange shrunken head about vengeance hidden behind a painting in the wall. It was a nice tease regarding what is coming, and it's certainly keeping us guessing. Just like the cast. Speaking from the set in Albuquerque, New Mexico, Peter Mensah, who plays Lem, told us:
One of the Midnighters could be the real problem? That certainly has sold me for Episode 2. Luckily, there are still eight more episodes of Midnight, Texas to go following the big Halloween weekend premiere. To find out where the Friday night supernatural series is going on NBC, tune in for new episodes of Midnight, Texas in a brand new fall timeslot on Friday evenings at 9 p.m. ET, followed by Dateline.
Plus, be sure to check out what new shows still have to premiere this fall with our full TV premiere schedule.
This poll is no longer available.
Photos courtesy of NBC.
Your Daily Blend of Entertainment News
Reality TV fan with a pinch of Disney fairy dust thrown in. Theme park junkie. If you've created a rom-com I've probably watched it.