Outlander's Sam Heughan Missed Wearing A Kilt For Season 4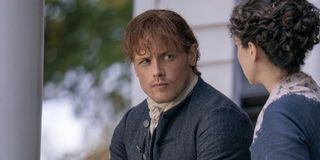 (Image credit: Image courtesy of Starz)
Outlander was once practically overflowing with Scottish Highlanders running around in kilts, but that hasn't been the case since the Battle of Culloden saw the Highlanders massacred. Jamie hasn't had the chance to wear his kilt much since the aftermath of Culloden, and the Season 4 premiere saw him spend the entire episode in pants. Pants rather than a kilt is going to be a theme for Jamie in Season 4.
While Sam Heughan admits that there's a positive to wearing pants, he recently revealed to CinemaBlend and other outlets at an Outlander press junket that he missed the kilt. Here's what Heughan had to say when asked if he missed the garment:
The upside of wearing pants for filming Outlander Season 4 is that Sam Heughan was able to stay warm with woolen undergarments, which likely wasn't always possible with a kilt and bare legs. That's not to say Jamie never strips down while out in the wilderness, as both he and Claire shed clothes to hook up in the woods of North Carolina. As one does. Still, the kilt is an important part of Jamie's identity, and Heughan missed it for Jamie's sake.
It's not difficult to see where he's coming from. Jamie was a proud Scotsman at the beginning of the series, and he was bound and determined to wear just the right kilt for his wedding to Claire. He didn't hesitate to race into battle at Culloden despite knowing he'd likely die and his cause was doomed. The British did everything they could to strip the surviving Scots of their proud Scottish identities, and that included removing their right to wear their plaids.
Going to by Sam Heughan's comments, we shouldn't count on Jamie using his greater freedom in the American colonies to fold himself back into the kilt. He'll be wearing pants for the foreseeable future. They may be more practical for the tasks ahead of him (and for any dealings with the Brits), but Jamie may not be the same without the kilt. Interestingly, Sam Heughan once shared the worst thing about wearing a kilt, although Caitriona Balfe made a good point about why the kilts are actually great for Outlander.
All of this said, viewers don't have to expect kilts to be entirely absent from Outlander in Season 4. Sam Heughan went on to tease the presence of kilts and what Jamie someday wearing a kilt again could mean:
Fans who have kept up with the trailers released for Season 4 have known for a while that kilts will actually be very present in the 1960s storyline, as Roger can be seen dancing in one. Do Sam Heughan's comments point toward other Scotsman in the American colonies wearing their kilts on a regular basis? We'll have to wait and see.
Sam Heughan's mention of saving the kilt for "a big occasion" is certainly interesting, although it sounds like that occasion may not come in Season 4. Book readers who are familiar with the plots of Drums of Autumn may be able to guess what Heughan is referring to, but only time will tell. The good news is that Outlander isn't going anywhere any time soon.
For new episodes of Outlander (opens in new tab) Season 4, tune in to Starz on Sundays at 8 p.m. ET. The stakes are as high as they've ever been thanks to the introduction of Stephen Bonnet, and the action is only going to get more complicated as the season progresses.
Resident of One Chicago, Bachelor Nation, and Cleveland. Has opinions about crossovers, Star Wars, and superheroes. Will not time travel.
Your Daily Blend of Entertainment News
Thank you for signing up to CinemaBlend. You will receive a verification email shortly.
There was a problem. Please refresh the page and try again.