Outlander Season 3 Photos Reveal The Battle Of Culloden In Shocking Detail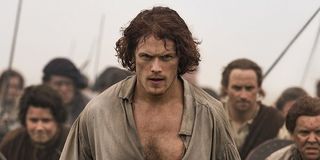 Outlander will soon return to Starz with a new batch of episodes, and fans will finally get to see more of Claire and Jamie after more than a year of hiatus. Although author Diana Gabaldon has promised that Season 3 will be largely faithful to the third book in her Outlander saga, we already know of a big way the new episodes will go in a different direction. We're going to see the Battle of Culloden between the English and the Scots for ourselves.
Of course, we do already know the outcome of the battle. When Claire first traveled to the past, she took with her the knowledge that the Scots were doomed to lose at Culloden and be forced to give up their Highlander way of life. Jamie and Claire spent Season 2 trying to change history so Culloden would never happen, but it was clear by the Season 2 finale that history would unfold as it always had: with the devastating Battle of Culloden and the end of the Scottish clans. We've known for a while that Season 3 would feature the battle, and Starz has released some photos that paint a shockingly detailed look at the beginning, middle, and aftermath of Culloden. Take a look!
Warning: spoilers ahead for the Battle of Culloden in Outlander Season 3.
Jamie and his fellow Scots clearly begin the battle with all of their characteristic ferocity (and kilts). Only Jamie and Murtagh are going into the Battle of Culloden knowing the outcome and their likely fates, but the look on Jamie's face makes it clear that he plans on taking plenty of English soldiers down with him before he too is killed. He has his sword and dirk out ready to go, and the Highlanders behind him seem prepared for the fight as well.
The Scots clearly won't just march into battle, despite Jamie's attempts to train them in modern ways of war back in Season 2. We saw in the final episodes of the season that the Highlanders' method of screaming at and charging their enemies was a great way to scare them into making deadly mistakes. Sadly, the tactic that worked in Season 2 almost certainly won't work in the doomed Battle of Culloden. Judging by this picture, the English will have brought cannons into the mix, and we've already learned what cannons can do to the Highlanders.
Jamie clearly doesn't make it through the battle without taking some injuries, although it's difficult to tell how much of that blood is his and how much is the blood of fallen English foes. Whatever happened, Jamie still has enough left in him to battle his nemesis, Black Jack Randall. We've known for a while what is going to happen to Randall at Culloden, but that shouldn't make it any less satisfying to see Jamie finally get his revenge on the man who so brutally assaulted him and others. That said, given what happens to Jamie, we shouldn't be surprised if Randall manages to wound Jamie pretty severely.
No, this isn't a picture of Claire somehow returning to Culloden in the 18th century to walk the bloody plains. Executive producer Ron D. Moore has revealed that Jamie will be hallucinating after the battle has ended, which probably results from infection of the wound that he suffered in the books. Jamie will evidently hallucinate his absent wife in a white gown, wandering the field of Culloden among the dead Highlanders. Basically, Outlander Season 3 is going to get off to a very bloody and very tragic start.
Fortunately, we don't have to wait too much longer to see for ourselves. Outlander will return to Starz on Sunday, September 10 at 8 p.m. ET. Check out our breakdown of what we know so far about Outlander Season 3 for a refresher on what's been revealed so far, and don't forget to swing by our fall TV premiere schedule.
Resident of One Chicago, Bachelor Nation, and Cleveland. Has opinions about crossovers, Star Wars, and superheroes. Will not time travel.
Your Daily Blend of Entertainment News
Thank you for signing up to CinemaBlend. You will receive a verification email shortly.
There was a problem. Please refresh the page and try again.