Dancing With The Stars Judges Freaked Out After Contestant With Perfect Scores Was Eliminated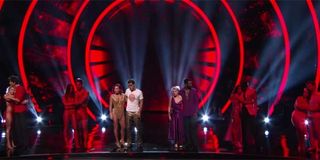 If you've been watching Dancing With The Stars this season, you should be aware that Juan Pablo Di Pace has been a standout. The Fuller House actor has really looked like a professional on the floor with Cheryl Burke and this week his finessed acts earned him a perfect score in not one, but two dances. However, it wasn't meant to last. Despite the great numbers Juan Pablo Di Pace was voted off of Dancing with the Stars last night along with Joe Amabile. The judges, for obvious reasons, were not pleased with the show's results, in particular with Juan Pablo's elimination.
Len Wiseman even made an audacious statement about Juan Pablo losing his spot as we approach the finale, noting,
Carrie Ann Inaba could audibly be heard saying "wrong" and Cheryl Burke even told reporters (via Fox News) that the decision was "bullshit." Doubtless, we would have heard more from Len if the broadcast had more time, as well. If you really want to know how upset Len and Carrie Ann were, they both stood up to voice their feelings about how the results came through during this week's episode. Of the three judges, Len is generally the most technical and the least emotional, so his response was a bit shocking to watch.
Joe and Jenna, Alexis and Alan, and Juan Pablo and Cheryl were in the Bottom 3 when the announcement was made by the hosts that both Joe and Juan Pablo would be going home. Some of this was not a huge surprise, as Joe and Jenna and Alexis and Alan had been in the Bottom 3 prior, although only Joe and Jenna have really been struggling with getting good scores from the judges throughout the season. Audible boos could be heard over and over again after the announcement was made on Dancing with the Stars that the Fuller House star would no longer be in the game, and with good reason.
Juan Pablo Di Pace mentioned in an interview that he and his dancing partner were really hoping to make it to the finals and had worked "bloody hard" to get there. They were, in fact, the highest-scoring couple at the time of their elimination. They scored perfect 30's five times this season--and that's without even making it into the finals. Alexis, Evanna and Milo have each hit a 30 once. So, clearly they were leagues ahead of the competition this season. That's really not a shot, Evanna Lynch has really improved throughout the season and Alexis Ren and Milo Manheim have been solid performers, as well.
If you caught the episode, you should even know that hosts Erin Andrews and Tom Bergeron were not happy with the results, as evidenced by an aggravated Andrews literally revealing she "wasn't happy" with how America voted this week, also booing with the crowd as the show was ending. If you haven't caught the clip, it was a big moment for the series in Season 27. Be sure to take a look.
This is how Dancing with the Stars goes though. Due to the way ABC has set up the show, someone really good typically goes home around this time during the season, as other, less talented individuals with bigger fanbases prevail. It's a fact of life for the show, and even being a key player in Netflix's popular Fuller House couldn't stop it.
Cheryl Burke told ET about what she thought happened, noting:
Cheryl Burke could totally be on to something, but sometimes I think the age of the audience versus the stars involved can have an effect as well. For example, Instagram star Alexis Ren has been in the bottom over and over again, and her dancing has been top notch through most of the season (although I'm far less pumped about her little romantic subplot). Her followers are generally on the younger side, and I wonder if they simply don't watch traditional TV models, or at least don't watch Dancing with the Stars when it airs live and ABC has the voting open. That's certainly part of the game, though.
Really, of the three couples in the Bottom 3, the only one left who really should probably have gone home a few weeks ago was The Bachelorette's Joe Amabile. He's a tryer, so that certainly counts for something, but he wasn't at the level of the other dancers and it really was time for him to go home. His legions of Bachelorette fans on ABC likely kept him in the game despite his dancing.
If we are talking people who are left that are not quite up to par, it's really Bobby Bones. Even though Bobby isn't great, he's a ton of fun to watch, and I could see him eking his way into the top 3 like David Ross did during Season 24.
We're approaching the finals of Dancing with the Stars. Week 9 will mark the finals and will be the Freestyle week for Season 27. Left in the competition at this moment are Bobby Bones and professional dancers Sharna Burgess, Evanna Lynch and pro Keo Motsepe, Milo Manheim and pro Witney Carson, and Alexis Ren and pro Alan Bersten. If you have favorites, be sure to tune in and vote coming up, because we have officially reached crunch time. Who will win the Mirrorball trophy? Only time will tell.
New episodes of Dancing with the Stars air on Mondays at 8 p.m. ET, only on ABC. To take a look at what else is heading to the schedule before fall TV wraps up, take a look at our full schedule of new and returning shows.
Your Daily Blend of Entertainment News
Reality TV fan with a pinch of Disney fairy dust thrown in. Theme park junkie. If you've created a rom-com I've probably watched it.