6 Star Wars Characters Who Should Appear In Disney+'s Rogue One Prequel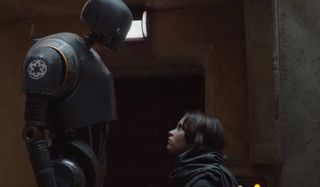 News broke recently that Disney's streaming service, Disney+, will be getting not one, but two live-action Star Wars series. The latest of which to be announced will star Diego Luna reprising his role as Cassian Andor and follow his character on spy missions for the Rebellion in a show that serves as a prequel to Rogue One: A Star Wars Story. Here are some folks we'd like to see appear in the new show, in no particular order.
K-2SO
This is the most obvious addition to the Rogue One prequel cast, as Cassian's reprogrammed Empire droid was a stand out in the film. His dry humor, immense strength and blunt nature will help him take the edge off what could be a heavy handed adventure given Cassian's somewhat extreme way of crossing lines for the rebellion. He's essentially the Chewbacca to Cassian's Han, so we'd like to see Alan Tudyk's droid return.
Perhaps the series could dive into K-2SO's origins and show how Andor flipped his switch and allegiance in the war between the two factions. The story has already been detailed in Marvel comics, however, so Disney+ may direct its audience in that direction and focus on tales set after the two became partners. Either way, it'd be a shame if the entire thing came in went without K-2SO, so let's hope he's along for the ride.
Darth Vader
Darth Vader's small, but commanding presence in Rogue One: A Star Wars Story made up some of the film's best moments. The film originally had a scene penned out for the Sith larger than his two appearances, but it was dropped for the epic Raddus hallway scene instead. That dropped scene could always be reworked to be in the prequel series, as we're sure few would have a problem with seeing Vader lay waste to Rebel scum.
We're not suggesting that Cassian Andor and Vader have some face-to-face encounter, but perhaps Cassian finds himself at an event where Vader is also present? This could come in the form of Empire strikes on Rebel bases, or if Cassian is fishing for intel on an Imperial ship. The latter probably wouldn't lead to scenes with a ton of action, but it could give the program a chance to showcase some of Vader's strength with modern technology.
The Ghost Crew
Rogue One: A Star Wars Story made a few nods towards the animated adventure Star Wars Rebels. Chopper was spotted in a group shot of the Yavin IV base, and a call to "General Syndulla" was heard over the intercom. Additionally, the Ghost is spotted above the battle of Scarif which would seem to imply they were present for the goings-on.
Given those references, it seems highly likely there are some additional connections between the two franchises that will appear in the Rogue One prequel show. Hell, we might even see live-action versions of Ezra and the crew team up with Cassian depending on when it's set exactly. We're all for it, but we're curious whether characters like Kanan would be portrayed by his voice actor, Freddie Prinze Jr., or by someone else. Either choice could prove controversial amongst fans.
Darth Maul
With the chances of a Solo: A Star Wars Story sequel not looking so great, the Rogue One prequel could be the vehicle to give more screentime to one of the Solo adventure's surprise cameos. Darth Maul probably wouldn't be as well connected to Qi'ra or the Solo film, but with Star Wars Rebels establishing he survived long enough to square off with Obi-Wan once more, he could totally be around for this romp.
Whether or not Cassian Andor would encounter Maul or any members of the Crimson Dawn crime syndicate is another story. We're not sure if any of Cassian's adventures for the rebellion will lead to exchanges with the criminal outfit, although we wouldn't be surprised to find a few of its members wandering around Empire strongholds. We're certainly hoping he runs into a few, if only so we can see Maul have another big adventure in live-action.
Mon Mothma
If the Rogue One prequel is indeed centered on Cassian Andor's spy work for the rebellion prior to the film, we'd have to think Mon Mothma is a part of the action. Mothma became the commander-in-chief of the Rebel Alliance, and is one of the few characters with an established presence in all possible eras this prequel could touch.
Granted, Mon Mothma's role in the Rogue One prequel wouldn't have to be that substantial. The series could just show her at a couple Rebel meetings or in a couple conversations that do enough to establish she's around and hard at work while Andor's spying for the Rebellion. It's one of those character appearances that wouldn't necessarily have to make a profound impact, but it would certainly be noticed by Star Wars fans if she's left out.
Obi-Wan Kenobi
If Cassian Andor's work for the Rebellion leads him to Tatooine, this is an appearance we must see. Granted, we know Obi Wan's mainly hanging out to protect Luke Skywalker, but he's been known to have an adventure or two in his downtime. Perhaps Obi-Wan could serve as a point of contact with information Cassian needs to deliver, or a mysterious stranger who intervenes just when he gets into a situation that could land him in trouble.
We're not entirely sure how likely this appearance will be, as bringing Tatooine in could open up a can of worms in the Rogue One prequel. Star Wars viewers might expect an appearance of a teen Luke Skywalker, or even mob boss Jabba The Hutt (which Diego Luna would love). Also, there'd be obvious pressure to bring back Ewan McGregor as an older Kenobi, which could come at a high price. Perhaps that's a price Disney's willing to pay, especially given The Mandalorian's massive budget.
Work on the Rogue One prequel is believed to start development sometime in 2019, and the series will air on Disney+. For premiere dates for lots of other television shows in the meantime, be sure to visit our fall premiere guide and midseason premiere guide.
Your Daily Blend of Entertainment News
Mick likes good television, but also reality television. He grew up on Star Wars, DC, Marvel, and pro wrestling and loves to discuss and dissect most of it. He's been writing online for over a decade and never dreamed he'd be in the position he is today.
Your Daily Blend of Entertainment News
Thank you for signing up to CinemaBlend. You will receive a verification email shortly.
There was a problem. Please refresh the page and try again.