The Big Bang Theory Is Bringing In Young Sheldon Stars For A Crossover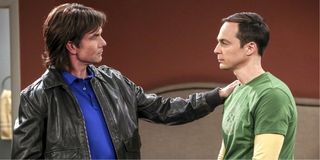 Last year, when fans of The Big Bang Theory heard that a prequel show about Sheldon Cooper was on the way at CBS, many of them immediately wondered if there would ever be the possibility of their beloved characters from that hit comedy mingling with those of Young Sheldon. It seemed unlikely, seeing as how the latter series follows Sheldon during his formative high school years as a 10-year-old in Texas, but now we know that the good folks behind both shows have found a way to make this dream come true for fans.
Three characters from Young Sheldon will be making the leap into a California future when they appear on an upcoming episode of The Big Bang Theory. Actors Iain Armitage (Young Sheldon), Montana Jordan (Sheldon's big brother Georgie) and Lance Barber (Sheldon's dad, George) will all come to the sitcom in its final season as their Young Sheldon characters in one episode. According to The Wrap, fans won't have to wait long for what I'm sure will be billed as a "very special" episode of The Big Bang Theory, either. These Young Sheldon characters are set to show up in December, so the creative powers behind each comedy have likely been working on the story that will bring them together for quite some time.
And, speaking of the story that will see current day Sheldon (possibly) interact with his childhood self, dad and brother, we have no idea yet what the general plot is or how this meeting of past and future will even be able to happen. Though, I can make some guesses.
My first theory is that Sheldon, as a theoretical physicist, will actually happen upon some discovery that lets him travel through time. As we all know, Sheldon prides himself on being a master in his field, one which he considers to be above most others, and even though he's become more evenly balanced when it comes to his work life and personal life, he's still all about sweet lady physics. He also works his ass off, so it's not a huge stretch that he would somehow (probably by accident) break the barrier of time and space so as to make hanging out with these past versions of himself and his family briefly possible.
Of course, this is just The Big Bang Theory we're talking about here, and such a discovery would never be allowed to stand on the comedy, for many reasons. Plus, why take things to such an extreme when the writers can take a much easier track to get Sheldon, Sheldon, George and Georgie together for the first time?
Obviously, one relatively easy way this can happen is through the tried and tested dream sequence. The episode will air in December, after all, so maybe a call or actual visit from Sheldon's mother Mary (or his now-adult brother George, since they've mended fences) during the holiday season will prompt Sheldon to dream about his childhood. As we've seen many times, Sheldon's nocturnal activities are much more likely to include dream time visits from those he holds dear than any in real life boot-knocking, much to his wife Amy's continued, but agreed upon, dismay.
Along the same lines as this, we could also be treated to Sheldon getting lost in his thoughts during a distracting time at home (say, when Amy is blathering on about the brain or some such girly topics), which leads to him day dreaming. Or, we could get an actual flashback to events that haven't been seen on Young Sheldon yet. But, I feel like either of these options wouldn't give fans what they really want, which is modern day Sheldon getting a chance to interact fully with folks from his childhood.
As I think about the plot possibilities a bit more, I believe I've come up with a handy way that we could get interaction between Sheldon and his past family members, but also still have a lot for Amy, Penny, Leonard, Howard, Bernadette and Raj to do. Again, since this episode is airing in December, that's prime holiday time...and the perfect time for The Big Bang Theory to go a little A Christmas Carol on everyone.
Wouldn't this be a perfect "very special episode" idea? Sheldon gets in a bah-humbug mood about the holidays and gets a talking to from Amy or one of his friends about it, but he won't budge (you know how stubborn Sheldon is). This will prompt visitations from the ghosts of Christmas Past, Present and Future just like in the classic Charles Dickens tale, but this time they'll be presented as Young Sheldon, his brother Georgie as a kid and his dad George.
This would be even more poignant because, as viewers know, Sheldon's dad died in 1994 and adult Sheldon hasn't had the opportunity to talk to his old man in a very long time. While he and Sheldon didn't have the best relationship, mostly due to George just not being able to understand his genius son and the fact that he drank much more than he should, a scenario like this might be able to give Sheldon some belated closure with his dad.
Now, before you cry that this is actually just another form of dream sequence, I would like to call your attention to the magic of Christmas. This wonderful time of the year dictates that the unbelievable can actually happen for the greater good, meaning that should The Big Bang Theory take this Christmas Carol route with its storytelling, our Sheldon will really be visited by the spirits of his younger self, his brother's younger self and (of course) his dad's remorseful ghost. So, just to be clear: this is not a dream, this is holiday magic.
Alright, now that I've come up with this, I cannot imagine a better storyline for The Big Bang Theory to follow when Young Sheldon, George and Georgie crossover to the comedy. And, I can admit to being even more intrigued as to how they plan to get those characters to the future now that I've been considering some cool options for quite a while.
We don't have a firm airdate for this crossoverpalooza just yet, but it's coming next month, so be sure to stay tuned. The Big Bang Theory airs on CBS Thursdays at 8 p.m. EST, with Young Sheldon following at 8:30 p.m. EST.
Yennefer's apprentice, Gilmore Girl; will Vulcan nerve pinch pretty much anyone if prompted with cheese...Yes, even Jamie Fraser.
Your Daily Blend of Entertainment News
Thank you for signing up to CinemaBlend. You will receive a verification email shortly.
There was a problem. Please refresh the page and try again.