Grey's Anatomy: 10 Moments We Need From Season 15 In 2019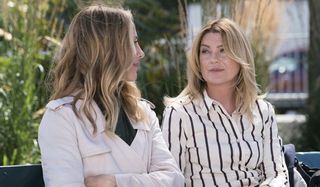 Grey's Anatomy Season 15 just stranded half the cast in elevators until early 2019. When the show does make its midseason return, we have a list of things we'd like to see. Since this is the "Season of Love," most of the requests are tied to Grey Sloan romances.
Someone Has To Cure Catherine
Please? In Season 15, Episode 7, Grey's shocked us with the news that Catherine Fox (Debbie Allen) has Grade 3 chondrosarcoma in her spine. So far, the cancer is unresponsive to chemotherapy and tough to treat. Meredith Grey (Ellen Pompeo), Tom Koracick (Greg Germann), and -- thanks to Meredith -- Maggie Pierce (Kelly McCreary) are the only ones to know the truth heading into 2019.
Catherine is worried about what the news will do to her husband, Richard Webber (James Pickens Jr.), who is already a bit of a mess this season. We're not ready to lose Catherine. Neither is Richard, or her son Jackson Avery (Jesse Williams). Plus, Grey's fans do not need to see another beloved character die, from cancer or anything else. That list includes matchmaker Cece, too, whose fate was also left up-in-the-air in the winter finale.
Bailey Needs To Manage Her Stress And Get Back With Warren
It doesn't make sense for Miranda Bailey (Chandra Wilson) to want a break from her husband Ben Warren (Jason George) because she's too worried about him as a firefighter over on Station 19. Has she missed how dangerous Grey Sloan is on a daily basis? Stepping down as Chief of Surgery has not helped her stress at all. She is too invested in the hospital to just walk away -- and she'd probably worry even more if she stayed home.
For her health, Bailey does need to figure out a way to manage her stress. It seems like low-key Ben could actually help with that. Their non-separatation separation feels more like manufactured drama than anything that makes sense. Just let them be each other's refuge.
Alex Needs To Step Up As Interim Chief
Bailey won't really be able to manage her stress until Alex Karev (Justin Chambers) rises to the job he was hired to do. He's still getting used to the gig, but the winter finale showed his messy, disorganized office -- plus he overslept and wasn't there to lead during the big wind storm. Instead, he had a second honeymoon with his "wife" Jo, who isn't even technically his wife because they forgot to mail in the marriage license.
Alex needs to pull himself together and really take charge in 2019, at least until Bailey returns full-time to that role. Alex definitely has a leader inside of him, and he has already shined a few times in the role, but Bailey needs to be able to trust that the hospital is in good hands with Alex.
Meredith Should Hook-Up With DeLuca, But End Up With Koracick
You're going to disagree on this, but while Andrew DeLuca made a swoon-worthy case in the winter finale, I'm still pulling for Tom Koracick to be Meredith's next lasting love. Meredith and Tom bonded over treating Catherine, and they seem to be equals on so many levels. Plus, they already survived a flight together, and for Meredith that's half the battle.
But since the 2018 ended with Mer and DeLuca in an elevator, sure -- let them have some fun in there. I'm all for that. Mer has already had sexy dreams about DeLuca after their wedding kiss, so let that play out. Koracick hooked up with both April and Amelia, so Meredith can play with DeLuca and maybe even Link. But I like Koracick for her long-term.
Maggie And Jackson Need To Be Together For The Right Reasons Or Not At All
Meredith convinced Maggie to stop being mad at Jackson for the time-being because Catherine is sick, and Jackson is going to need Maggie for support. That makes sense for now, but it's not enough of a foundation for a lasting relationship. Maybe this will give Jackson an opportunity to open up to Maggie the way he still does to April -- and that random new friend Kate. Maybe Maggie will be exactly the right shoulder for him to cry on, and maybe she'll even open up to him in return. If so, good for them.
I'm still getting used to Jaggie as a couple, despite them being stepsiblings and not having much chemistry, from my perspective. Jackson and Maggie were just starting to grow on me before Grey's ripped them apart with Jackson ghosting her for a monastery trip. They have deep issues to work through, and his mother being ill (don't say dying!) isn't really enough to keep them together.
Owen And Amelia Should Stay Together While Focusing On Parenting
Owen Hunt (Kevin McKidd) and Amelia Shepherd (Caterina Scorsone) were a mess as a married couple, but they have really found themselves and each other as foster parents. I love Omelia right now. I also refuse to blame pregnant Teddy Altman (Kim Raver) for "coming between them" since this is really Owen's doing. This is also what Owen always wanted -- to be a dad. It can work. It should work with Owen and Amelia staying together, and Teddy co-parenting with Owen.
Owen, Amelia, and Teddy are now stuck in an elevator together, which is super awkward. But they worked well as a team when trying to track down young Betty, so hopefully they can all stay a team instead of turning this into something ugly. They are adults. Let them be adults about this.
Let Teddy Find Her Own Lasting Love ... With Link?
Right now new "ortho god" Atticus "Link" Lincoln (Chris Carmack) is into Meredith Grey, but I'm not seeing a future there at all. But what about Link and Teddy? She deserves someone who would put her first. He's also pretty good with kids. This would be a slow-burn situation, but I like the idea of planting seeds late in Season 15, and maybe seeing them bloom next year in Season 16.
I'm not married to this Link/Teddy idea, but I'm done with the Poor Teddy angle. She doesn't have to have her own man -- it would actually be cool to just see her bond more with the ladies, hanging out and dancing with Mer, Maggie, and Amelia. Just don't let her storyline be the third wheel to Owen and Amelia. She deserves better.
Glasses And Nico Need More Air Time, Together And Apart
I love a blossoming Grey's love story, but that's not the only reason to put a character on screen. The relationship between Levi "Glasses" Schmitt (Jake Borelli) and Nico Kim (Alex Landi) is already a win, and things just took a sexy turn inside that wind-shaken ambulance.
I'm looking forward to seeing them date, even though Nico is conflicted about being Glasses' first gay romance. He doesn't want to go through another big coming out. But Glasses made a great case for himself in the winter finale, and they definitely seem to be a couple entering 2019. But I still need to see more of them as individuals, as well as practicing doctors. Who are they? Show us. Let them thrive on their own as well as together.
Give More Backstory And/Or Standalone Episodes To Lesser-Known Characters
This may be controversial, since not everyone loves standalone episodes -- or minor characters. But I, for one, am interested in seeing more of the other hot DeLuca, Carina. I also cannot get enough of Greg Germann as Tom Koracick. He is winning me over with his cocky sarcasm, but he's also hinted to some tragedy of his own. I'd like to dig deeper there.
Also, as much as I groaned when they added more interns, I'm ready for Jaicy Elliot's Meredith Grey-loving Dr. Taryn Helm to have her own episode -- or tag-team her with fellow surgical intern Dr. Dahlia Qadri (Sophia Ali).
Let's Have More Adventures Outside Grey Sloan
I love that hospital, but I love it even more when we briefly leave it behind for group activities elsewhere. From weddings and boat rides to road trips, I love seeing Grey's characters bonding in awkward or just unexpected situations. It's also just delightful to see our favorite docs out of their comfort zones -- whether that's in Seattle or literally anywhere else.
This idea could be paired with the standalone/backstories idea for, say, Carina and DeLuca heading to Italy, or the interns getting stranded in a mall coffee shop, etc.
Bonus: Clarification On the Show's Future
Ellen Pompeo's fancy contract extends through Season 16 next year, but will that be the end? If so, start pulling things together for a satisfying ending. We need Cristina Yang (Sandra Oh) to come back, at the very least, but start making calls for other stars/characters to return too.
Fans would love to see Callie, Arizona, April, Izzie, etc. one last time. Also, maybe start angling characters toward their end-game romances. Hint, hint, Meredith.
As the sun now stands, just days after the Grey's Anatomy Season 15 winter finale, ABC has not released a 2019 midseason return date for Episode 9. But the show always comes back on a Thursday in January, so just clear your calendar and stay tuned to see how they resolve all of that wind storm elevator drama. And check out our fall 2018 premiere guide for more TV shows to watch.
Gina grew up in Massachusetts and California in her own version of The Parent Trap. She went to three different middle schools, four high schools, and three universities -- including half a year in Perth, Western Australia. She currently lives in a small town in Maine, the kind Stephen King regularly sets terrible things in, so this may be the last you hear from her.
Your Daily Blend of Entertainment News
Thank you for signing up to CinemaBlend. You will receive a verification email shortly.
There was a problem. Please refresh the page and try again.