How Arrow's Oliver Will Be Different After Getting Out Of Prison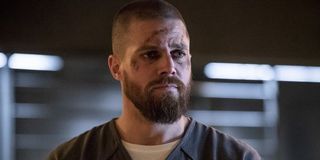 (Image credit: Image courtesy of The CW)
Warning: spoilers ahead for Episode 7 of Arrow Season 7, called "The Slabside Redemption."
Arrow Season 7 hasn't felt like the same Arrow that fans knew and loved thanks to leading man Oliver Queen being stuck behind bars. Oliver in prison did open the series up to covering new ground, and he's bound to be different after his experiences in the clink. Well, "The Slabside Redemption" saw Oliver free after one gigantic action sequence that will go down as one of the most unforgettable of the entire series, and star Stephen Amell weighed in on how Oliver will be different post-prison.
Even by Oliver Queen standards, his time in Slabside Prison has been been hellish. Before he got himself sent to Level 2, he was facing attacks from fellow inmates who weren't exactly fans of the former vigilante. In fact, Oliver has had bruises and cuts on his body for almost the entire season, to the point that the iconic Green Arrow goatee wasn't even the most noticeable thing about his face. Such an experience would naturally leave a mark lasting beyond however long it takes for the bruises to heal!
Stephen Amell was determined that Arrow would show the effects of Oliver's time in Slabside, both in the beginning of the season when he'd already been locked up for months and by the time the seventh episode aired. Instead of Episode 8 next week taking fans back into Oliver's life in Star City without any indication of what he'd suffered, the show will acknowledge everything he's been through. It's not like Oliver was established as somebody who easily moves on from trauma in the first six years of the show!
Only time will tell just how much Oliver's experiences in Slabside stick with him. After the action-packed hour that was "The Slabside Redemption," we have to hope that the guy has at least enough time to get a good night's sleep (with Felicity by his side) before trying to adjust to life on the outside again. Stephen Amell went on in his chat with CinemaBlend and other outlets at a recent set visit to say this about specific ways he wanted Oliver to be different after leaving the clink:
Oliver's wardrobe will be going somewhat old-school Arrow, but it sounds like we shouldn't expect him back in the clothes he wore whenever he'd hit the town and pretend to party the night away at Verdant! He also probably won't be able to wear the green hood on a regular basis any time soon. The upcoming crossover that sees him back in superhero duds may not mean that he's able to hit the streets as a hero anymore. The crossover looks bonkers enough that I can imagine a reset will happen!
Interestingly, Oliver will apparently be attending a gala in next week's episode, and galas and parties were once a staple of Arrow back when the Queens still had their money. Stephen Amell didn't reveal how his gala wardrobe would differ from his mayor wardrobe -- which was really pretty much just a suit -- so we'll have to wait and see on that count. Basically, it sounds like we can expect Oliver's post-prison changes to linger for a while, even if they won't be the focus of all his scenes.
Of course, a big question is how the original Green Arrow will react to the new Green Arrow running around the streets of Star City. He may have been freed, but he wasn't declared innocent of his actions as Green Arrow. He was still outed as the Emerald Archer, so he'll likely be questioned and perhaps even accused regarding this new vigilante. Admittedly, Oliver was locked up during the new archer's early exploits. Still, the press and sanctioned law enforcement in Star City haven't always been the savviest of investigators.
Stephen Amell had this to say about Oliver's reaction to the new Green Arrow:
The emergence of a new Green Arrow evidently won't instill in Oliver the need to reclaim his title in Star City. Did his stint in Slabside scar him enough that he's ready to leave the bow and hood behind for the rest of his life, aside from the occasional relapse? Now, in the immediate aftermath of his release from prison, that could very well be the case. Given that he's the star of a show called Arrow, however... well, I'd be shocked if we don't see him back as the Green Arrow again.
Find out what's in store for Oliver next with new episodes of Arrow on Mondays at 8 p.m. ET on The CW. Oddly enough, we may see him back in a very different superhero suit long before he's back in the green leather thanks to the "Elseworlds" crossover." The latest trailer offers no fewer than six awesome moments that have us totally psyched, so be sure to check out our breakdown. For some upcoming viewing options, swing by our midseason TV premiere schedule.
Resident of One Chicago, Bachelor Nation, and Cleveland. Has opinions about crossovers, Star Wars, and superheroes. Will not time travel.