What Lethal Weapon's Heartbreaking Cole Twist Means For Season 3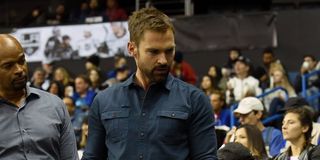 (Image credit: Image courtesy of Fox)
Spoilers ahead for the November 27 episode of Lethal Weapon Season 3, called "What the Puck."
When Lethal Weapon kicked off its third season, Seann William Scott stepped in to play Roger's new partner Cole. Although Cole has spent most of his screen time with Roger getting into all kinds of trouble with the LAPD, he has also been working to reconnect with his former lady love and his daughter. He was making positive strides as the episodes passed, and he ultimately shared a kiss with Natalie.
"What the Puck" saw Cole and Natalie dealing with the aftermath of the kiss, and the aftermath ultimately delivered heartbreak to poor Cole that should have lasting effects. Here's what happened.
At first, Cole was being relatively chill about the kiss. He definitely wanted to talk to Natalie about it, but he didn't feel the need to push her for a meeting... until he realized that her perfectly decent boyfriend Andrew had big plans for an upcoming night out. Cole knew that Andrew was planning to propose to Natalie, and he had to have a chat with her about their potential future before Andrew could pop the question.
Given that Natalie is a doctor and Cole is a cop, it wasn't easy for them to sync their schedules on the fly, and Cole got some questionable advice from a criminal about how to try and persuade her to meet him. The criminal nixed Cole's first draft of a text to Natalie, saying that it didn't pack enough of a romantic punch. Cole's second draft explicitly stated that he couldn't stop thinking about their kiss, which... was not a very smart thing for him to do.
Natalie had explained to him in their first conversation of the episode that she hadn't told Andrew about the kiss, and if Cole had really thought about what he was sending, he might not have mentioned the kiss. Instead, he texted her a suggestive message, and Andrew saw it. Understandably, Andrew was devastated to learn that the woman he wanted to marry had just kissed her ex, who also happened to be the father of her child.
Andrew and Natalie's relationship seemed done, and to his credit, Cole clearly felt awful for upsetting both of them. When Andrew stormed into the LAPD, Cole took him to a private room and offered to let him hit him. Andrew didn't want to hit Cole, and they had a heart-to-heart in which Cole made it clear to Andrew that Natalie wanted him rather than another go around with Cole. It was enough for Andrew to regain his confidence in the relationship and pop the question to Natalie, who happily accepted.
Congrats to Natalie and Andrew, but not so much to Cole. He later told Natalie that he was happy for her, and perhaps he will be in the long run. For now, his dynamic with Natalie -- and perhaps his daughter, by extension -- is bound to be different. Although he may be the same cop in action, he could be a very different man in his downtime whenever he's not having a boys' night with Roger. Now he has heartbreak to deal with on top of his PTSD!
That said, the episode also seemingly opened the door for a new romance for Cole in the form of Erica, the A.D.A. whose car Cole crashed into in his opening scene. Despite their rough introduction and their disagreements throughout the hour, their banter was decidedly flirty, and they ended the episode on good terms. Is Cole going to move on for a relationship with Erica? We'll have to wait and see. Lethal Weapon is certainly going all out with dynamic female characters this season!
Here's hoping the show doesn't get cancelled before it gets the chance to explore the new characters and relationships. Tune in to Fox next week at 9 p.m. ET for the holiday-themed episode of Lethal Weapon, and it looks to be filled with more car chases, explosions, and chainsaws than most people expect out of the yuletide season. If you're looking for some viewing options once the fall shows go into their winter hiatuses, swing by our midseason TV premiere schedule.
Resident of One Chicago, Bachelor Nation, and Cleveland. Has opinions about crossovers, Star Wars, and superheroes. Will not time travel.
Your Daily Blend of Entertainment News
Thank you for signing up to CinemaBlend. You will receive a verification email shortly.
There was a problem. Please refresh the page and try again.