This Is Us' Eris Baker Talks Season 3's 'Her' And More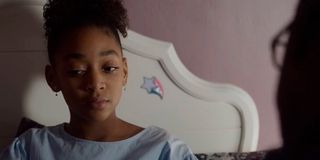 The mystery surrounding "Her" has dominated This Is Us Season 3. The fact that the first half of the season has done little to reveal this person's identity may be frustrating to some, but actress Eris Baker seems to think the reveal is worth the wait. Baker, who plays Randall's daughter Tess on the NBC drama, spoke to CinemaBlend about her reaction to finding out "Her" and how folks may react.
If the reveal is someone not even a person as involved in the show as Eris Baker was expecting, then "Her" might really shake some fans to the core. That said, Baker spoke to CinemaBlend prior to This Is Us' recent reveal that her character is possibly bisexual or a lesbian, which could mean the "Her" she's not ready to see could be her future lover. That certainly would've been something fans weren't expecting prior to the reveal.
Eris Baker added that she didn't know the details behind "Her," however, which means the This Is Us mystery is deeper than anyone can guess outright. After all, it's not like anyone accurately revealed that Jack would die of a heart attack hours after he rescued the family from a fire started by a faulty crockpot. While Baker's response doesn't reveal a ton, the fact she doesn't know details may mean the person referred to isn't someone obvious.
CinemaBlend's talk with Eris Baker wasn't exclusively tied to "Her," of course, as the actress fielded questions on changes an audience might see Tess go through in This Is Us Season 3. Baker revealed one of the changes will include Tess and Deja, and that Tess will be a bit different with her adopted sister going forward.
Deja has certainly been seen in closer proximity with Tess and Annie in the first half of Season 3, but as of writing, there's still a bit of a disconnect between them. Perhaps the back half of the season will show the two sharing a special moment that brings them closer together as sisters, and less like they're two people living independently of each other in the same house.
For example, it would be great to see Deja confide in Annie in regards to the mixed feelings she's been feeling since her mother signed over her parental rights to Randall and Beth. These are the types of feelings a social worker would deal with, so showing Annie and her sister bonding over that would be cool. Considering Randall and Beth are wrapped up in his political campaign, she might be one of the few to be there for Deja.
When the conversation switched from current to past episodes of This Is Us, Eris Baker got nostalgic. The actress revealed that, to that point, some of her favorite episodes to film on the show have been holiday episodes. Baker explained that those episodes, in particular, are events in which the cast gets to experience something that doesn't happen all that often.
Hilariously enough, Season 3's episode "Six Thanksgivings" featured Tess apart from the rest of her family. Eris Baker's character stayed home with Kate and Toby while Randall, Beth, Deja and Annie helped out at a soup kitchen. Baker didn't get to experience the holiday togetherness past Thanksgiving specials have had, but got some meaningful character development instead which might have been a nice trade-off.
That said, here's hoping Baker gets to be in another big get together episode like one's past soon, as this season has seen the Pearson family largely apart from each other. The whole clan was last reunited at Kevin's movie premiere, but has been scattered in their own side adventures ever since. Surely they'll all get together at least one more time before Season 3 ends, right?
Eris Baker has been able to reunite with a good deal of the This Is Us cast via holiday specials, although obviously, some on-set scenes may never happen between Tess or other characters. For example, one would think it would take some pretty strange circumstances for young and adult Tess to share a scene. Baker spoke about the surreal experience of seeing an older actress portray her character, and what she's excited to see in the future of adult Tess.
Eris Baker's statement makes it sound as though This Is Us will reveal a bit more about her character as the series continues. The latest reveal about Tess' sexuality plays somewhat into what Baker is saying, as fans experience the birth of certain things through her character, and then how they develop via adult Tess actress Iantha Richardson.
So, what's it like to be a kid on one of television's most popular programs? Baker shared a bit about what life was like for her when she's out and about, as well as how it is to attend school while being a Hollywood actress.
Some teens might feel emboldened by their success and make it known to peers they're a bigger deal than them, but Eris Baker is quite the opposite. The actress confessed she didn't even reveal her role to friends, who allegedly only found out when they scrolled through her Instagram a year after she had met them. Baker's humble attitude is and grace towards others is seemingly a mark of maturity for such a young star, and one folks obviously appreciate.
This Is Us airs on NBC Tuesdays at 9:00 p.m. ET. For a look at what else is going on with television in the near future, be sure to visit and bookmark our helpful fall and midseason premiere guides.
Mick likes good television, but also reality television. He grew up on Star Wars, DC, Marvel, and pro wrestling and loves to discuss and dissect most of it. He's been writing online for over a decade and never dreamed he'd be in the position he is today.
Your Daily Blend of Entertainment News
Thank you for signing up to CinemaBlend. You will receive a verification email shortly.
There was a problem. Please refresh the page and try again.