Arrow Revealed The Identity Of The New Green Arrow, And Wow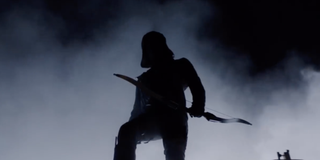 (Image credit: Image courtesy of The CW)
Spoilers lie ahead for the latest episode of Arrow, called "Unmasked."
Fans knew from the very first trailer for Arrow Season 7 that the founding series of the Arrow-verse didn't intend to go without an Emerald Archer just because Oliver was behind bars. Many fans originally theorized that Roy would take up the hood again given that Colton Haynes was returning, and some even pitched the idea that the man behind the mask was William from the future. "Unmasked" revealed the new Green Arrow's identity, and it turns out that it's not a man behind the mask at all.
The person behind the mask is actually a woman! Unfortunately, the episode did not reveal her name, but we can use context clues as well as DC Comics history to make an educated guess. Why? Well, she was the subject of the big episode cliffhanger. The mysterious woman was outdoors somewhere, addressing a headstone. Here's what she had to say:
This was mysterious enough, even if there's no shortage of Arrow characters already struggling with weird dad issues. The twist came when the camera swung around to reveal that the woman was addressing the headstone of none other than Robert Queen, and she was standing in the yard of the formerly-beautiful Queen mansion. (The mansion burned down in an Arrow comic published back in 2015.) The new Green Arrow is Oliver's half-sister.
The episode only showed Oliver's sister unmasked when she was intensely working out to show how she possessed the skills that have allowed her to protect Star City in Oliver's absence and then at the headstone, so we don't have a name or background for this character. That said, if Arrow decides to at least loosely follow DC Comics, we may want to expect a reveal that she is Emiko Queen.
On the pages of DC Comics, Emiko Queen is Oliver Queen's half-sister by way of Robert Queen and Shado. Given Shado's age on Arrow before her death and the fact that Robert almost certainly died before having reason to meet her, we can absolutely rule out the Arrow character as Shado's daughter.
That's a big relief for many reasons, not the least of which is that I still haven't gotten over the ickiness of Robert and Oliver Queen both hooking up with Isabel Rochev. Shado deserves better. We'll have to wait for Arrow to drop some details about Oliver's sister, whether she is or is not named Emiko.
Interestingly, Arrow is debuting Oliver's half-sister in the same season that introduced the Longbow Hunters. In the comics, Oliver and Emiko teamed up to take out Red Dart. Could the same thing happen on Arrow with Oliver and his mystery sister? Only time will tell.
Honestly, I'm not as surprised by the new Green Arrow reveal as I would have back in the beginning of Season 7. I was on board the "Roy is Green Arrow 2.0" train ahead of Season 7, and I still thought the newcomer was a guy for a few weeks. More recently, however, the Green Arrow looked a little bit more slender and compact than the male crime-fighters we've seen on Arrow in years past.
Throw in how so many characters seemed to be deliberately referring to the new Green Arrow as "he" and "him," and I began to feel like the show was almost protesting too much that the new person beneath the mask would be a guy. The reveal that Oliver's half-sister was hardly a sure thing, especially given that Oliver already has a half-sister.
I'm on board with the twist, and I'm interested to see if Arrow is going to give Robert Queen some kind of background in archery. His daughter is quite proficient with the bow and arrow, and although she was likely trained extensively by somebody who had a hand in training Oliver (or Oliver's teachers), perhaps Robert's genes gave them a natural proficiency.
Only time will tell. The next episode of Arrow will be the middle of the gigantic "Elseworlds" crossover, which begins with The Flash on December 9 on The CW, continues on December 10 with Arrow, and wraps up on December 11 with Supergirl.
Resident of One Chicago, Bachelor Nation, and Cleveland. Has opinions about crossovers, Star Wars, and superheroes. Will not time travel.
Your Daily Blend of Entertainment News
Thank you for signing up to CinemaBlend. You will receive a verification email shortly.
There was a problem. Please refresh the page and try again.