Did Adam Levine's Stunt Cost Him A Place In The Voice Finale?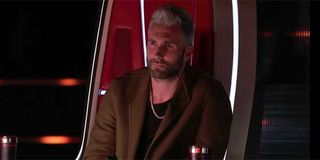 Adam Levine's pretty famous, so it's fairly often that the Maroon 5 singer and The Voice coach makes headlines, but lately those headlines have been not-so-awesome. Levine chose last week to throw one of his contestants, DeAndre Nico, under the bus in order to propel Reagan Strange to a sort-of victory. Now that the Final Four have been announced for Season 15 of The Voice, we know his bet did not pay off.
During Tuesday's episode of The Voice, the show cut down its contestants drastically. Kirk Jay, Chris Kroeze and Chevel Shepherd were the three the show let through before the rest of the contestants sang for that final spot. Somewhat unsurprisingly given Blake's propensity to push people through, each of those three artists at least have a somewhat country bent.
Sarah Grace and Kymberli Joye were not able to sing for their lives and were eliminated. Reagan Strange put up a good fight against Kennedy Holmes and MaKenzie Thomas during the Instant Save round, and you can check it out, below.
Unfortunately, once the voting actually started, it became clear that Kennedy Holmes was going to be the person to push through into the Final Four. She joined the latter three to compete in next week's Season 15 finale.
Reagan Strange was left to hear Adam Levine tell her that he was "super proud" of what she had accomplished.
There are a million ways to look at how the last couple of weeks have panned out on The Voice. If Adam had tried to save DeAndre Nico for the finals, would Nico have made it into the big Season 15 closer? Given the way voting had gone so far, probably not. Had Adam kept his mouth shut and just tried to be nice to both of his contestants, would Reagan Strange have moved on into the finals? Maybe, but even that isn't a slam dunk.
This week, Reagan sang for her life and did a good job, but she was beat by another very young contestant. Kennedy Holmes is only 14 years old, but has consistently performed well amidst older talent this season. Plus, she didn't have any baggage attached to her last couple of weeks on the show.
Following Adam Levine pushing people to vote for Reagan Strange to stay on the show last week, DeAndre Nico first took the high ground and then had some more blunt thoughts about his former The Voice coach, which meant this story continued to live beyond the episode that aired on TV.
All of the comments, and the fact The Voice itself sort of only awkwardly addressed what happened, led to numerous complaints online about how people weren't going to vote for Reagan Strange. Comments such as this one:
While there were some people coming to Reagan's defense --she, after all, didn't throw DeAndre Nico under the bus and has said they are close -- it seems Adam pushing people to vote for her may have helped her in the short term but not the long term.
As it stands now, Adam Levine no longer has any contestants vying to be The Voice. Whether or not Reagan Strange would still be fighting for her life had she not gotten sick and worn a bathrobe on air or had Adam not riled people up to save her over DeAndre Nico is still a big question mark. Although we don't know what would have happened given an alternate timeline, one thing is for certain, Adam is the biggest loser this season--and that's not the right NBC show.
Amazing Race & Top Chef superfan with a pinch of Disney fairy dust thrown in. If you've created a rom-com I've probably watched it.
Your Daily Blend of Entertainment News
Thank you for signing up to CinemaBlend. You will receive a verification email shortly.
There was a problem. Please refresh the page and try again.