The Voice's DeAndre Nico Had A Classy Response After Adam Levine Threw Him Under The Bus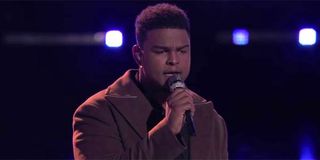 (Image credit: Photo is a screenshot)
Please note, there will be spoilers for NBC's The Voice all over this article. Hop out if you don't want all the details and be sure to check back for more news and editorials related to NBC's popular singing competition show!
The Voice contestant DeAndre Nico had to stand on a stage last night during one of the elimination episodes and listen to his mentor Adam Levine basically throw him under the bus for another contestant, Reagan Strange, on Adam's team. It's hard to tell what was going through the singer's mind during those brutal moments in front of a live audience on television, but he handled Adam's comments tactfully onstage, telling Carson Daly live on the air that he was grateful for the opportunity that The Voice presented.
Now, he's spoken out about his experience during the latest season of The Voice, again taking a classy bent. The former contestant took to social media to connect with fans after the momentous episode, saying,
Last night was a tumultuous night for The Voice Season 15 contestant DeAndre Nico in particular. One week after he wowed audiences and fought for his life on the show, he found himself in the same position as America left him high and dry in the Bottom 3, with two contestants going home.
A double elimination is always difficult to watch, as audiences have to say goodbye to two good performers. Still, given that Dave Fenley just had a nice enough song choice and Reagan Strange couldn't even perform, there was a chance that DeAndre Nico would have scraped through again with his beautiful rendition of John Legend's "All of Me" during his fight-for-your-spot performance. Soon after, Adam Levine started talking and barely had anything nice to say about Nico before he encouraged America to vote for Reagan because she was sick and unable to perform.
Levine 100% didn't say this, but Reagan Strange has had strong votes throughout the competition previously and it was a little surprising to me that she even ended up in the Bottom 3 this week. She's really good, has had some viral moments, and has the talent (previously also had the voting faction behind her) to potentially win The Voice. DeAndre Nico is also a very talented singer, but he had already been in the bottom the week previously and it came off like Adam Levine was cutting his losses by putting his full support behind Reagan when he opened his mouth on air.
Regardless of the motivations, the whole thing was extremely awkward to watch, especially because Adam Levine didn't really take the time to even say nice things about DeAndre Nico -- who did put in a really amazing performance -- before he launched into his spiel. At one point, Kelly Clarkson seemed to indicate to Nico that Levine was only trying to put some support behind the young female contestant who was home sick and unable to defend herself, but it still came off pretty badly on live TV.
A different contestant may have been bitter or at the least emotional onstage given what happened, but DeAndre Nico kept his feelings in check during the episode. Now, he still seems to be choosing to think positively about his experience, despite what happened during last night's episode and the vocal reactions from the fans afterward. After all, he's not the first contestant to have talent but whose time on a popular competition series was cut short. Nabbing votes is a fickle game and things don't always work out so that the most talented people stay on competition TV shows the longest. (Just look at what happened recently with Juan Pablo Di Pace on Dancing with the Stars.)
All in all, it's hard to tell if DeAndre Nico would have made it through another week, even if Adam Levine had thrown out all of the nice things he could possibly think of in the moment in regards to his experience with the contestant over the past several weeks. DeAndre Nico also revealed on Instagram that he knows losing on the show doesn't mean the end for his career, as well.
Adam Levine even pointed this out as his parting words at the end of the episode, noting,
Unfortunately, even that practical advice can't erase the moment from earlier in the night, at least in the minds of the public, who will be missing DeAndre Nico and Dave Fenley when the show returns to the schedule next week. Only time will tell if Adam Levine made the right choice defending Reagan Strange. She's now his sole hope in the competition for the rest of the season. After throwing Nico under the bus, he'll be putting all of his efforts into the young contestant. She faces some strong competition from Kelly Clarkson, Blake Shelton and Jennifer Hudson's teams, however, so if you like Reagan Strange, you need to vote for her as Adam Levine encouraged you to do.
Tune in for new and emotional episodes of The Voice on Monday and Tuesday nights, only on NBC. To take a look at what the Peacock Network and other channels have coming at midseason, be sure to check out our full midseason TV premiere schedule.
This poll is no longer available.
Amazing Race & Top Chef superfan with a pinch of Disney fairy dust thrown in. If you've created a rom-com I've probably watched it.
Your Daily Blend of Entertainment News
Thank you for signing up to CinemaBlend. You will receive a verification email shortly.
There was a problem. Please refresh the page and try again.