How The Voice Addressed The Adam Levine And DeAndre Nico Incident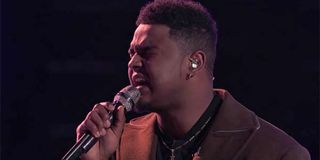 Some basic spoilers for Monday's episode of The Voice can be found within this article.
We're less than a week out from the major The Voice drama that saw contestant DeAndre Nico get thrown under the bus so that coach Adam Levine could defend his other contender Reagan Strange. People have not forgotten the moment yet, and The Voice spent a chunk of Monday's episode seemingly doing damage control.
The most prominent example of this was probably Adam Levine himself, who said that he had worked things out with DeAndre Nico after he totally threw him under the bus for Reagan Strange, who insisted she was sick and couldn't perform for the save during last Tuesday's episode. Per Levine:
A lot of people did a great job of singing during Monday's episode, too, but I'm still pretty focused on the whole awkwardness of this Reagan Strange/Adam Levine/ DeAndre Nico. From the looks of things, I'm not alone:
At one point during the episode, the show made a concerted effort to make everything look bygones for bygones, but not everyone felt like it worked.
To recap, following last week's competition, DeAndre Nico seemingly took the high ground, saying some nice things about what happened on social media. But then he did an actual interview in which he spoke about how getting thrown under the bus by Adam was really uncool. He told 12NewsNow:
DeAndre Nico is clearly a talented singer and I certainly feel he went home before other talent on the series should have, but I've written before about how quality Reagan Strange's performances have been--at least until she was unavailable to perform. She was consistently doing well prior to last week's blip, while Nico had not really amassed a fanbase.
Adam was likely just trying to keep his most viable contestant in the game, but it was super awkward how he handled the entire situation. In the aftermath, a lot of people have felt a lot of feelings about what happened on the competition series. People have already voted for contestants this week, so we'll have to wait and see if people have turned on Reagan Strange when votes come in tonight.
To her credit, Reagan Strange actually really had nothing to do with Adam's decision on The Voice last week. It's not like the two of them hatched a plan to save her and take DeAndre Nico out. But she herself has handled the aftermath in weird ways, saying things like this:
We have to remember the talented singer is 14 years old. Still, the show must go on. See how it plays out Tuesday night at 8 p.m. ET, only on NBC.
Amazing Race & Top Chef superfan with a pinch of Disney fairy dust thrown in. If you've created a rom-com I've probably watched it.
Your Daily Blend of Entertainment News
Thank you for signing up to CinemaBlend. You will receive a verification email shortly.
There was a problem. Please refresh the page and try again.