Busy Philipps Points Out The Dawson's Creek Theme Song Isn't About What Folks Thought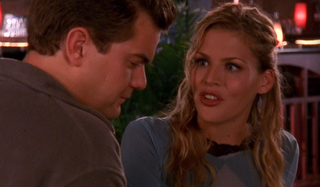 If there was a hall of fame for iconic television theme songs, the Dawson's Creek theme would almost certainly be inducted. Paula Cole's "I Don't Want To Wait" is so tied to the iconic coming-of-age series that some listeners may just think of the TV show as opposed to what the song is about. Dawson's Creek alum Busy Philipps (Audrey Liddell) recently performed the song during production difficulties on Busy Tonight and revealed the tune's true meaning to a surprised audience.
Yep, "I Don't Wanna Wait" is about World War II and not about close-knit friends making their way through high school. The best bit of this video is it shows two different reactions. The person in the audience speaking represents those who have had their minds blown by the news, while Nailed It's Nicole Byer represents the folks mildly intrigued with the factoid and just jamming out to the talented Busy Philipps and her surprisingly good voice.
To be fair, it's understandable if Dawson's Creek viewers never picked up on the actual meaning. The song always picked up on the chorus, which bypasses the whole tragic tale of a woman wondering if her husband will come home from war to father his children. That said, "I Don't Wanna Wait" got a fair amount of radio play before Dawson's Creek would premiere, so perhaps teens just weren't listening to Paula Cole's lyrics so intently?
To everyone baffled by this revelation and somewhat ashamed, the '90s were a different time. If someone wanted to look up the lyrics to a song, it probably would've been faster to buy the CD and pore over lyrics on the inside cover than to search the internet. Additionally, lots of families had pay-per-minute internet, so searching for something like the lyrics to the Dawson's Creek theme song may not have warranted what it cost to know the answer.
It's also worth mentioning that Paula Cole was not born anywhere close to when World War II took place, and her song was released in 1997. This might make it easier to disassociate the song with the tragedies of war and make it more relatable to when Joey wore a wire to get her dad sent to jail. Ok, maybe that's a bit extreme, but it is weird to think such a sad song can have such an uplifting chorus.
With all that said, does the reveal really make the theme song any less perfect? If Dawson's Creek were to return with a revival, it's hard to imagine any other song going into the main title credits. It's still a great song, even if it's not entirely thematically appropriate, and works with the adapted clip well enough. Still, I'm sure Busy Philipps just ruined it for a lot of people who now think of WW2 when an episode starts.
Busy Philipps and hopefully more of her singing voice can be seen on Busy Tonight, which returns January 7 and airs Mondays through Thursdays at 11:00 p.m. ET on E!. For a look at all the shows coming to television in the future near and far, visit our fall and midseason premiere guide.
Mick likes good television, but also reality television. He grew up on Star Wars, DC, Marvel, and pro wrestling and loves to discuss and dissect most of it. He's been writing online for over a decade and never dreamed he'd be in the position he is today.
Your Daily Blend of Entertainment News
Thank you for signing up to CinemaBlend. You will receive a verification email shortly.
There was a problem. Please refresh the page and try again.