Why Top Chef's Eddie Konrad Is The Best Kind Of Reality TV Hot Mess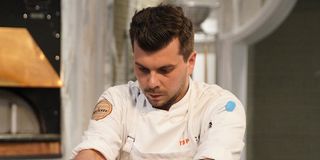 Spoilers below for the most current Top Chef episodes, so be sure to catch up before reading on.
While many reality TV shows are unshielded in their efforts to exploit on-air talent in harsh ways, Bravo's Top Chef is still mostly successful at putting on more prestigious airs. Of course, that doesn't guarantee every contestant will be primed to handle the pressures of competing for judges on national TV. Case in point: Philadelphia chef Eddie Konrad is one of the most fabulous hot-mess contestants I've seen in a while.
Though Top Chef is only four episodes into the Kentucky-set Season 16, Eddie Konrad has been an uncomfortably hilarious bundle of nerves who seems permanently headed for spontaneous combustion. Here's why he's the best kind of hot mess to appear on Top Chef.
Eddie Is Unpredictable AF
In Top Chef's season premiere, which always bears the burden of introducing so many new faces to viewers, Eddie Konrad's standout personality wasn't immediately apparent. He seemed like he'd have been the new kid in school that instantly attracted friends through nervously overstated opinions about things, possibly while passing out candy. Then Episode 2 happened.
For "Bourbon, Barrels and Burgoo," Eddie torpedoed his team in the elimination challenge, for which everyone was tasked with spinning some classic Kentucky cuisine. Maybe it was a frazzled night of sleep, or possibly all the whiskey fumes, but Eddie made a gargantuan error upon switching from unavailable lamb loins to the pricier racks. The substitution cost his seven-member team more than a third of its $1,500 grocery budget.
(To be fair to the guilt-ridden Eddie, the mass amount of food the rest of the team had to give up surely would have cost more than the $300 that was overspent. So I doubt anyone was going to be making their ideal dishes that day. However, Natalie definitely would have gotten more lemons for her curd dessert, possibly saving her from being eliminated. But I digress.)
Another weird and wonderful Eddie highlight came during "Naughty and Nice." When the highly esteemed chef and guest judge Éric Ripert joined Tom Colicchio in checking up on the cheftestants making their French holiday dishes, Eddie was 11 deer caught in 22 headlights. He didn't answer questions so much as he spurted stream-of-conscious prose that occasionally coincided with the meal he was improvising. It was glorious to behold, with both Ripert confounded by Eddie's kineticism. Plus, the judges really liked the dish!
Eddie's Not A Jerk In The Slightest
Sure, he might have ass-backwardly bought over $500 on lamb, earning him the nickname Eddie Money, but nobody walked away from that situation going, "Boy, that Eddie Konrad is a right selfish douche-hat!" That's because the dude's shirt sleeves have his heart all spread out over them, and he couldn't have been more apologetic for that debacle. He couldn't have been more haunted by it, either.
Top Chef is often at its most interesting when contestants' humanity overshadows their professional verve. Though those raw moments often result in clashes, Eddie's rare early-episode humbling ultimately cemented his protagonistic arc for the season. The third episode kicked off showcasing how guilty he felt about overspending and costing Natalie a chance to advance. He then aimed to redeem himself by being selfless and focused on teamwork.
That not only gives Top Chef viewers someone to root for, but it also sets up potential complications to come for Eddie. The quality of being overly helpful and kind to others is not one shared by all Top Chef winners, and the competition can definitely get cutthroat throughout any given season, particularly for "Restaurant Wars" installments. And chefs have gone home for staying silent instead of rightfully throwing others under the bus, as well as for paying more attention to a teammate's dish than their own.
This season's "Restaurant Wars" came four weeks earlier than normal, so the contestants aren't as comfortable with each other, or with the competition itself, as previous chefs have been. Eddie, who would have been fantastic to watch doing front-of-house duties, is instead handling the line cooking with Eric, and he will likely need to pick up the pace for the falling-behind Brian and two-dish Adrienne. Will Eddie's generosity doom him, or will he look out for number one in the end?
His Food Isn't A Hot Mess
The popularity of Netflix's Nailed It! is but a slice of proof that TV viewers enjoy ogling the effacing horror of a reality TV dumpster fire, even when it's self-aware. Top Chef contestants are obviously on another level, both in terms of talent and personality complexes. However, Eddie Konrad speaks as if he's about to serve up gloopy slop on a far more disaster-prone series.
I mean that in the sense of Eddie's anxiety being on full display during Top Chef's talking-head spots, in which he's either worrying about mistakes made in the past, or he's apprehensive about the plausibility of mistakes being made in the near future. If the point of the show was to make hungry judges outwardly wary about the food placed in front of them, Eddie would be undefeated.
His quality-focused perturbation would be understandable had Eddie been in the bottom three from the premiere on, but that hasn't been the case at all. In fact, he hasn't been on the bottom once, though one or two of his Quickfire dishes failed to win anyone over. The very dish that Éric Ripert and Tom Colicchio were initially worried about ended up in the judges' top 3 meals of that day, so he's even progressing.
If Eddie was just barely avoiding elimination each week, it wouldn't be nearly as fun to watch him permanently fretting during moments when all the other contestants' smiles and cheerful moods are front and center. There's only a limited amount of joy to be gleaned from watching misery justify itself, but as long as Eddie's culinary skills stay intact, much joy will be had in watching his brand of chaos in action.
Find out what will happen with chef Eddie Konrad when Top Chef airs every Thursday night on Bravo at 9:00 p.m. ET. The double elimination factor shouldn't get him or anyone else too riled up, right? Well, that might not be accurate, but it should make for an amped-up episode of Last Chance Kitchen.
Don't forget about all the other great TV that may or may not be connected to foodstuffs, and be sure to stay current with everything coming to the 2019 midseason TV schedule.
Nick is a Cajun Country native, and is often asked why he doesn't sound like that's the case. His love for his wife and daughters is almost equaled by his love of gasp-for-breath laughter and gasp-for-breath horror. A lifetime spent in the vicinity of a television screen led to his current dream job, as well as his knowledge of too many TV themes and ad jingles.
Your Daily Blend of Entertainment News
Thank you for signing up to CinemaBlend. You will receive a verification email shortly.
There was a problem. Please refresh the page and try again.