Lethal Weapon's Crazy Season 3 Finale Twist Could Set Up A Totally Different Season 4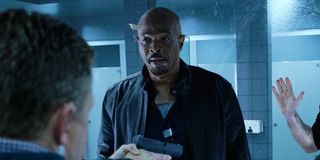 Major spoilers ahead for the Season 3 finale of Lethal Weapon on Fox, called "The Spy Who Loved Me."
Lethal Weapon has been an intense show with a penchant for crazy cliffhangers from almost the very beginning, but rarely have the stakes been as high as heading into the Season 3 finale. Fans went into the episode not knowing whether Damon Wayans would be out as Murtaugh by the end of the hour and completely in the dark about whether or not there would be a Season 4.
Well, we still don't know about a Season 4, but the finale ended on a twist that sets up a fourth season that could be totally different.
The very good news for fans of Lethal Weapon as it is now is that the finale twist didn't involve Murtaugh being written out, and there's no sign that Damon Wayans' earlier statement that he intended to depart the show after Season 3 still holds true. Lethal Weapon showrunner Matt Miller recently explained what was really going on when Wayans threatened to quit; the Season 3 finale indicates that Wayans will be as much of a part of the show in Season 4 as ever, assuming Season 4 happens.
Here's how it went down. Cole finally learned that CIA recruiter Tom Barnes is actually former CIA recruiter Tom Barnes, and his recruitment of Cole for various missions in Season 3 was off-the-books. The FBI was on Cole's tail because of it, and they went after Murtaugh to wear a wire and record Cole incriminating himself. Still stinging from what happened in the previous episode and afraid for his family, Murtaugh agreed.
Meanwhile, Cole went on one last mission for Barnes before learning the truth, and he discovered a South American assassin taking aim at Natalie's fiance, Andrew. Natalie and Andrew were set to get married in just a couple of days and then take off for a year for Doctors Without Borders, which put Andrew on some unfriendly folks' radar. The mission went sideways when Cole had to toss the bad guy out of the window, when Barnes wanted him alive so he could get his hands on a lot of money.
The money wound up in LAPD evidence, so Barnes had to cross a major line to get what he wanted. He kidnapped Natalie on her wedding day to hold her hostage for the $10 million. Cole called in a bunch of favors with the help of Murtaugh, who was overwhelmed with guilt about betraying his partner, even though they were on pretty bad terms at the time.
Cole and Murtaugh met with Barnes to exchange the money for Natalie's location. The exchange seemed to progress as Barnes claimed... until Cole and Murtaugh turned their backs on him. Barnes pulled out a gun and shot Murtaugh, wanting to guarantee that nobody could chase after him. The bullet went in and out, which was good. Murtaugh was bleeding a lot, though, which was very bad.
Fortunately, there was a very talented doctor on the scene, although she was in a wedding dress rather than scrubs. Cole brought Murtaugh up to one of the top floors of the office building to find Natalie, who was sitting on a bomb that would explode if she moved. Together, she and Cole managed to cauterize Murtaugh's wound so that he would live long enough for the EMTs to arrive.
Although Murtaugh did not particularly enjoy the cauterizing, at least his phone call to Trish (while she was on the radio) wasn't his last. He was conscious when the EMTs brought him out of the building, but Cole stayed with Natalie as the bomb began to count down. In a desperate attempt to survive, they leapt out of the window just as the bomb went off.
Their leap combined with the explosion blasted them out far enough for Cole to grab the rope hanging off of a crane in one of the most Lethal Weapon stunts ever to go down on Lethal Weapon. Both survived, and it was enough for Nat to realize that she and Maya belonged with Cole rather than Andrew. Flash forward two weeks, and the finale seemed poised to conclude on a happily-ever-after ending with the whole crew at a barbecue at the Murtaugh household.
Given that this is Lethal Weapon we're talking about, however, the episode couldn't just end with two family men cooking out and drinking beer. Cole revealed that Barnes had been tracked to Ecuador, then claimed that he was reformed and didn't need to chase his enemy across the world. Murtaugh agreed, claiming that he didn't need to chase down the man who shot him.
As you might expect, the final minutes of the episode revealed that neither man could keep their word on this front. Trish and Roger boarded a plane to Ecuador, with Trish believing that they were headed for a spontaneous romantic trip for sun and fishing in South America. On board, they ran into Cole and Natalie, with Natalie believing they were on a romantic trip to feature scuba diving.
It didn't take the women long to figure out that the boys had something else in mind, although neither Murtaugh nor Cole had let the other one know what they were doing. Honestly, I just want to know what Avery's reaction was when he got a vacation request from both workaholics for the same period of time.
So, Lethal Weapon ends Season 3 with Murtaugh and Cole headed to South America to hunt down Barnes! What does this mean for the potential Season 4? Well, depending on how much time Matt Miller and Co. would want to keep the duo on Barnes' tail in Ecuador, at least part of a fourth season could be set somewhere far away from Los Angeles. Are we in for Lethal Weapon: Ecuador?
Maybe not. Spending an arc with the partners in Ecuador might be more than Lethal Weapon could commit to for Season 4, and it's possible that the Barnes problem could be solved off-screen during hiatus. All kinds of craziness has been known to go down in-universe between seasons of Lethal Weapon, although we can probably be confident that neither of the lead characters will be killed off this time around. That twist was reserved for Riggs due to Clayne Crawford's behavior.
Well, Matt Miller promised a cliffhanger that would set up a fourth season, and I'd say he delivered! Hopefully Fox will announce a renewal sooner rather than later. For what you can watch now and in the not-too-distant future now that Lethal Weapon is over for the season, check out our midseason TV premiere schedule.
Your Daily Blend of Entertainment News
Laura turned a lifelong love of television into a valid reason to write and think about TV on a daily basis. She's not a doctor, lawyer, or detective, but watches a lot of them in primetime. Resident of One Chicago, the galaxy far, far away, and Northeast Ohio. Will not time travel, but will sneak references to The X-Files into daily conversation.