The Mandalorian: What We Know So Far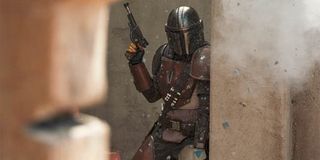 Disney+ is on the way, and with it will come the first ever live-action Star Wars television series. Suffice to say there's a ton of hype surrounding The Mandalorian, and people are eager for any and all details regarding the show. Those in search of answers need look no further, because we've got quite a few right here.
What Is The Mandalorian About?
The synopsis for The Mandalorian talks about a lone gunfighter on the Outer Reaches of the galaxy away from the New Republic. Additionally, Jon Favreau has revealed this show will take place five years after Star Wars: Return of the Jedi, which is quite a ways away from The Force Awakens era. While it's not an impossibility to see characters from the new trilogy, it feels more likely older characters will make an appearance.
The synopsis also name-checked characters like Jango Fett and Boba Fett, and likened the gunfighter to a character similar in that regard because he's a warrior. This might be because all three characters are tied to Mandalore, which explains the title of the story well enough. Is this gunfighter directly related to Jango and Boba, or is the connection more based in the fact that most Mandalorians are warriors, mercenarys, or bounty hunters?
When Will The Mandalorian Premiere?
Here's the good news Star Wars fans, The Mandalorian will launch day one of Disney+ (opens in new tab)'s launch. That's Tuesday, November 12, although we're only going to get the first episode of the season. Future episode air dates have not been confirmed.
The Mandalorian completed principal photography in February, and with Disney+ launching (opens in new tab) in November, it isn't crazy to think Season 1 will be fully released by the end of 2019. We don't know Disney's reasoning for holding off on the rest of the episodes, which still may need some editing in post-production or something like that. Disney may also be plotting a scheduled release of episodes to stop fans from binging it all at once. We'll just have to see!
Who Has Been Cast In The Mandalorian?
Pedro Pascal has been tapped to play the title character, and is joined by an impressive cast of actors. Known actors include Gina Carano, Giancarlo Esposito, Nick Nolte, Carl Weathers, Emily Swallow, and Omid Abtahi. Also, The Mandalorian is being graced by a rare performance by Werner Herzog, so there's really something special happening here.
It's really hard to guess what each actors' role will be, or whether or not these actors are playing humans, droids, aliens, good guys or bad guys. One thing that is worth mentioning is that Omid Abtahi voiced a Mandalorian in Star Wars: The Clone Wars, which could possibly mean he's reprising the role of his character. Anything could happen at this point, so, hopefully, more details will emerge to take away some of the mystery ahead of the premiere.
Grief Marga (spelling not confirmed): Carl Weathers' character is the head of a bounty hunters guild, and he's enlisted the Mandalorian to seek out an item of high value for a client. Weathers has described his character as "nefarious," although it's been noted by Jon Favreau and others many characters in The Mandalorian have a bit of moral ambiguity to them. He could be a villain, or just a character a bit more honest with himself and what he does.
Kara Dune (spelling not confirmed): Gina Carano's Kara Dune is a former Rebel Shock Trooper who, according to her statements at Star Wars Celebration, is having some trouble acclimating to civilian life now that the Galactic Civil War is over. Her connection to the Mandalorian is unknown, although her character pictures looks like she's someone who could either be a great asset on the field of battle, or great adversary.
What Characters Are Involved In The Mandalorian?
IG-88: Star Wars fans may recognize this Droid, who was only seen briefly as one of the bounty hunters enlisted by Darth Vader to track down the Millennium Falcon. Fett ended up getting the better of the Droid, and his remains were seen in a scrap heap at Cloud City. Does Jon Favreau's picture, which he posted to Instagram, tease he's been rebuilt, and is back out doing what he does best?
R5-D4: R5-D4's involvement was teased by Jon Favreau, although the picture doesn't guarantee he's actually a part of the show. The character was first seen in A New Hope, and was the Droid who malfunctioned and led to Luke and Owen taking R2-D2 instead. The character was last seen on Tatooine, which obviously leaves open the possibility that The Mandalorian takes place (at least in part) on that planet or that someone from Tatooine transported him there. Who could it have been?
Stormtroopers: Stormtroopers will be a part of the action in The Mandalorian, and while we're not exactly sure how, we do know there will be quite a few of them. Jon Favreau enlisted members of the 501st Legion to appear in their outfits, and photos showed quite a few folks were on set. That's certainly interesting considering how far removed this series is from Return of the Jedi, unless of course they're being used for flashbacks.
Who's Behind The Scenes At The Mandalorian?
The Mandalorian has acclaimed director and actor Jon Favreau behind the wheel, and he's done a good job at bringing some other incredibly talented people into the mix. On the directing side he has the likes of Taika Waititi, Bryce Dallas Howard, Rick Famuyiwa, Deborah Chow, and Dave Filoni. That's right, the guy behind some of Star Wars' best animated outings is getting in on the live-action fun.
If there were an all-star team of directing talent, this group would make the lineup. Then there's Favreau doing the writing, and sharing executive producing duties with Dave Filoni, Kathleen Kennedy and Colin Wilson. If the reported budget of the show wasn't enough evidence, this lineup of individuals is proof enough that Disney wants to give this project all the tools it needs to be as good as it can be.
What's The Mandalorian's Timeline?
The Mandalorian takes place around five years after the events of the Galactic Civil War long before the First Order. For those who need that in movie terms, this is after Return of the Jedi, and some time before Star Wars: The Force Awakens. This means the series will explore more of what happened a short time after the Rebellion run, and possibly chronicle the chaos that led to support of the First Order.
That seems to line up with photos seen from The Mandalorian thus far, which tease older droids that first came into being during the original trilogy. Granted, droids like C-3PO and R2-D2 have lived through multiple eras, so that by no means guarantees anything. Additionally, The First Order's rise to power took around three decades to become fully realized, so that's quite a bit of territory for this show to play with.
What Will The Special Effects Be Like?
Fans of the original trilogy get pumped, as Jon Favreau is going to some great lengths to maintain a look similar to that of the classic movies. Specifically, that means practical effects, and even bringing back the miniature ships and sets to shoot flight scenes. That's no easy task given the advancement of special tech today, but looks amazing based on the bit of footage shown at Star Wars Celebration.
Early Theories About The Mandalorian
Right now the biggest theory surrounding The Mandalorian is that Boba Fett is in some way tied to this series. This is rooted in the fact that a solo film for the bounty hunter was nixed to develop this show, the fact the characters' armor look similar, and the premise of the show. Oh yeah, his rival and a droid from the last planet he was on are also involved, so it's possible he may show up.
Another theory has some thinking The Mandalorian is Cobb Vanth from the Star Wars: Aftermath (opens in new tab) novel. The character was a former slave of Jabba The Hutt who made a name for himself as a gunfighter after the destruction of Jabba's palace. He's also said to have a set of Mandalorian armor, and some believe the set belonged to Boba Fett. His initial life on Tatooine would explain R5-D4, and him owning Fett's armor could convince IG-88 that his rival is alive.
Other vague theories have speculated that various characters from the Star Wars universe will make an appearance, either from films or the animated shows. That seems like a safe enough bet, as the Star Wars universe has always been big on interconnected events and giving smaller characters a chance to shine in other projects. Star Wars Rebels seems like a show that could have some characters crossover, but it remains to be seen whether or not it will actually happen.
CinemaBlend will update this guide about The Mandalorian as more details surface, so be sure to visit often to see the latest info. For a look at what's happening on television in the coming weeks, head on over to our midseason premiere guide.
Your Daily Blend of Entertainment News
Mick likes good television, but also reality television. He grew up on Star Wars, DC, Marvel, and pro wrestling and loves to discuss and dissect most of it. He's been writing online for over a decade and never dreamed he'd be in the position he is today.
Your Daily Blend of Entertainment News
Thank you for signing up to CinemaBlend. You will receive a verification email shortly.
There was a problem. Please refresh the page and try again.