Why Jay Leno Doesn't Miss Hosting A Late Night Talk Show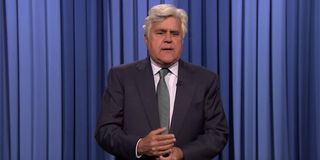 Jay Leno currently works as a spokesperson advocating for people dealing with high cholesteral. He also has his own series Jay Leno's Garage, but he's still known as a late night host and likely always will be. During an appearance on Today however, the former host of The Tonight Show revealed that he doesn't actually miss getting up onstage and telling jokes every day.
In fact, not only did Jay Leno reveal he doesn't miss late night, he also very directly explained why. Here's what he had to say:
It was just a few years ago that politics really began seeping into late night in terms of the points of views of the hosts and not just jokes on everyone. In particular, Jimmy Kimmel made his thoughts on healthcare clear after his son was born with a congenital heart defect that required surgical intervention. His monologues in the time since have started to include political stances. (Although he still likes to talk about topics like The Bachelor in addition.)
Stephen Colbert also started out a little more buttoned up and less political than The Colbert Report, but CBS saw his ratings increase after he began adding more political interviews and segments. Seth Meyers has chosen a similar path, as well. Of all of the late night hosts, Jay Leno's successor Jimmy Fallon doesn't get as political on his version of The Tonight Show. Yet despite his prior views, he does get political sometimes.
Speaking on Today, Jay Leno made it clear that before the joke could be framed around a political figure but that the function of his job as a late night host was to give people a space to relax and to sort of step back and get away from the news. That's not really the case anymore.
Although Jay Leno is aware of the direction late night is trending (and even calls it a "tough" one), he is also far enough removed from late night now that it's not something he should really have to fret over. While he's not fully retired from entertainment as a whole, he should be in a much more comfortable position with Jay Leno's Garage than he was grinding it out on NBC. That show has produced four seasons and 52 episodes since 2015. The Tonight Show Starring Jimmy Fallon produces somewhere around 200 episodes every single year.
Jay Leno left late night back in 2014, a few years after there was some brouhaha involving Conan O'Brien and shifts in NBC's late night timeslots that very nearly destroyed The Tonight Show as we know it. O'Brien eventually got his own show and Leno shifted comfortably back into late night, eventually retiring in 2014, but it's still a time period that he gets asked about. So, while Leno sees the direction late night is trending as a "tough" one, it's not as if in absence of taking stances with politics everything was always super copacetic on The Tonight Show during his own tenure. Late night is constantly evolving and there were challenges 10 years ago, as well.
As for the late night hosts, trending toward politics has not seemed to decrease viewership and has increased viewership in some' cases, although it should be noted Jimmy Fallon is at least a little less political than his counterparts and still wins the ratings on any given night.
Your Daily Blend of Entertainment News
Reality TV fan with a pinch of Disney fairy dust thrown in. Theme park junkie. If you've created a rom-com I've probably watched it.