Star Trek's Picard: An Updated Cast List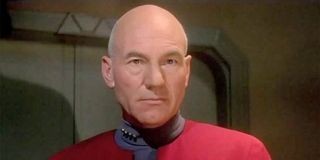 CBS All Access has a lot of Star Trek shows planned down the stretch. Though many of the upcoming projects have a fair amount of hype surrounding them, none measure up to the collective excitement fans new and old have for the untitled Picard sequel series. After years away, Jean-Luc is finally returning to television for another adventure in the Star Trek universe.
While we have no confirmation whether any of Picard's old friends from Star Trek: The Next Generation will be appearing, we do know a few new faces will be joining the Starfleet captain on a new journey that may take them from one end of the galaxy to another. Check out who's on board below, and be sure to check back for updates as we draw closer to the show's premiere.
Patrick Stewart - Jean-Luc Picard
Patrick Stewart is back to portray his iconic character first introduced in Star Trek: The Next Generation, but we've been told to expect a different version of the character for this sequel series. Although not much has been said beyond that, the hiring of character-focused director Hanelle Culpepper for the show's first two episodes appears to indicate the changes to Picard's character will be significant. What exactly happened to him after all this time?
We do have some clues as to what Picard's life will be like, as it's been said the dissolution of the Romulan Empire will greatly impact his life. The event was referenced in the 2009 movie Star Trek, in which Ambassador Spock and Nero were sent back in time. That in turn created the new Kelvin timeline. Now, it would appear we'll get to see how the Prime timeline moved forward following tha event, and specifically, the effect it had on Picard.
Santiago Cabrera - ???
Santiago Cabrera comes onto Picard in an officially undefined role, but we do have some unconfirmed rumors to go off of courtesy of Deadline. Cabrera is rumored to be playing Picard's pilot, and is also known for his abilities as a thief. Hopefully he's only stealing from those off the ship, otherwise that's going to cause some problems on the bridge.
Cabrera has been on fixture on television since the mid 2000s, and is likely recognizable by anyone who's watched Big Little Lies, Salvation, or The Musketeers series. In the world of science fiction television, folks may remember Cabrera had a run on NBC's Heroes as Isaac Mendez. As a series regular, audiences can expect to see quite a bit of Cabrera throughout Picard, so start getting used to his face now.
Michelle Hurd - ???
Michelle Hurd's character name and role are unknown, although rumors have stated she's playing a former intelligence officer. That could mean former Starfleet intelligence like Section 31, or she could be from another alien species and was a part of their intelligence team there. Whatever the case may be, this character is pretty good at her job, and doesn't even let things like her drug and alcohol addiction get in the way of her work.
Hurd has been on a lot of high profile television shows as of late, with her most recent roles coming from NBC's Blindspot and CBS' Hawaii Five-0. Those are just a couple of the many roles Hurd's had over the years, as the television actress has been in everything from Daredevil to ER to Law & Order: Special Victims Unit. It goes without saying she's a big get for the series, but we'll say it anyway because we're psyched to see her performance.
Evan Evagora - ???
One of the true mystery characters to Picard is the one to be played by Evan Evagora. There aren't even rumors about how he'll contribute to the series. One thing worth noting, however, is that Evagora is younger than the previously cast characters in Picard, which means he probably won't be a character with some formal training in any specialized field. Oh no, this isn't going to be another Wesley Crusher, is it?
It's always possible, although rumors of a character who suffers from a drug and alcohol addiction may mean this show is free from over-confident children regularly messing things up. Plus Evagora is young, but he's at least of Ensign age provided Starfleet is around in this show. That still has yet to be confirmed, as does whether or not these crew members are human or otherwise. Put simply, it's best not to speculate until we have more information.
The Picard series -- which has yet to be officially given a name -- is still in development at CBS All Access (opens in new tab) but is expected to premiere later this year. CinemaBlend will continue to keep an eye on its development and provide updates on its progress as the months drag on. For more television shows on the way in the meantime, head on over to our midseason premiere guide.
Your Daily Blend of Entertainment News
Mick likes good television, but also reality television. He grew up on Star Wars, DC, Marvel, and pro wrestling and loves to discuss and dissect most of it. He's been writing online for over a decade and never dreamed he'd be in the position he is today.