Hallmark Says When Calls The Heart Is Coming Up With A Plan In Wake Of Lori Loughlin Accusations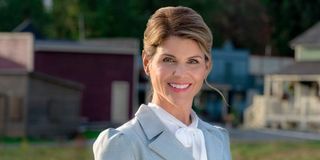 It's been just a few days since a major college admissions scandal broke, implicating famous names like Lori Loughlin and Felicity Huffman. Sadly for the former, her alleged actions and subsequent arrest have cost her jobs on both Hallmark and Netflix, but that has also left a major question: What the heck is going to happen with Loughlin's series When Calls The Heart?
First and foremost, Hallmark has already made it clear that Lori Loughlin will be dropped from the channel and that her co-productions, including her popular Garage Sale Mysteries movies, will no longer be producing new content.
Simple, right? Well, things get a little more complex when you get to When Calls The Heart. The show is just now bouncing back from the loss of Mountie Jack Thornton after Daniel Lissing left the series. Currently, the show is also in the middle of airing its sixth season and Lori Loughlin, who plays the mayor and a café owner on the show, is a big part of that season.
Thus, over the weekend, Hallmark ultimately opted to pull the new episode of When Calls the Heart that would have aired on Sunday night. It was said the show would not be cancelled by Hallmark at the time, but that hasn't stopped speculation about the series and where it could go.
So, Hallmark also took to social media over the weekend to assure fans they will be able to look into the lives of the people in Hope Valley for some time to come. Per Hallmark's Instagram:
How Will This Go Down?
When last we left When Calls The Heart (the weekend before the May 17 episode was ordered), Lori Loughlin's character Abigail was involved in a bit of a battle with the new saloon owner in town. He wanted late hours and she wanted earlier business hours so things wouldn't get out of hand. At the end of the episode, it turned out --and minor spoilers -- that Loughlin was using her willpower and wits to get the new owner Lucas to reach a compromise.
Sure, that storyline was wrapped up pretty admirably, but when we left the show, Abigail was still the mayor in town and the foster mother of Becky and Cody, two kid characters on the show. Her character has also been facilitating Henry Gowen's change for the better and in Jack's absence is arguably the second lead on the show. So, her absence will be felt more than most of the other characters.
It would be super weird to completely recast the character, but it might be horrible to kill the character off so soon after Jack Thornton died, although it should be said that When Calls The Heart is not immune to tragedy, having kicked off in Coal Valley right after a mining accident killed many of the men in town. The other option would just be to have Abigail mysteriously leave, but again, even that could be clunky since we are midseason right now.
Where Is The Show Right Now?
Ultimately, Season 6 has aired three episodes so far. Had this happened prior to the start of the 10-episode season, the show probably could have just easily written the character off. However, right now it's unclear what When Calls The Heart would need to reshoot to cut the character of Abigail Stanton off of the show. It could be expensive or time-consuming --or both -- to figure it out.
While we wait for answers, other series leads who are typically avid on Instagram and other platforms have kept quiet, including Erin Krakow and Pascale Hutton. Hutton's last post was When Calls The Heart related, but it happened a week ago.
Considering the show is in the middle of Season 6 right now, you would think that Hallmark would try to come up with an efficient solution in order to get the show back on the air fairly soon. However, Hallmark has simply implored fans to keep "checking back to our social for updates" while the channel figures the Lori Louglin situation out.
We'll let you know as soon as When Calls The Heart ends up back on the schedule on Sunday nights. Meanwhile, spinoff When Hope Calls is still in development for Hallmark's streaming service and is expected to premiere later this year, in August of 2019.
Amazing Race & Top Chef superfan with a pinch of Disney fairy dust thrown in. If you've created a rom-com I've probably watched it.
Your Daily Blend of Entertainment News
Thank you for signing up to CinemaBlend. You will receive a verification email shortly.
There was a problem. Please refresh the page and try again.