The Flash: Cicada Has A Plan To Kill All Metahumans, But Is Reverse-Flash The Big Bad?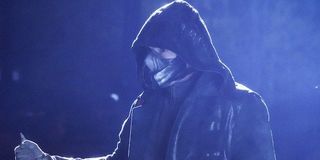 Spoilers ahead for Episode 20 of The Flash Season 5, called "Gone Rogue."
The supervillain Cicada has been a thorn in the side of Team Flash all season, with both the original Cicada and his successor determined to end all metahumans in Central City. The reintroduction of Reverse-Flash, however, guaranteed that both Cicadas would be overshadowed by Barry's first and worst nemesis. In "Gone Rogue," the good guys figured out Cicada's plan to kill all metahumans en masse, but I still have to wonder: is Reverse-Flash the big bad of the season?
At first, "Gone Rogue" seemed like it was focusing more on the characters than the overall arc of Cicada and/or Reverse-Flash as Nora joined up with some rogues to try and steal some tech in Central City. Given that she was using the Speed Force she'd learned about from Thawne and going the extra mile to avoid being discovered by Team Flash, Barry understandably didn't trust her motivations.
The episode eventually revealed that Nora had teamed up with Weather Witch, Queen Bee (formerly known as the Bug-Eyed Bandit) and the creepy contortionist Ragdoll in order to steal tech needed to create a way to destroy Cicada's dagger for good. She got the idea from Reverse-Flash, and Iris was on board; Barry just needed a reminder that Nora is a good person to get on board with it as well.
I don't want to say that it'll backfire spectacularly, but I'm guessing it will backfire at least a little bit. The good guys certainly need a way to stop Cicada as soon as possible, as she has found a way to use the metahuman cure (which they created) to kill metahumans, and she plans to release it in a way that it will reach and kill them en masse.
Objectively, Cicada is a huge threat, as there are several metas on Team Flash, not to mention all of the innocent metas just living their lives in Central City. She even raised the stakes in the previous episode when her actions resulted in Caitlin's dad's death. So why does Cicada not feel like the big bad of the season?
The Flash sometimes struggles with finding the right amount of time to play out a mystery, and the Savitar mystery was drawn out far too long for my taste. In Season 5, I'm beginning to wonder if The Flash gave away too much about both Cicadas too soon.
The return of Reverse-Flash -- a.k.a. Barry's iconic opponent -- and the mystery of his motives just eclipses the baddie who only came on the scene as Cicada 2.0 relatively recently. Is Cicada seemingly taking a backseat in Season 5 a deliberate move by the show? Or did the folks behind the scenes simply not account for how magnetic Tom Cavanagh is when playing Reverse-Flash?
Either way, we'll presumably find out the real big bad in the not-too-distant future. Only a couple episodes are left in Season 5, and the season finale promises a showdown to remember. Check out some of what to expect in the penultimate episode trailer:
Tune in to The CW on Tuesday, May 7 at 8 p.m. ET for the next new episode of The Flash. The show is losing at least one significant character in the Season 5 finale the week after, so be sure to watch to make your guesses about who's leaving. Check out our picks for the characters most likely to leave!
Resident of One Chicago, Bachelor Nation, and Cleveland. Has opinions about crossovers, Star Wars, and superheroes. Will not time travel.
Your Daily Blend of Entertainment News
Thank you for signing up to CinemaBlend. You will receive a verification email shortly.
There was a problem. Please refresh the page and try again.