Law And Order: SVU Got Snoop Dogg To Read The Opening Narration For The Win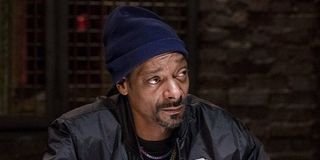 Law & Order: SVU has brought in plenty of big-name stars for guest appearances over its 20 seasons so far, and the May 2 episode featured Orlando Jones and Snoop Dogg as competing rappers. Well, SVU didn't waste Snoop Dogg's talents or his distinctive style of delivery when he dropped by the show, and he recorded his own version of the narration that has been opening episodes of SVU since back in 1999. Take a look!
Even if Snoop Dogg's performance in the May 2 episode of SVU had been a flop, it would have been worth bringing him in just to get him reading the opening narration. Seriously, if I had to change one thing about the video, it would have been to have Snoop Dogg say the "DUN DUN" at the end of the narration. Or am I the only person who does that when speaking along with the narration?
Whatever the reason, it's always a joy to see the SVU team get a little silly, like Mariska Hargitay and Ice-T did for a Game of Thrones: Special Victims Unit bit on Kit Harington's episode of Saturday Night Live. Law & Order: SVU can be so depressing that viewers have to get their laughs somewhere, right? The good news is that Snoop Dogg did not flop in the May 2 episode, called "Diss."
Spoilers ahead for Episode 22 of Law & Order: SVU Season 20, called "Diss."
In the Fin-centric "Diss," Snoop Dogg played a rapper by the name of RB Banks, who had an ongoing feud with fellow rapper (and Fin's childhood friend) Justin. RB Banks and Justin bad mouth each other in their raps all the time, but only to drive sales and create buzz.
Unfortunately, fans on social media don't always understand that the feuds are just words, and that can lead to dangerous encounters, although it was ultimately not a crazed fan who attacked Justin's wife. It wasn't RB Banks either, despite SVU's tendency to cast big name stars as murderers and rapists.
Snoop Dogg was a suspect but ultimately cleared due to an alibi. We can enjoy his narration video (posted by the SVU Twitter account) without thinking about his character as a very bad guy. End spoilers.
Let it not be said that Law & Order: SVU has run out of new things to do despite being pretty long in the tooth! The already long-running series was renewed for a record-breaking Season 21 back in March. Season 21 will make SVU the longest-running primetime live-action series in TV history, putting it ahead of Gunsmoke and the original Law & Order. Olivia Benson will earn her place in history as well, as the longest-running female character in a primetime live-action series.
Will Season 21 be the end of SVU? One member of the cast was already cut ahead of Season 21, and former showrunner Michael Chernuchin stated that his goal was breaking the record and hitting 21. Mariska Hargitay, on the other hand, has said that she'll "stay for 25 years" as long as the writing is good.
Season 20 of SVU is almost at an end, as the season finale airs Thursday, May 16 at 10 p.m. ET on NBC. Be sure to tune in to see how SVU gets ready to kick off its historic twenty-first season on the airwaves. Who knows? Maybe Snoop Dogg can come back for it.
Resident of One Chicago, Bachelor Nation, and Cleveland. Has opinions about crossovers, Star Wars, and superheroes. Will not time travel.
Your Daily Blend of Entertainment News
Thank you for signing up to CinemaBlend. You will receive a verification email shortly.
There was a problem. Please refresh the page and try again.