Dany Vs. Cersei: Who Will Win The Final Game Of Thrones And Who Will Die?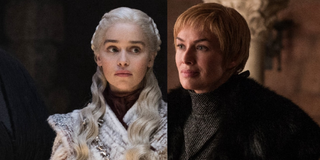 Spoilers for Game of Thrones Season 8 are discussed below.
Game of Thrones just got through with its giant battle at Winterfell, and now it is full steam ahead on the next agenda: The struggle for the Iron Throne. In the trailer for Episode 4, Queen Daenerys Targaryen looked and sounded ready to get her showdown with Queen Cersei Lannister underway.
Clearly, Dany is not letting Jon Snow's reveal about his claim as the rightful heir to the Iron Throne dissuade her. She wants to be the Queen of the Seven Kingdoms, and she is ready to take down Cersei to get it.
There are still quite a few things that could stand in her way. Emilia Clarke's unsettling reaction to Dany's final scene on Game of Thrones was telling. What she said indicated that Daenerys may not go out on the best note. Is that because she dies? Or is it the way she goes out on the show, personality-wise?
Emilia Clarke also teased that Episode 5 is going to be a massive episode of Game of Thrones. Will that be the one where she and Lena Headey's Cersei collide? Could the winner of the Iron Throne be determined in that installment? There is a lot of reason to think it may. Remember, Episode 5 is the penultimate episode of the series.
As fans know, the penultimate installment of Game of Thrones tends to be a large one in any given season. Why change the formula now? It makes sense for Dany's war with Cersei to crescendo in that episode. Now, to the other question. Will Cersei die before the end of Game of Thrones?
Cersei does not necessarily have to die. However, her death has been highly prophesized, and many fans feel like her demise is inevitable. The question is if it happens, who will be the one to do it? Cersei's disgruntled brothers have long been speculated to be the culprits.
Tyrion already killed his father, Tywin. Doing so has seemed to weigh on Tyrion mightily. The aftermath changing him forever. I do not think he would snap and kill Cersei unless she did something so heinous he felt he had no choice.
Cersei has hired Bronn to kill Tyrion and Jaime. That's something I cannot see him going through with given his friendship with them. Learning she did that would not be that enraging for either of her brothers. Her trying to kill them (or at least Tyrion) is just par for the course.
Back to Tyrion. No matter what Cersei does, it would not make sense for Tyrion to kill her knowing that she is pregnant. If memory serves, only he, Jaime, and Qyburn have the knowledge that she is. No matter how angry he gets, Tyrion would not harm her for that reason alone.
The same thing applies to Jaime. Cersei is having his baby, and he has an unconditional love for her. That is how she gets away with so much. Jaime is not particularly prone to rash killings anymore, and the way the prophecy describes her murder makes it sound like one.
Jaime is a total softie when it comes to Cersei, and nothing she could do would really change that. He gets angry and not much else. Following Melisandre's words to Arya, many fans believe that the Stark assassin will kill Cersei too.
Since Arya doing that seems sort of obvious at this point, it also seems doubtful. If the goal of her killing the Night King was to be shocking, then the same rule should apply to Cersei. Meaning someone unexpected (not Arya) should kill her.
It's also worth noting that Jon Snow and The Hound are also younger brothers. That's a key description of her killer in the prophecy from George R.R. Martin's book series. Jon is the youngest of Rhaegar Targaryen's three children. The Hound is the younger brother of The Mountain.
As for the Iron Throne, its fate is very much in question. Cersei has a weapon that could kill one of Daenerys' dragons. While Daenerys has, well, her dragons. So, this is sort of cut and dry, unless Qyburn's weapon can hurt one of them.
Then there is the biggest issue of all. Daenerys is not the "rightful" heir to the Iron Throne by blood. Before the Battle of Winterfell began, Jon Snow revealed his true lineage to her. Those birth certificate credentials give him a biological claim that surpasses Dany's to the Iron Throne. (There's still potential for Gendry to have a Baratheon claim in this game too.)
In the trailer for the next episode, Daenerys acts as though it is a non-factor. Maybe Jon Snow tells her it is, since he has never wanted to rule? Or she is simply proceeding as if she never heard it and daring Jon to make the next move. Check it out below:
Jon is in a similar spot to Ned Stark many years ago. He knows a truth that changes who rightfully belongs on the Iron Throne. However, he like, Ned is not in a safe spot to pursue his claim, even if he wanted to. Daenerys has custody of the dragons.
She could offer Jon the Iron Throne, and he refuses. However, her demeanor upon hearing the news did not seem to fit with that. Of course, something could change in the next episode. It just seems unlikely that it will.
Tune in as Dany and Cersei's battle for the Iron Throne heats up when Game of Thrones' Season 8 continues. New episodes of the final season air Sundays at 9 p.m. ET on HBO.
Like a contented Hallmark movie character, Britt happily lives in the same city she grew up in. Along with movies and television, she is passionate about competitive figure skating. She has been writing about entertainment for 5 years, and as you may suspect, still finds it as entertaining to do as when she began.
Your Daily Blend of Entertainment News
Thank you for signing up to CinemaBlend. You will receive a verification email shortly.
There was a problem. Please refresh the page and try again.