How Shadowhunters Season 4 Would Have Gone For All The Main Characters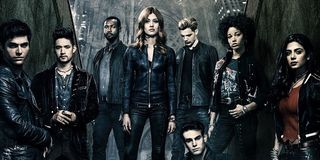 Major spoilers below for anyone who hasn't yet watched the Shadowhunters series finale.
Shadowhunters managed to please its hardcore fanbase with some largely satisfying and well-developed conclusions during its extended series finale, despite the fact that its run was cut short by Freeform. Due to its predestined ending, certain storylines needed to play out and wrap up quicker than the writers would have liked, and characters like Jonathan, Maia and Alec would've gotten to take on other plotlines had Shadowhunters gotten renewed for Season 4 and beyond.
Now that the finale has aired, co-showrunners Darren Swimmer and Todd Slavkin have explained which facets of the finale would've played out differently had it only been capping off Season 3 and not the entire series. Some of these details could still work out if a network or streaming service swoops in and renews Shadowhunters, though that outcome is less likely with each day that passes.
Jonathan & Seelie Queen (Luke Baines) (Kimberly Sue-Murray)
Apparently, Shadowhunters gave fans the CliffsNotes version of Jonathan's relationship with the Seelie Queen. Todd Slavkin told EW that the couple's relationship was supposed to last an entire season, and would showcase a much deeper emotional bond the quick fling between them. This was largely because Jonathan's metamorphosis was going to take more time, which may have given the Seelie Queen a chance to hold more power over him than what was shown.
Addtionally, there was zero chance either of the showrunners actively wanted to kill the Seelie Queen so early. As for as how much longer she was going to stick around, that wasn't specifically shared, but one could assume the ancient queen wouldn't have dropped nearly as quickly as she did following Jonathan's transformation, and might have been a major force through much of Season 4.
Magnus & Alec (Harry Shum Jr. & Matthew Daddario)
Regardless of whether or not Shadowhunters was cancelled or renewed, Magnus and Alec were going to get married, that much can be confirmed. The difference, however, is that the amount of time between the proposal and the wedding would've lasted much longer. How long isn't clear, but Todd Slavkin said the wedding would not have taken place on the same day like it did in the finale.
The two would have spent time planning the wedding during Season 4, and maybe there would have been a scene or two with tensions sparked between Magnus and Alec on the road to eternal matrimony. Plus, there was more trouble in store. Here's how Swimmer put it to TVLine.
With all that being said, the two characters did a pretty amazing job pulling things together, considering everything that happened both on the screen and behind the scenes.
Simon & Izzy (Alberto Rosende & Emeraude Toubia)
Simon & Izzy finally got together in the finale, and the general consensus of those watching on social media was that it was long overdue. Unfortunately Shadowhunters only scratched the surface of what was planned to be a seasons-long romance that brimmed with narrative depth and everything else that eager fans may have wanted to see.
Obviously, if Shadowhunters gets renewed, there's still a chance of this happening. For the time being, though, Todd Slavkin said any stories about Simon and Izzy from here on out are for interested parties to follow and plot out "in the fan fiction." The only question now is, will creative viewers rise to the challenge and provide the wholesome Simon & Izzy the fanbase deserves?
Helen & Aline (Sydney Meyer & Jacky Lai)
Shadowhunters didn't get a lot of time to dive deep into Helen and Aline, but had it not been forced to end things with Season 3, much more from their relationship in the books would have played out on screen. As an exacmple, Helen's siblings were going to come into play. Here's how Slavkin put it:
In short, things were going to be big for Helen and Aline in future seasons, and it's possible they still could if Shadowhunters were to ever return. Obviously that's a big "if" at the moment, but just because the showrunners are revealing potential plans doesn't mean they still couldn't do anything with them if the series did happen to make a return. Hopefully all these big teases inspire fans to come together and demand Shadowhunters' return.
Luke (Isaiah Mustafa)
Had Shadowhunters Season 4 been a thing, the Freeform series was going to dive into the story of Luke as a Shadowhunter. Though he once was one in the past, it appeared he would get back in the game and even live in the institute. The general tease was that he'd have a bigger role in general in future seasons, which would've been great to see.
Again, there's a chance that could happen in the canon's potential future, considering the series finale featured Luke getting the serum that removed his werewolf traits and made him a Shadowhunter once more. He may not be the big Papa Wolf any longer, but clearly there's some ground for Luke to still tread now that he's back as a Shadowhunter.
Maia (Alisha Wainwright)
The Shadowhunters finale saw Maia running a restaurant open to supernaturals, and she was also the alpha in her own pack. As one would imagine, there were plans by the showrunners to dive deeper into Maia's journey as an alpha, though maybe not so much into the trials of opening and operating a restaurant in its first year. Just saying, there's plenty of drama in that as well!
In all seriousness, Maia's future was teased to be one of the storylines that would've gotten some major play in future seasons, so there's a sense that things were only getting started for Alisha Wainwright's character. As for where things would have headed, we can't say for sure, but there's always a small chance some network may give Shadowhunters a chance to flesh that out.
Clary & Jace (Katherine McNamara & Dominic Sherwood)
In one of the more heart-wrenching parts of the finale Clary sacrificed her powers in order to save everyone else, and lost her memories of the Shadowhunters. The news was heartbreaking to Jace and the rest of the group, although things seemed to be going wrong for the clueless Clary who had found a new life as an artist.
That could've been the end right there, and seemed to be until Clary "saw" Jace watching her at her art gallery. It was evidence enough that the Angel's punishment didn't fully take, and that Clary could make her way back into the Shadowhunters in some way. Here's how Swimmer explained it to EW.
Fans are left to speculate as to where that open ending would lead, which may motivate them enough to strike up movements once again to get the series brought back for Season 4.
Will Shadowhunters get to explore any of these future plotlines, or will this much loved show simply fade away now that fans have gotten a semi-conclusive end? CinemaBlend will keep an eye open for updates in the meantime, and report on other news in television, movies, and pop culture.
Your Daily Blend of Entertainment News
Mick likes good television, but also reality television. He grew up on Star Wars, DC, Marvel, and pro wrestling and loves to discuss and dissect most of it. He's been writing online for over a decade and never dreamed he'd be in the position he is today.