How NCIS: Los Angeles' JAG Reunion Did In The Ratings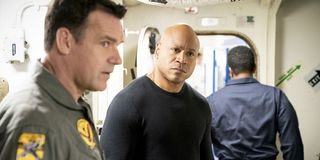 (Image credit: CBS)
The NCIS franchise is no stranger to crossovers between its three current shows, but NCIS: Los Angeles had something special in store for fans who have been watching since the very beginning. JAG actually began the universe that would come to include multiple NCIS installments back in 1995, and one JAG actor reprised his role for the first time since 2005 in the penultimate episode of NCIS: LA Season 10. David James Elliott was back as Harm, and the numbers are in for how many people tuned in.
In the May 12 episode of NCIS: Los Angeles, called "The Guardian," the show attracted an audience of 5.75 million viewers and scored a rating of 0.6 in the key 18-49 age demographic, according to TV By The Numbers. The 0.6 rating is a boost from 0.5 last week; we can't say whether the boost was because fans were excited to see Harm back in action or just because more were able to tune in, but the NCIS: Los Angeles team must be happy with the extra 0.1.
The numbers are well below what the big wedding episode scored when Kensi and Deeks tied the knot earlier this season, but that was an event that was the better part of a decade in the making. News that NCIS: LA was bringing in David James Elliott was a big surprise, and JAG isn't exactly a hot topic anymore. All things considered, the 0.6 rating and 5.75 million viewership are solid, and they could lead to a finale that scores even higher numbers.
The Season 10 finale next week will bring back another JAG alum and answer a long-standing JAG question, so it's must-see TV for JAG fans. It's also worth noting that the numbers for the penultimate episode only account for viewers who were already able to watch the episode, which didn't even air 24 hours ago at the time of writing. Both ratings and viewership could jump once a few more days of viewing can be tallied.
Want to binge watch NCIS and more of your favorite shows? Get a week of CBS All Access FREE! Sign up here.
Many shows benefit from a few days of post-live viewing calculations, and the night of May 12 was packed with high-profile TV events. Game 7 of the NBA semifinals between Philadelphia and Toronto kicked off at 7 p.m. ET, and Game of Thrones' deadly penultimate episode premiered at 9 p.m. ET and ran for more than an hour. If viewers were more inclined to watch basketball and/or Game of Thrones live and push NCIS: LA to later in the week, its growth in post-live viewing could be substantial.
If Game of Thrones and basketball did impact the May 12 episode, then the Live+Same day numbers for the finale could be similar, if not worse. On the basketball front, the third game of the eastern finals airs at 7 p.m. ET, and the series finale of Game of Thrones airs at 9 p.m. ET.
When The Big 2018-2019 TV Season Finales Are Airing
The NCIS: Los Angeles Season 10 finale airs Sunday, May 19 at 10 p.m. ET on CBS. It will bring back Catherine Bell as JAG's Mac as well as David James Elliott as Harm. Could a JAG revival be in store? It's not all that impossible, especially considering the NCIS franchise is going strong enough that all three current series were renewed for the 2019-2020 TV season.
Resident of One Chicago, Bachelor Nation, and Cleveland. Has opinions about crossovers, Star Wars, and superheroes. Will not time travel.
Your Daily Blend of Entertainment News
Thank you for signing up to CinemaBlend. You will receive a verification email shortly.
There was a problem. Please refresh the page and try again.