All The Better Call Saul Cast Members That Also Appeared In Breaking Bad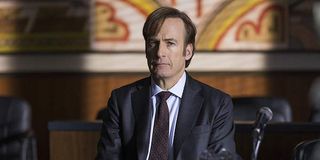 These past four seasons, Better Call Saul has proven itself to be the rare prequel series that lives up to its successor. I'm referring, of course, to the masterpiece of television known as Breaking Bad. In fact, to some, Vince Gilligan and Peter Gould's AMC follow-up series is even better than what we got during Gilligan's original Emmy-winning drama. But we're not here to split hairs.
Whether or not you think Better Call Saul is as good as, if not better than Breaking Bad, the truth of the matter is that we wouldn't have Better Call Saul without Breaking Bad. And the prequel series makes a point to remind us constantly that they live in the same expansive universe.
In this article, we'll mention the slew of Breaking Bad characters who have made their way into Better Call Saul. Admittedly, there are more-than-a-few who work their way into the fold, and we don't get to talk about all of them in the same amount of detail. Be forewarned, however: as you would expect, this article will contain spoilers for Breaking Bad. It will also obviously contain some spoilers for Better Call Saul.
If you are adverse to being spoiled on either series, check back when you are finally caught up with both excellent series! We'll be waiting here whenever you're ready.
Saul Goodman
It's the most obvious one, of course, but we would be remiss if we didn't include Saul Goodman, the alter-ego of Jimmy McGill, the protagonist of Better Call Saul. Played by Bob Odenkirk, Saul Goodman first made his appearance in Breaking Bad back in Season 2, Episode 8, when he offered his services to rising drug kingpin Walter White (Bryan Cranston).
In Better Call Saul, however, Jimmy McGill is an idealistic up-and-coming lawyer who does not have the same sharp skills as his older, more accomplished brother, Charles McGill (Michael McKean), who no longer practices law due to electromagnetic hypersensitivity.
Throughout the series, Jimmy McGill is constantly trying to better himself from his criminal past. But in the process of trying to better himself, he starts to lose his decency as the series progresses. As a result, there will be a point where Jimmy fully becomes Saul Goodman. And we're closer to ever to seeing that point come into fruition — particularly as the series is closer to its finale than ever.
Meanwhile, throughout Better Call Saul, we also get glimpses into the future; we watch Jimmy/Saul live out his days as Gene Takovi?, a lonely Cinnabon manager persona that Saul adopted after the fallout of Breaking Bad's events.
Mike Ehrmantraut
One of the most beloved characters in Breaking Bad, it would be extremely disappointing if Better Call Saul didn't find a way to incorporate Mike Ehrmantraut into the fold. Thankfully, the creators made the character an even bigger presence in this new show.
Played by Jonathan Banks, Mike Ehrmantraut was first introduced into Breaking Bad in Season 2, Episode 13. Mike is a brooding, hard-staring killer with a soft spot for Kaylee, his granddaughter, the light in his darkness. As the character progressed, we had more chances to see the spot side of the character beyond the rough exterior.
Throughout the series, it was revealed that Mike Ehrmantraut was working alongside Gus Fring. It was never fully explained in Breaking Bad how they got to know one another.
In Better Call Saul, however, we get to see Mike's early, somewhat tenuous association with Gus Fring, and how that soon developed into a sort of begrudged loyalty to the fast food restaurant owner's criminal misdeeds. In both Better Call Saul and Breaking Bad, we see how Mike pulls one job after another for Gus, all the while forming a loose correspondence with Jimmy/Saul as well.
Gus Fring
Quite possibly the best villain in Breaking Bad's history — unless, for understandable reasons, you think Walter White earns that honor — Gus Fring is a tightly-wound, multi-faceted manager of not only the lovable local chicken eatery, Los Pollos Hermanos, but also the growing meth operations that run throughout the city.
Played by Giancarlo Esposito, Gus Fring first made his entrance into Breaking Bad in Season 3, Episode 2. He is a practiced, well-disciplined man who isn't afraid to resort to some extreme, bloody measures to prove a point or showcase his authority. It is clear that Gus is not a man to mess with — even though Walter White doesn't heed that warning throughout the events of Breaking Bad.
Throughout Better Call Saul, we see the extensive pull that Gus Fring has in the criminal world. His influence exceeds far and wide, and it is only growing until we make our way to Breaking Bad's journey. His pockets run deep and his associations are wide, although he ultimately meets his match when he crosses paths with Walter White in Breaking Bad.
Tuco Salamanca
Tuco didn't get to stay on Breaking Bad for long, but he certainly left an impression during his time on the show. This character was Walter White and Jesse Pinkman's first major opponent when he came onto the show in Season 1, Episode 6.
But Tuco, played by Raymond Cruz, was once again introduced to fans at the tail-end of Better Call Saul's premiere, serving as the first surprise cameo from Breaking Bad. In Better Call Saul, we get to see more of his ruthless operations, and we get a better glimpse at how he rose to higher power and corruption before we met him in Breaking Bad.
Hector Salamanca
When Hector Salamanca, played by Mark Margolis, was introduced into Breaking Bad in Season 2, Episode 2, he was a feeble, mute, wheelchair-bound man who was always silently seething. He was furious at Walt and Jesse for leading Tuco to his death, but his hatred for the police ran even deeper.
Nevertheless, as a flashback in Breaking Bad once showed, Hector wasn't always wheelchair-strapped and unable to speak. He, in fact, had great pull and influence, and we see him speak and interact with several characters, including Gus and Mike, in Better Call Saul.
Lydia Rodarte-Quayle
The neurotic department head who helps run a front for an international meth operation, Lydia Rodarte-Quayle, played by Laura Fraser, was always one of the most underrated components of the show. Though she played a core component of the show once she was introduced in the show's fifth (and final) season in Episode 2, Lydia served as an intriguing addition to Breaking Bad, and thankfully, she has also been included into the later seasons of Better Call Saul.
Interacting with Mike, we see that Lydia is just as neurotic as she was on Breaking Bad. However, we also get a better understanding of how she found herself immersed in a world of criminals.
Huell Babineaux
What would a show about Saul Goodman be without an appearance or two by Huell Babineaux? Played by Lavell Crawford, the lovable Huell was first introduced into the world of Breaking Bad in Season 4, Episode 1 as Saul's constantly-napping right-hand man.
In Better Call Saul, we haven't had too many opportunities to get reacquainted with Huell, but he did play a crucial in Season 3, Episode 5 (my favorite episode of Better Call Saul to date, for the record) when he helped to outwit Chuck McGill at Jimmy's bar hearing by sneaking a cell phone battery in his coat jacket pocket.
Francesca Liddy
As Saul Goodman's droll, jaded secretary, Francesca Liddy (played by Tina Parker) is fairly resigned when we first meet her in Season 2, Episode 8 of Breaking Bad. But when it comes to her placement in Better Call Saul, she is the exact opposite.
Her demeanor is bright, kind and loyal, helping to make Kim Wexler (Rhea Seehorn) and Jimmy McGill's newfound law practice an active, thriving place. It's unclear what is going to happen between Better Call Saul and Breaking Bad, but it's clear that Francesa's outlook on life changes dramatically between shows.
Marco and Leonel Salamanca
Silent, but lethal stalkers and killers in Breaking Bad, Marco and Leonel Salamanca were men of extremely few words during their time on Breaking Bad, but they definitely left an impression once they made their introductions in Season 3, Episode 1.
The twins eventually met their demise during an altercation with Hank Schrader (Dean Norris), but they had a chance to return to the world when The Cousins, played by Daniel and Luis Moncada, appeared in Season 2, Episode 6 of Better Call Saul.
Gale Boetticher
As the science-loving geek who helps Walter White in his meth-making operations under Gus Fring's employ, Gale Boetticher is an absolute sweetheart in a show filled with morally-grey (at best) characters. His tenure on Breaking Bad was ultimately short-lived, particularly when his life was taken by Jesse Pinkman.
Still, when he was introduced in Season 3, Episode 6, he instantly became a fan favorite. While he hasn't made a big impact on Better Call Saul, the character, played by David Costabile, made a brief-but-enjoyable cameo in Season 4, Episode 3 of the prequel series.
In addition to these characters, there are a few other crossover characters we unfortunately didn't get to dive into. Those include, but are certainly not limited to, Stephanie Doswell, Dr. Barry Goodman, Lawson, Ken Wins, Juan Bolsa, Don Eladio Vuente, Ira of Vamonos Pest, Domingo Gallardo Molina, i.e. Krazy-8, Tyrus Kitt, Victor, No-Doze, Gonzo and Fran the Waitress. Did we forget to include anyone else? What is your favorite crossover moment from Better Call Saul? Let us know in the comment section below!
Your Daily Blend of Entertainment News
Will is an entertainment writer based in Pittsburgh, PA. His writing can also be found in The Playlist, Cut Print Film, We Got This Covered, The Young Folks, Slate and other outlets. He also co-hosts the weekly film/TV podcast Cinemaholics with Jon Negroni and he likes to think he's a professional Garfield enthusiast.