The Game Of Thrones Finale Left At Least One Water Bottle In A Key Scene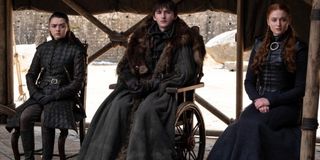 Warning: spoilers for Game of Thrones are in play. If you haven't watched last night's series finale, "The Iron Throne," shield your eyes from the dragon fire of spoilers and come back once you've completed your journey.
The only consensus that seems to be easily reached when it comes to the final season of Game of Thrones is that it's pretty, pretty divisive. But no matter which side of the realm you sit on, there's been some rather hysterical memes and gaffes that have come from this final season of what could be called HBO's current flagship franchise.
And just as we've all gotten over the fact that Starbucks existed for a brief moment in the Seven Realms, a new discovery has been made: plastic water bottles apparently were invented in Westeros, as at least one was spotted in the finale, during the crucial scene that saw the eventual crowning of the Seven Realms' new leader.
In the middle of discussing whether or not Jon Snow should live, and making Bran "The Broken" Stark king of Westeros, there was a plastic water bottle behind Samwell Tarly's left leg. To be honest, Sam ended up being one of the co-authors of the ultimate tome of Westerosian history, A Song of Fire and Ice, so we're willing to believe that the man was able to invent plastic way sooner than that of our normal realm.
You can see it for yourself, in a video captured by an eagle eyed Twitter user, as seen below:
That theory would certainly explain the supposed second water bottle spotted in that same scene, which was allegedly found behind Ser Davos Seaworth's legs in a screenshot shared further down in the thread of responses. Unfortunately, there's only footage confirming the bottle behind Sam's leg, so this second bottle theory could be proven or disproven at any given time.
The humorous "Samwell was wise beyond his years" theory could even be used to explain away the craft services coffee cup that was seen in the episode "The Last of The Starks." But seeing as that was removed from the episode after the public pointed it out, that invention has already been scrubbed from the world of Game of Thrones by some post-production time travel.
Indeed, it probably won't be too long until this latest example of Game of Thrones' minor inconsistencies with history is removed from the episode that saw the eight season wonder's watch officially ending. Which is probably a good thing, because with the bottles being unlabeled and all, there's not going to be any uptick in sales of Dasani or Poland Spring this time.
Although there are the various Game of Thrones spinoffs that HBO is considering and developing at the moment. So maybe with some careful discussion and planning, we'll see actors able to drink their Starbucks and bottled water freely from discreetly themed drinking vessels. But if it's all the same to you folks, we'll go on pretending Samwell is the one character on Game of Thrones we can still believe in.
Game of Thrones is now available, in its entirety, on HBO Go and HBO Now.
CinemaBlend's James Bond (expert). Also versed in Large Scale Aggressors, time travel, and Guillermo del Toro. He fights for The User.
Your Daily Blend of Entertainment News
Thank you for signing up to CinemaBlend. You will receive a verification email shortly.
There was a problem. Please refresh the page and try again.