Cote De Pablo's Ziva: What We Know About The NCIS Character's Future In Season 17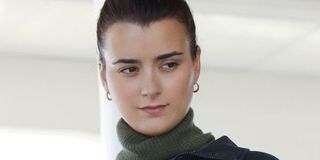 MAJOR SPOILERS BELOW for the Season 16 finale of NCIS. Do not keep reading if you haven't yet watched, but still want to be surprised by what happened.
Well, NCIS fans, the big moment that everyone was waiting for finally came in the Season 16 finale, with the show offering up a concrete(ish) answer to the big Ziva mystery that was reintroduced earlier in the season. The result? Cote de Pablo's Ziva David was not only confirmed to still be alive, but she was actually THERE and back in the flesh for all the world, and Gibbs, to stare at with dumbfounded excitement.
So what does this mean for the future of Cote de Pablo's Ziva within the NCIS universe? Let's look at all the facts we have on hand.
Will Cote De Pablo's Ziva Return For Season 17?
While many fans probably wouldn't have expected this to be a legitimate line of questioning by the time Season 16 ended, NCIS stoked the flames in the best way with its latest finale. Thankfully, also, CBS and the drama's producers decided not to keep fans in the dark during the summer hiatus, and it was officially announced that Cote de Pablo would be returning to NCIS for Season 17 in a limited capacity.
How limited? That specific detail is still undisclosed, but at least it has been confirmed that the former NCIS star will be reprising her role, and viewers won't need to keep on guessing about the character's fate. In fact, here's what showrunners Frank Cardea and Steven D. Binder said about Cote de Pablo's future on NCIS.
The way they said "just the beginning" will likely have some fans climbing the walls with anticipation. There are so many questions that need to be answered regarding Ziva's existence in recent years, and it sounds like NCIS' bosses intend on broaching at least some of them.
How Much Will Cote De Pablo's Ziva Be Used In Season 17?
For anyone who hoped that Cote de Pablo would be returning to NCIS full time as former agent Ziva David, don't be too disappointed, for she's currently only tapped to take on a guest-starring role for the Season 17 premiere episode. Does that completely rule out the possibility that her comeback could be expanded into something larger? One wouldn't think so.
Ziva's future on NCIS likely depends on a handful of very important elements. First and foremost, the showrunners and the rest of the NCIS creative team need to craft the most fitting and engaging story possible to justify both Ziva's long absence and her decision to return. (For which the disturbing seeds have already been planted, tying things back to Diane's murder.) It's assumed that de Pablo wouldn't return if the storyline didn't earn it.
As well, it will be important for the NCIS crew to make Cote de Pablo feel as comfortable and as welcome as possible when production starts up on Season 17. The actress shockingly exited NCIS back in Season 11, and later claimed that part of her reasoning was that the scripts weren't doing her character justice, which was clouded by vague behind-the-scene TV politics.
Since de Pablo left the show in 2013, both NCIS and CBS have gone through a world of changes both on and off the screen. Former showrunner Gary Glasberg passed away in 2016, leading to longtime writers Frank Cardea and Steven D. Binder getting promoted. De Pablo's former co-star Michael Weatherly, who played Ziva's bestie-turned-love-interest Tony DiNozzo, is now leading his own CBS drama on Bull (which already has its own allegedly murky past). As well, Pauley Perrette exited the series as Abby in Season 15, with an air of mystery surrounding that situation.
As such, there may have been enough changes behind the scenes to inspire Cote de Pablo to rethink her situation, possibly allowing for a bigger and longer return to NCIS for Season 17. It's assumed that Frank Cardea and Steven D. Binder wouldn't deny the actress (and fans) more quality time with the beloved character, so here's hoping it all works out.
Where Has Cote De Pablo's Ziva Been And How Did She Return?
While many past NCIS characters haven't earned any follow-up news about how things are going in their lives, Ziva David's story has gotten surprisingly updated every two seasons or so since she left. Her final episodes in Season 11 had the character in Israel after she'd resigned from the NCIS team, where she shared a big kiss with Michael Weatherly's Tony, finally giving fans the romantic connection they'd wanted for years.
The next Big Ziva Update came in Season 13 for Michael Weatherly's final season as part of the main cast. Fans learned that Tony and Ziva had slept together at some point after that first kiss, and that they had a daughter together, Tali. It was reported that Ziva had been killed when her farmhouse exploded, though because a body was never found, suspicions ran amok. Tony ended up leaving the NCIS to care for Tali and to learn more about Ziva's situation on the other side of the globe.
Skip forward a few years, and Season 16 started dropping some of the most tantalizing Ziva-flavored breadcrumbs yet. After a decade-old case was reopened by the NCIS squad, Bishop and Torres discovered that Ziva had also been keeping close tabs on the case in her post-NCIS years.
It was then revealed that Ziva had been renting out a building to use as a private office, where she housed her most private and personal information. And though there was room for suspicion about its origin, a note asking Gibbs to keep her secret safe was seemingly proof that Ziva was still alive.
For the Season 16 finale, "Daughters," Gibbs was plagued by visions of Diane as he sought out to find the person selling drugs to Fornell's daughter Emily. Having caught the guy, a pharmacist transporting Canadian opioids, Gibbs took solace in his basement for a final-scene conversation with Diane, who clued him in on the fact that he's losing the ability keep his protective (and figurative) walls up.
And then, all of a sudden, Gibbs really wasn't alone, as Cote de Pablo's Ziva appeared at the top of the stairs, with Gibbs staring up as if he was looking at a ghost doing a backflip.
Her return was short, but her message was important: "No time for pleasantries. You're in danger." Dun dun dun! Ziva doesn't specify exactly why Gibbs is in danger, but fans have some suspicions. It's not like Gibbs has been the coolest of cucumbers in Season 16. He's realizing the extent of the damage done by burning Rule 10, and the stress of the situation is getting to him, which isn't good for someone who's being targeted, government agent or not.
Now that some of the other NCIS team members know about Gibbs' biggest sins and crimes, it'll be very interesting to see how the character dynamics change up in Season 17. Will Ziva reveal herself to others like Bishop and Torres, who know of her legacy, or will she stay in hiding until Gibbs' life is safe once more? Will Tony also come back? We cannot wait to find out!
NCIS is done with Season 16 on CBS, and will return for Season 17 on Tuesdays this fall.
Your Daily Blend of Entertainment News
Assistant Managing Editor
Nick is a Cajun Country native, and is often asked why he doesn't sound like that's the case. His love for his wife and daughters is almost equaled by his love of gasp-for-breath laughter and gasp-for-breath horror. A lifetime spent in the vicinity of a television screen led to his current dream job, as well as his knowledge of too many TV themes and ad jingles.