How Queer Eye's Antoni Porowski Cooked His Way Into The Fab Five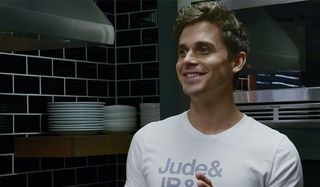 The original Queer Eye For The Straight Guy is, incredibly, almost 20 years old. The rebooted Netflix version, simply called Queer Eye, is about to kick off Season 4 on July 19. If you haven't watched Season 3, it's time to start binging! One of the stars of the show, the food and drink expert, Antoni Porowski, is the perfect man for the job for one very good reason: he comes with the full recommendation and endorsement of the original culinary chief on the show, Ted Allen.
The show has the same format as the original, but an all new "Fab Five" performing life makeovers on people. The original "Fab Five" became iconic and went on to other shows and other endeavors, and one of the most successful of the five is Ted Allen. Allen is seemingly everywhere in the food world these days. He's the host of Chopped on the Food Network, he's a constant presence on The Best Thing I Ever Ate and seemingly every other Food Network show. He is also primary responsible for his counterpart on the new Queer Eye getting the gig.
With that in mind, let's go over Antoni Porowski's background and how he made it onto Queer Eye.
He Grew Up In Canada, But Moved To New York To Make It Big
Antoni Porowski lived quite a diverse and interesting life growing up. He was born in Montreal to Polish parents and spent a few years living in West Virginia of all places, before returning to Montreal for high school and eventually college. While growing up, he developed a passion for acting and for cooking; little did he know those paths would intersect.
He Worked In The Food Industry In New York
Like thousands of other aspiring actors in New York City, Antoni Porowski worked in the food industry to make ends meet while auditioning and scoring a few minor movie and TV roles here and there, like on The Blacklist.
Along the way, he met Ted Allen, whom he shared a neighborhood with, and the two became friends. Eventually, Allen hired Porowski to be his personal chef and began encouraging him to take his cooking more seriously. If someone like Ted Allen tells you to take your cooking more seriously, you do it, and Porowki, also encouraged by his boyfriend, did just that.
Taking Food More Seriously Landed Him The Gig
As Antoni Porowski got more confident with the support of Ted Allen, so did his love of food and wine. When casting directors were looking for the new "Fab Five" for the rebooted Queer Eye, it was Ted Allen himself, he of the O.G. Fab Five, who recommended Porowski for the gig, and he got it.
At first, Porowski wasn't sure how to play it, but in an interview with Grub Street, he noted that once he realized he could combine his talents as an actor with his love for food, it clicked:
Antoni Porowski will be showing off his passions once again with the other members of the new Fab Five: designer Bobby Berk, hairstylist Jonathon Van Ness, fashionista Tan France and cultural expert/life coach Karamo Brown on Netflix next month for another season of Queer Eye, this time in Kansas City, so get hyped!
Queer Eye Season 4 drops on Netflix July 19.
Your Daily Blend of Entertainment News
Hugh Scott doesn't believe aliens are hidden at Area 51 or that Elvis is alive, but he does believe birds are real and Meghan Markle isn't treated fairly by the tabloids. He's been writing about music, movies, and celebrities for most of his adult life after realizing stocking shelves in a paper warehouse in college wasn't all it was cracked up to be.