2018's 8 Biggest TV Reboots And Revivals, As Ranked By The Ratings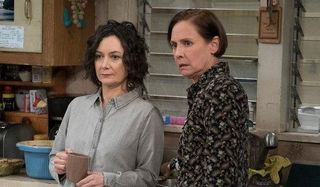 2018 was a big year for reboots and revivals, as audiences once again proved that revisiting what's familiar is still a safe bet in Hollywood. At least, that seems to be true in the coveted 18-49 age group demographic, in which viewers turned out in sizable numbers for some of the more popular offerings of the year.
Advertisers often view this audience as the most valuable, so this crowd takes precedence in our ranking guide of 2018's top reboots and revivals over the viewership numbers. As a note, Netflix doesn't offer official ratings for its service, but unofficial data and the company's general enthusiasm about two of its shows in particular earned them some honorable mentions on this list. Without further ado, let's jump on in to the Top 8!
8. Showtime At The Apollo - Fox
Fox revived the classic Showtime At The Apollo, which has been famous for its showcasing of artists both big and small. In an age where talent and reality singing competitions are all the rage, it seemed obvious for this program to get a weekly run in 2018. Fox brought back Steve Harvey to host who, outside of specials he was a part of before, returned full-time for the first time since the 90s.
Showtime At The Apollo averaged a 0.6 in the ratings with an average of 2.45 million viewers tuning in over the course of the revival season. Those viewership numbers aren't bad, but the show routinely placed behind other network TV offerings in the same time slot, and the ratings aren't anything to brag about for Fox. It's still up in the air whether or not the show will return for 2019; with the show performing above other reboots like Charmed, it's earned a spot here all the same.
7. Murphy Brown - CBS
With political tensions in America seemingly as high as they've been in some time, the timing seemed right for CBS to bring Murphy Brown back. The revival went guns blazing and checked in with Murphy in a brave new world, where the show attempted to remain timely despite a rapid news cycle. Unfortunately for fans, it doesn't appear to have succeeded in drawing folks in as CBS has made moves that make it feel it won't get another season.
Murphy Brown pulled in some enviable numbers. Though its 0.85 rating share isn't much to write home about, its average viewership of 6.06 million isn't bad by most measures. Of course, most familiar with television ratings know CBS has a much higher standard than other networks, and it doesn't look like Murphy Brown or its ratings are high enough to warrant a continuation.
6. Magnum P.I. - CBS
After years of trying to get a reboot or revival off the ground, CBS finally succeeded in bringing Thomas Magnum back to television. Reactions to Jay Hernandez's Thomas Magnum and the show's overall tone has been somewhat mixed, but CBS still has the program returning in 2019 to finish out Season 1.
That's more than Murphy Brown can say, which is surprising considering the two shows' ratings and viewership are somewhat similar. While Magnum P.I. edged it out in ratings with its 0.87 share, it's slightly behind in average viewership with its numbers sitting at 5.89 million. Time will tell if that number means the revival won't find its way back to television for Season 2, or if its 2019 run just delayed an eventual cancellation.
5. Jersey Shore Family Vacation - MTV
When it was first announced that the cast of Jersey Shore would be getting together for a revival series, some were confused as to why. Now, after two seasons and drama-filled episodes arguably more intense than the original series, Jersey Shore Family Vacation is a big hit at MTV. The reality revival is already headed into 2019 with a Season 3 renewal, although we're still kind of questioning how that will play out.
Jersey Shore Family Vacation has been a ratings success for MTV, and has earned its place thanks to a 0.88 rating. That is especially impressive when considering its viewership of 1.53 million is way lower than Murphy Brown and Magnum P.I. In its defense, it's also aired 20 more episodes than both, and still managed to hold a consistently high rating. Probably because it speaks to a younger audience more than the others, but the facts remain the same!
4. Last Man Standing - Fox
Last Man Standing had been attempting a television comeback since its cancellation at ABC but didn't have much luck until Fox took notice of it. A deal went through, and despite some thinking there was a better chance of Home Improvement returning, Last Man Standing had successfully rallied its way back to television.
Last Man Standing is doing pretty well in its return to television, with current totals bringing in an average rating of 1.21. Take that in addition to its 6.23 million average viewership number, and all the jabs it took at ABC for cancelling it in its premiere feel justified. It's still up in the air as to whether or not it'll get renewed for Season 8, but The Cancel Bear is thinking its odds look pretty good.
3. The Conners - ABC
It took some back and forth between Roseanne Barr and ABC, but eventually, both parties were able to ensure the rest of the cast wouldn't suffer from her controversy. The Conners is, as many know, a Roseanne-free revival that's attempting to recapture the appeal of the original series. Without Barr around to drive the show's direction, there's hope that it can tone down the politics and get back to the family-based storylines it became famous for.
So far, things are going alright for the spinoff as its ratings average comes in at 1.62, with viewership averaging 7.6 million. While those aren't the insane numbers the Roseanne revival was pulling in, it's still pretty solid and a sign that the show can survive without the person who helped make the Conner family iconic. Whether or not it can continue on if more stars drop out is another question, but for now, that doesn't seem to be a problem.
2. American Idol - ABC
ABC's revival of American Idol had a lot of hype going in, with all news about the competition's return indicating it could be bigger and better than before. A big contract with pop superstar Katy Perry and the addition of other judges Lionel Ritchie and Luke Bryan helped that narrative, and retaining Ryan Seacrest sealed the deal. The network did all it could to make the revival feel big, and all audiences had to do was watch.
American Idol's return season didn't disappoint and pulled in a ratings share of 1.63, with an average of 9.23 million viewers. That's great news for ABC, who may have been nervous initially when the show premiered to the lowest ratings of any prior season of the program. It all worked out in the end, and now audiences get another year with more of Katy Perry and her crazy shenanigans as a reward.
1. Roseanne - ABC
The Roseanne revival is without question one of the most infamous television shows of 2018 and a situation that will be talked about for some time. ABC gave the show a quick renewal after audiences turned out in huge numbers for the first few episodes, which ended 2018 as some as the most-watched primetime telecasts. Of course, that all turned on its head after a controversial tweet that led ABC to cancel it immediately.
While ratings did taper off in later episodes, the massive turnout of audience members at the start helped Roseanne gain a 3.5 rating and an average audience of 12.6 million. The world will never know if the show would've remained a television juggernaut had ABC kept Roseanne Barr with the show, or if the early viewership spike was just folks excited for the return. Regardless, the single-season revival will live on indefinitely for the headlines it made throughout the year.
Now, onto some honorable mentions courtesy of Netflix!
Queer Eye - Netflix
With inclusion and positive LGBT representation more valuable than ever to Hollywood nowadays, there is no denying the Queer Eye reboot wasn't one of television's most buzzed-about shows in 2018. The new Fab 5 got two seasons in 2018, and have Season 3 on the way. With the guys frequently popping up in other Netflix promotions and shows, it would seem audiences responded to the transformation series in a big way.
While Netflix didn't release official viewership statistics for its shows this year, the Queer Eye cast did find their way onto the company's (opens in new tab) the "Stars We Fell In Love With This Year" list. The show didn't make the list for top ten binge-watched shows, although that list wasn't really indicative of viewership or ratings. The renewal and cultural impact certainly count for something though, which is why Queer Eye at least gets an honorable mention on this list.
Lost In Space- Netflix
Netflix's reboot of Lost In Space took the classic series and modernized it into a tale that's still fun for the whole family. Audiences have responded well to the reboot despite some creative changes with characters, such as the gender-swapped Dr Smith. Those decisions were by and large embraced by audiences, especially the sexy robot that had a few Netflix subscribers feeling some kind of way.
While unofficial, Nielsen did manage to rustle up some viewership data for Lost In Space. The data alleged that around 6.3 million viewers tuned in within its first three days of release, and while that's not as impressive as its estimated viewership for Stranger Things, it's still pretty solid by cable television standards. It was also good enough for Netflix to sign the drama on for Season 2, and really, that's all that matters to viewers.
2019 is a new year with other television reboots and revivals on the way, so be sure to see what's coming by visiting our midseason premiere guide.
Your Daily Blend of Entertainment News
Mick likes good television, but also reality television. He grew up on Star Wars, DC, Marvel, and pro wrestling and loves to discuss and dissect most of it. He's been writing online for over a decade and never dreamed he'd be in the position he is today.