Are Aaron Paul And Bryan Cranston Giving Clues About The Breaking Bad Movie Or What?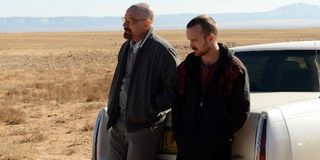 As the world waits with bated breath for news on the Breaking Bad sequel movie, there's something very strange happening on social media. That's nothing new, but what makes this particular bit of strangeness so interesting is that weird collaborative posts are coming from two of the former AMC series' biggest stars. So, what's happening with Bryan Cranston and Aaron Paul on social media, and does this relate to the upcoming Breaking Bad movie?
That's what fans have been trying to figure out ever since the two posted the same picture on Twitter back on June 25th. The photo, which is seen below, shows two donkeys or maybe mules with an ambiguous caption.
Aaron Paul's tweet was confusing at first, until Breaking Bad fans realized Bryan Cranston shared the exact same image and caption. Obviously, the two's connection via the series sent some reeling into speculation, and had others convinced an announcement regarding Breaking Bad, the sequel movie, or Better Call Saul was on the way.
It appears Bryan Cranston and Aaron Paul have leaned on that speculation, as the most recent collaborative post they shared has the two men physically pictured together wading through water. There's also a caption that teases that whatever is on the way is happening sooner than it once was.
Do the hats have any significance? What about the fact that neither are wearing shoes, or that a village can be spotted in the background? What the hell happened to those donkeys? Are the donkey pictures related to the wading through water pictures?
Just what the hell are these two promoting? Is it really something related to the Breaking Bad universe, or is there something else? Here's some options that sound plausible, from most obvious to obscure.
Something Related To The Breaking Bad Movie Or Better Call Saul
At the moment, details are still scarce on the upcoming Breaking Bad movie. There's been rumors from multiple sources the project involves Jesse Pinkman, but even Aaron Paul won't personally cop to that. Let's also remember how things ended for Walter White in Breaking Bad, and that he's probably dead. If Walt isn't in the Breaking Bad movie, it wouldn't be the best strategy to involve him in marketing.
He could be alive though, or it's possible these two have some form of cameo appearance in the upcoming season of Better Call Saul (which had tight security). That feels more likely than Walt appearing in a Breaking Bad sequel film, unless he plays a ghost or is in flashbacks or something we haven't thought of. Maybe Jesse grabbed Walt, nursed him back to health, and now they're living off the grid?
Something Loosely Connected To Breaking Bad
Perhaps Aaron Paul and Bryan Cranston are promoting Breaking Bad, but only something that's loosely connected to the actual series. For example, a Breaking Bad-themed episode of Running Wild With Bear Grylls, or some ID marathon the two are hosting that is centered around drug kingpins.
It could even be something for a charity, a San Diego Comic Con appearance to talk about the show, a fundraising campaign to raise awareness about some issue, or an effort to promote tourism in a certain part of the world. There's no denying whoever is behind this wants the attention of Breaking Bad fans, but that doesn't necessarily guarantee that what's coming is explicitly related to anything involving the movie or Better Call Saul.
Something Entirely Disconnected To Breaking Bad, But Still Stars Aaron Paul And Bryan Cranston
Jesse Pinkman and Walter White may have made for a disastrous duo in the long run, but there's no denying Aaron Paul and Bryan Cranston delivered some astonishing performances together. It'd be great to see them working together in movies and television again, which is partly why so many are jazzed about these social media teases.
Sure, it would be a bit of a letdown to learn this big tease has nothing to do with Breaking Bad, but news that these two actors are working together again would be a nice consolation. The question is now, what type of series would incorporate donkeys and wading through rivers like that?
New Egyptian TV Drama Under Fire For Allegedly Ripping Off Breaking Bad
Readers can feel free to throw their own speculation on what's going on down in the comments. In the meantime, continue to stick with CinemaBlend for more details on the upcoming Breaking Bad sequel film, Better Call Saul, and other things happening in the world of television.
Mick likes good television, but also reality television. He grew up on Star Wars, DC, Marvel, and pro wrestling and loves to discuss and dissect most of it. He's been writing online for over a decade and never dreamed he'd be in the position he is today.
Your Daily Blend of Entertainment News
Thank you for signing up to CinemaBlend. You will receive a verification email shortly.
There was a problem. Please refresh the page and try again.