Kathy Griffin Almost Went On SNL After Infamous Donald Trump Picture, Blames Lorne Michaels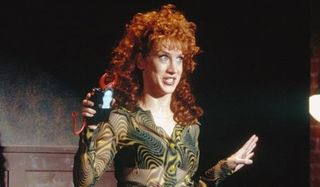 Remember a few years ago when Kathy Griffin dropped that picture of Donald Trump with a severed head and the whole world seemingly turned on her? Well, she was in scramble mode afterwards trying to fix her career. She tried apologizing, unapologizing, releasing videos and apparently, at one point, she was even in conversations to go on Saturday Night Live. After a lot of back-and-forth, it never happened, and she blames SNL headman Lorne Michaels for it.
Earlier this week, the 58-year-old comedienne stopped by The Daily Beast's Last Laugh podcast to talk about her career and the now infamous photoshoot that went so terribly wrong. During the conversation, the subject of Saturday Night Live came up, and she unfolded her version of the story. You can read it in the quote below…
Now, there's a lot going on here, and it's a bit hard to know where the exact truth lies since she never directly talked to Lorne Michaels and we're only hearing her side of the story, but the basic idea seems to be relatively clear from her perspective. Following the photoshoot, no one wanted to work with her. CNN took away her New Year's Eve hosting gig, and most of her career opportunities dried up. Then Alec Baldwin, who plays Donald Trump on the sketch comedy show, reached out with this SNL opportunity. She felt it was her chance to generate some good press and prove to people that she wasn't the monster she was being portrayed as. And then it never happened, assumedly because Lorne Michaels decided to go in another direction.
Saturday Night Live has, historically, been a place some have gone to try and find redemption or to be more relatable in the public eye. There's a reason why politicians frequent the program during election cycles, but one thing it has never been is a safe space for anyone who the public has turned on to find redemption. SNL has always been a little choosy with its real life crossovers. So, the mere idea of Kathy Griffin not being invited on to rehab her image is not weird. That being said, we'll probably never know how realistic of a possibility this ever was. It could have been Alec Baldwin trying to make something happen on his own that was never going to happen or it could have been Lorne Michaels changing his mind, either because he just didn't want to do it or because he didn't think the bit would have worked.
Regardless, we're not living in a time in which many people, regardless of their political leanings, are excited about giving people second chances, and Kathy Griffin has really felt the sting of that over the past few years. She seems more frustrated than anything else that no one, from her perspective, stepped up to give her a chance. To be clear, however, some at the time did defend her including Jerry Seinfeld who called the picture a bad joke that wasn't that big of a deal and Anderson Cooper, who said he hopes she bounces back. The distinction seemingly in her mind, however, is that no one ever stepped up to offer her work in their next project or to partner together on something that could have pushed her in the right direction. So, in some ways, it seems like Lorne Michaels is operating here as a kind of placeholder for powerful people she feels could have done more. Only time will tell if one of those people will ever give her another chance or if her career will ever fully recover.
Enthusiastic about Clue, case-of-the-week mysteries, the NBA and cookies at Disney World. Less enthusiastic about the pricing structure of cable, loud noises and Tuesdays.