See Lin-Manuel Miranda Dressed As Deadpool For This Year's Comic-Con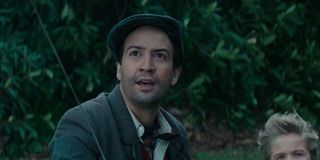 Every year, San Diego Comic-Con brings in hundreds of thousands of people, many of whom attend just to catch glimpses of the people who make art that shapes them. Unbeknownst to many fans, though, is the fact that the celebrities and creators they travel to see are just as excited to mingle as they are.
Granted, these celebrities and creators sometimes need to go incognito so they can enjoy themselves fully, but word of their shenanigans always finds its way onto social media. The most recent case of celebrity cosplaying involves Lin-Manuel Miranda, who appeared at this year's convention to promote the DuckTales reboot.
This year's edition of the famous pop culture gathering featured new Marvel footage, a crazy, creepy glimpse of September's IT: Chapter 2, and a number of other HUGE announcements and reveals that already have the world incredibly excited. While that may take attention away from the new season of the phenomenal DuckTales reboot, it won't stop Lin-Manuel Miranda, a voice actor for the show, from having a blast and making the most of his time in San Diego. What did that look like for him? Dressing up as Dollar Store Deadpool, of course!
Deadpool co-creator Rob Liefeld posted the above pictures to his Instagram, where he's usually fairly active (especially during con season). Liefeld appeared starstruck, and who can really blame him? Lin-Manuel Miranda is one of the most sought-after talents in the world, with his astounding Broadway production Hamilton being his true claim to fame. It just goes to show you that even the creators of world-famous characters can get starry-eyed and excited about their favorite celebrities, too.
Lin-Manuel Miranda has already done tons of work for Disney. He composed many of the memorable songs in Moana, co-starred alongside Emily Blunt in Mary Poppins Returns, and contributed to a number of other recent high-profile projects put out by the studio. He's also set to appear as Lee Scoresby in HBO's highly anticipated His Dark Materials series.
Other notable examples of celebrities con wild include Daniel Radcliffe's Spider-Man get-up, a security-guard-flanked Ben Affleck and his cheap Hulk mask, and countless others. The Affleck/Hulk example is based purely on close observation and wishful thinking, but if you watch the video you'll see that it's almost certainly Affleck. Still, gotta cover my bases with accuracy there.
DuckTales Season 2 is currently airing on the Disney Channel (after it ran on Disney XD). The show has been popular from the get-go and has attracted some big names to its cast (Lin-Manuel Miranda being one of them). A third season was announced on September 21, 2018, almost exactly a month before the second season aired.
As for Deadpool, it's unclear if he'll get a third movie, but we here at CinemaBlend will be sure to let you know if that happens.
Your Daily Blend of Entertainment News
Thank you for signing up to CinemaBlend. You will receive a verification email shortly.
There was a problem. Please refresh the page and try again.