Outlander Author Diana Gabaldon Responds To Starz Exec's Comments About Female Viewers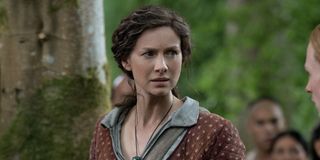 (Image credit: Starz)
Outlander has a lot of female fans, with Starz' ratings for the series reaching impressive premium cable heights in the female demographics. That the audience is largely comprised of women has already impacted the upcoming fifth season of the series, which is being held until 2020 to serve the "premium female audience" for a certain digital experience, according to Starz COO Jeffrey Hirsch.
That's not all Jeffrey Hirsch had to say about the largely female audience for Outlander, and novel saga author Diana Gabaldon wasn't happy about his comments. Let's start with the words that rubbed Gabaldon the wrong way. Hirsch said this in an interview with THR:
As you can probably guess, it wasn't Jeffrey Hirsch's mention of women liking a time-traveling female surgeon that prompted Diana Gabaldon to speak out. His mention of Sam Heughan as "eye candy" with shirtless scenes is what she was definitely not a fan of. He's certainly not wrong that Jamie Fraser has become a TV heartthrob after making his small screen debut back in 2014, but his many fans aren't necessarily on board just because he takes off his top from time to time.
Diana Gabaldon shared her thoughts on the comments via Twitter, starting out like this:
Directly addressing Jeffrey Hirsch, Diana Gabaldon noted that she has a whole lot of books in print in a whole lot of countries, and as such receives a lot of mail from readers. While readers are not necessarily the same as viewers, she evidently doesn't often hear about shirtless Jamie except in reference to the horrifying scars on his back he received courtesy of Black Jack Randall.
Outlander Season 5: What We Know So Far
Diana Gabaldon went on to note that she sees a lot of people of many demographics who love both the books and the show, and "what they like about the show is how much it reflects what's in the books." She also stated that women usually have a husband or boyfriend "watching it with her."
And that's not all she had to say! Diana Gabaldon enumerated more reasons why she thinks Outlander has so many fans, and none of them have to do with Sam Heughan taking off his shirt. Here are various reasons she's heard of why people enjoy the saga:
Diana Gabaldon certainly didn't mince words when it came to reacting to Jeffrey Hirsch's comments about why women watch Outlander! Interestingly, the audience for the series premiere on Starz back in the day was almost evenly split between men and women. Gabaldon has always been enthusiastic about the series itself, even suggesting that a spinoff revolving around a particular beloved character could be possible.
The author may have heard from fans that they enjoy when the show follows the books, but there have been some big departures from page to screen, not the least of which is the survival of Murtagh into at least Season 5 when he's been dead for quite a long time in the books. Claire and Jamie also missed Jemmy's birth, reportedly due to a "power structure."
Outlander returns to Starz at some point in 2020. You can rewatch (or watch) the first couple of seasons on Netflix now, or check out some other viewing options for the rest of the #Droughtlander hiatus.
Resident of One Chicago, Bachelor Nation, and Cleveland. Has opinions about crossovers, Star Wars, and superheroes. Will not time travel.
Your Daily Blend of Entertainment News
Thank you for signing up to CinemaBlend. You will receive a verification email shortly.
There was a problem. Please refresh the page and try again.