Outlander Season 5: What We Know So Far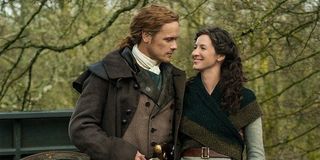 Outlander ended its fourth season on the kind of cliffhanger practically designed to drive all fans nuts during hiatus trying to figure out what happens next. The time travel love story saga that began as Claire and Jamie's fight for each other now includes an extended Fraser family in the American colonies, and with the larger family comes more danger.
Thanks to the survival of a character who died in the books, even readers can't say what's in store when the fifth season kicks off. Unfortunately, Outlander hiatuses tend to last for a long time, and fans, by this point, have had to learn to be verra patient.
The wait for Season 5 is still going, but luckily there is some information out there about what's going to happen, how it's going to happen, and who's going to be involved. So, read on for our rundown of what we know so far for Outlander Season 5!
When Will Outlander Season 5 Premiere?
Alas, no official premiere date for Season 5 has been announced at this point. Production on the new season only began in April, so it will likely be a while before fans get any more than an approximate premiere window, and even that hasn't been confirmed by anybody at Starz or Outlander. Still, based on the release schedule of the past two seasons, the odds are pretty good that Season 5 will premiere in fall 2019 and conclude either late 2019 or early 2020.
Season 3 ran from September 10 - December 10 in 2017 with a break of a few weeks in the middle, and Season 4 ran from November 4 - January 27 in 2019. Season 4 aired all 13 episodes consecutively without any weeks off. Assuming production runs for approximately the same length as Seasons 3 and 4, a fall premiere date for Season 5 is pretty likely.
What Footage Has Been Released So Far?
With production on Season 5 only beginning in April, it's not surprising that a trailer hasn't released just yet. The lack of official new footage is disappointing to fans who thought they might get a peek of the next season by the end of Season 4 like they did at the end of Season 3. That said, leading lady Caitriona Balfe posted a walk through one of the Season 5 sets on Instagram. Did it show much? No. Was it better than nothing? Definitely.
Additionally, Starz celebrated the beginning of production with a video showing the Frasers back at Fraser's Ridge, Murtagh in the mix, and more. Take a look!
This video almost raises more questions than it answers, although it does confirm that Murtagh will make it back to Fraser's Ridge rather than be immediately apprehended and turned over to the Brits by his beloved godson. Of course, there probably weren't many fans who thought for even a minute that Jamie would willingly hand over Murtagh, so it's not much of a spoiler. Still a fun taste of what's to come, though!
How Many Episodes Are In Season 5?
Season 5 is going to be an outlier from the other seasons of Outlander in at least one respect: it will be shorter. Season 1 aired for 16 episodes, although split into eight and eight. Seasons 2-4 all ran for 13 episodes. The fifth season will run for only 12 episodes.
The drop from 13 to 12 isn't that big of a deal, all things considered. After all, it's not like the series is going to be done for good with the Season 5 closer, so there's no concern at this point that the grand finale will be rushed due to a reduced episode count. I had my objections to the pace of Season 4 considering how quickly it was racing through the source material, but it's too soon to judge Season 5.
At this point, we know we can count on 12 episodes. Hopefully that number means that Starz would break the season up with a hiatus! Outlander has also already been renewed for Season 6, and there are several more books of source material to be adapted, so fans really don't have to worry about the end coming too soon.
What Will Outlander Season 5 Be About?
Show fans looking for a detailed breakdown of everything that could be in Season 5 can always turn to the fifth book in Diana Gabaldon's book series, called The Fiery Cross. Of course, the show has departed from the books in some key ways, and Murtagh's continued existence is a big variable. Luckily, Starz has released a description of what to expect in Season 5.
Season 5 will be a continuation of the adventures of the Fraser family in colonial America. Living in the wild backcountry of North Carolina was dangerous enough when they had just the wildlife and the Native Americans complicating their attempts to build a home. Throw in the socio-political upheaval that was bound to arrive at their doorstep thanks to Jamie's deal with Governor Tryon and what Claire knows of the coming revolution, and trouble is definitely brewing.
While unrest continues to spread, the elite ruling class tries to keep a hold on the colonies. The Regulator Movement (led by Murtagh in Season 4) is a trigger for the unrest, and all signs point toward the bloody beginning of the United States coming soon. Claire and Jamie must decide how far they're willing to go to protect their home and family, hoping against hope that they'll never have to light the "fiery cross" as an ancient Scottish call to arms.
Considering the title of the fifth book is literally The Fiery Cross and the American Revolution is obviously coming, I don't think it's too much of a spoiler to say that the Frasers are definitely going to need to make that call to arms.
What Characters Will Be Back?
Outlander hasn't officially announced the characters that will return for Season 5, but a little bit of sleuthing can reveal who will be on board. And by a "little bit of sleuthing," I mean carefully watching the video celebrating the beginning of production. While it likely doesn't show everybody who will appear throughout Season 5, it does give away some details.
Of course Caitriona Balfe and Sam Heughan will be back as Claire and Jamie Fraser. Sophie Skelton and Richard Rankin will return as the younger pair of lovebirds in the show, although the course of Brianna and Roger's love has definitely not run smoothly. Duncan Lacroix can be seen in the video, interestingly not sporting the grey hair of the aged Murtagh.
César Domboy is back as the adult Fergus, and Lauren Lyle is on hand as his wife Marsali. Caitlin O'Ryann will return as Lizzie as well.
Not to be seen are Ed Speleers as Stephen Bonnet, David Berry as Lord John Grey, Maria Doyle Kennedy as Jocasta Cameron, John Bell as Young Ian, or Tobias Menzies as Jack and/or Frank Randall. Perhaps all of Menzies' characters are dead for good now! Hopefully David Berry will be back, if only so that John Grey spinoff can happen.
What New Characters Are On Board?
There's even less news about new characters who will join the show in Season 5, and the fact that a significant chunk of book material is likely being cut from the show makes it difficult to even predict which book characters will make their TV debuts.
That said, there is a certain somebody from The Fiery Cross that definitely will debut, and he may just be the cutest little creature on the show. Take a look!
Outlander may have lost Rollo the wolf/dog when Young Ian decided to stay with the Mohawk so that Roger could leave, but the Frasers are getting another furry friend in the form of Adso the cat!
While there will undoubtedly be announcements of new human castmates for Season 5, we can just content ourselves for now by looking at little Adso (posted on the show's official Twitter page) and using our imaginations. Sam Heughan in particular seems to be a fan of the cat, as he posted a separate pic of his own posing with Adso on his personal Instagram page. Double the cuteness!
How Close Will Season 5 Stick To The Fiery Cross?
With the paperback of The Fiery Cross running for just over a thousand pages and Season 5 consisting of a grand total of 12 one-hour episodes, a lot is obviously going to need to be cut for the show. Some of the cuts will be relatively straightforward, as Richard Rankin recently explained.
Cutting a big chunk of the first section of the book makes sense and really won't take all that much away from the story; what of the rest of the season? Executive producer and showrunner Matthew B. Roberts explained how Outlander is going about adapting the book this time around in a chat with Parade:
So, book fans should expect a significant portion of -- if not all of -- The Gathering from the beginning of the novel to be cut, perhaps with some key events mentioned as happening off-screen. Pacing could be an issue for Season 5, as it arguably was for Season 4, but we'll have to wait and see.
Matthew Roberts went on in the interview to remind us that non-readers need to be taken care of by the show as well as readers, saying this:
Only time will tell if the producers succeed at crafting a season that adapts The Fiery Cross from cover to cover, satisfies book fans, and works for non-readers.
Where We Left Off: Will Claire And Jamie Die In A Fire?
One of the inciting events of Season 4 was Brianna's discovery in the 1960s of an 18th century obituary revealing the deaths of her parents. The precise date on the obit from the Wilmington Gazette was unfortunately smudged, so all Brianna could tell is that Claire and Jaime were supposed to die at some point between January 1, 1770 and December 31, 1779. This was the obituary:
Brianna went back in time for the purpose of preventing their deaths, and then returning to the 20th century. That plan was at least partly destroyed after she was raped and impregnated by Stephen Bonnet, preventing her from traveling through time again, even if she had been so inclined to leave without knowing what happened to Roger. But, was her arrival enough to prevent her parents' deaths?
If history is any indication, changing past events isn't easily done. Despite their best efforts, Jamie and Claire weren't able to prevent Culloden, and Claire seems to harbor no belief that they can change the course of the American Revolution. Of course, the Frasers could just be very careful about fire any time they're at Fraser's Ridge in the 1770s, but things rarely go according to plan for this family.
Will they die in a fire? Possibly. Will it happen in Season 5? My money is on no. The show has already been renewed for Season 6, and there are several more books. Besides, the show hasn't even hit the American Revolution yet. Surely Jamie and Claire will live to at least the beginning of that!
Besides, they have quite enough to worry about now that Jamie has been ordered to raise a militia and hunt down the Regulators, starting with Murtagh. War is coming, and they'll need to be ready. People are going to die; will the Frasers survive?
Where We Left Off: Will Brianna Catch A Break?
None of the characters had an easy go of it in Outlander Season 4, but Brianna Randall never seemed to catch a break. Determined to travel back in time to prevent her mother and birth father from dying in a fire, Brianna was immediately injured, then attacked by Laoghaire.
When she made it to America, she reunited with Roger and went through a handfasting ceremony, only for the evening to end in a fight that saw him disappear into the night and her retreat to an inn, where she was raped by Stephen Bonnet. As if that wasn't enough, she realized she was pregnant, with the child likely being Bonnet's, although possibly Roger's. Meanwhile, Roger was badly beaten and sold to the Mohawk, and Bree faced pressure to marry somebody -- anybody -- rather than give birth to a bastard.
She got some good news at the end of Season 4 when Roger made the decision to return to her rather than retreat back to the 20th century. They embraced, he claimed her son as his own despite being told about the rape, and they were happy together for all of three seconds or so before the redcoats showed up.
Will Bree catch a break in Season 5? The book suggests that she'll be quite busy with motherhood and the business of Fraser's Ridge, among other things. Sophie Skelton and Richard Rankin, who play Brianna and Roger, respectively, shared some of what to expect from that relationship to Syfy Wire:
Baby Jemmy certainly sounds like he'll be a handful! Will his paternity continue to be an issue, despite Roger's best intentions to raise Jemmy as his own son no matter what? Or will Bree have nothing but smooth sailing from her son and husband? Whatever happens, can she please just catch a break?
Where We Left Off: Will The Frasers Betray The Brits?
Jamie and Claire already fought one losing war in their time together, and unlike Culloden, they don't actively want to prevent the American Revolution. After all, if not for the revolution, then Bree and Claire probably never would have been in Boston, and neither would probably have wound up going back in time to Jamie. Unfortunately, Jamie made a deal to get Fraser's Ridge that involved an alliance with the British.
Sam Heughan addressed Jamie's situation to Syfy Wire:
Whatever happens, it won't be easy for Jamie to betray a promise he made, even if that promise was to the British and even if it just means abandoning a ship before it sinks. He has grown to care about some English folks, after all, so he knows they can't be all bad! The Frasers can't fight for the British in the American Revolution, but Jamie can't just go back on his word... can he?
Where We Left Off: What About Murtagh?
In the books, Murtagh was long dead by the beginning of The Fiery Cross, not in the mix as the leader of the Regulators. Murtagh is arguably the biggest wild card of the series, and he ended Season 4 in a romance with Jocasta Cameron and facing a death warrant from the British.
The good news for Murtagh is that the man tasked with bringing him to justice is Jamie. While we can probably be confident that Jamie won't willingly turn his godfather over to the Brits, he's in a very sticky situation. As showrunner/executive producer Matthew Roberts said to Parade:
Nothing is ever easy for any of the Frasers, is it? It does seem like there are a number of ways for Murtagh to survive, but most of them involve abandoning Fraser's Ridge and Jocasta, and he's too loyal to want to run just to save his own skin. Will he survive Season 5, or will he finally bite the dust as his book counterpart did long ago?
Where We Left Off: What Will Roger Do?
At the end of Season 4, Roger made a difficult decision: he would stay in the 18th century with Brianna as his wife and acting as father to her son, despite the fact that he doesn't know whether he or Stephen Bonnet is the boy's biological father. Husband to Bree and father to Jemmy explains what Roger is up to on the domestic front, but what about otherwise?
The 18th century isn't really a place overflowing with the needs for the kinds of skills Roger accumulated as a historian. He's not an expert in fighting or shooting or hunting. The behind-the-scenes footage for Season 5 shows Brianna teaching Roger to shoot, and book readers know that Jamie has an active role in mind for his son-in-law as the militia takes shape on the page. We'll have to wait to find out if show-Jamie has the same intention.
Will Roger adapt to the 18th century life and learn to support a family? Or will the 18th century adapt to him and find a place for his talents?
Where We Left Off: Where's Stephen Bonnet?
Rapist and murderer Stephen Bonnet was last seen in Season 4, chained in a jail that then exploded. He was scrabbling to reach the keys, however, and since he's a bad guy whose death wasn't shown on screen, it's probably safe to say that he survived. The important thing then was that Brianna found a way to forgive him.
Ed Speleers hasn't been shown in any of the sneak peeks of Season 5 so far, and he actually addressed what he knew (or didn't know) about Bonnet's Outlander future in a chat with Express.co.uk:
Ed Speleers' comments about not having heard anything yet about returning for Season 5 were published on June 9, and Season 5 is still very much in production, so he's not definitely out for the season. It's probably safe to say that he won't be in the first chunk of episodes, but it's entirely possible that he'll return to terrify more than ever by the end of the season. At the very least, Speleers is willing!
Stay tuned to CinemaBlend for the latest in TV and movies news, and we'll keep you updated on big Outlander developments. The first two seasons of Outlander are currently available streaming on Netflix, and there are plenty of options to watch during what remains of Droughtlander. Just swing by our 2019 summer TV premiere guide for some ideas.
Your Daily Blend of Entertainment News
Laura turned a lifelong love of television into a valid reason to write and think about TV on a daily basis. She's not a doctor, lawyer, or detective, but watches a lot of them in primetime. Resident of One Chicago, the galaxy far, far away, and Northeast Ohio. Will not time travel, but will sneak references to The X-Files into daily conversation.