6 Things We Want To See In John Wick Prequel The Continental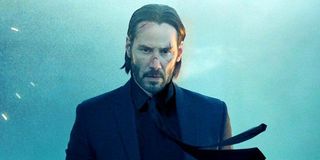 Since 2014, the world of film has been blessed by what may be the greatest Keanu Reeves-led franchise of all time. Luckily, Hollywood is recognizing that, and has already given the green light a a spinoff that will not only expand the unique and violent world John Wick has created, but also bring it to television. So far we know next to nothing about The Continental, minus the fact that it's a prequel and not arriving in the near future.
We also know what we want to see from the ye-to-be-made Starz original, on the off-chance that producers and writers are scouring the web for ideas to supplement what's already planned for the upcoming show. Here are some of the things we definitely want to see when it finally premieres.
The Origins Of The High Table
The High Table is a powerful shadow organization that even the world's most dangerous assassins (sans one) fears. We know that it's comprised of the heads of all the major criminal organizations in existence, and that their alliance acts as a means of keeping one another in check. Any one organization making a direct move against the High Table will have problems, and likely not get a chance to make a move ever again.
How did such a powerful organization ever get created? At what point does the High Table interfere in other's activities? Was The High Table always the well-oiled machine it appears to be in the John Wick films? An explanation of its origins and some additional background would be the perfect kind of material that would slow down the average John Wick adventure, but would be right at home on The Continental.
Why The Continental's Neutrality Rules Exist
It's established very early on in John Wick that assassins conducting business on Continental grounds is expressly forbidden. Ignoring that rule comes at a high price, and many who disobey are lucky if they escape death for the transgression. The benefits of such a rule are clear, but as John Wick: Chapter 2 showed, there are some clear flaws in its implementation.
Santino D'Antonio couldn't have been the first guy with the idea to escape a hit by staying in the Continental indefinitely. Had John not acted on impulse, is there a protocol that prevents patrons from abusing the neutrality in such a matter? We know the High Table can temporarily "deconsecrate" hotels, but is that the protocol? What if there are rooms occupied by targets that can never leave? Who are those people, and how long have they lived there? We need these stories!
An Explanation Behind The Currency
Gold coins make the criminal underworld go round in John Wick, and they've shown to be quite the bargaining chip. John has spent one to get a knife, but then he's also spent one to make good on a bar tab and pay for a night at the Continental. John is a highly successful assassin, however, with money to blow and is at a reckless time in his life.
In short, John is a terrible example of how the coins in this world work. Do they really just exchange one for whatever favor is asked, or is Mr. Wick blowing money like there's no tomorrow because he doesn't have time to ask for change or haggle? The currency bit doesn't have to be a major piece of the story, but we do need some better explanation behind how a regular assassin exchanges for goods.
Characters From The Movies
The Continental is a prequel, and while it's been confirmed that Ian McShane will not be appearing to play Winston, there's some potential for other familiar faces to re-appear. Charon would be a great one considering he's one of the key faces of the New York hotel, and other assassins could come and go as a season drags on. Plus, let's not forget, with this being a prequel, we could see a younger John Wick!
It sounds crazy, but keep in mind that Keanu Reeves will be an executive producer of the series. There's no better way than to pull a big star on a television series when they have skin in the game, so one would think John Wick will make a cameo if The Continental is set at all during his prime as an assassin. Do we need him to enjoy this series? Probably not, but the possibility of seeing him would certainly get folks excited.
A Look At Continental Hotels Across The World
John Wick: Chapter 3 - Parabellum sent John abroad to an entirely new Continental, and it was like night and day in comparison to the New York and Rome hotels audiences had seen in previous films. There are locations worldwide, which means we could see how Continentals operate in places like Tokyo, London, Rio de Janero, and so on and so forth.
There are still stories to tell in the New York location I'm sure, but after three films with it playing a heavy role, it may be time to head elsewhere. Is there a better-run Continental that's located elsewhere? It's hard to imagine, although I would love to know where it's at and how it looks in comparison. Maybe that one officially orders animal boarding and doesn't have to rely on the graciousness of its concierge.
Lots Of Action
The John Wick franchise has established itself as one of the biggest new action franchises of the decade, so it feels like a step in the wrong direction if The Continental isn't as heavy on the action. With that said, it's hard to imagine things aren't going to be that way when this show is named after the one place characters are generally guaranteed safety. We know that hasn't tracked thus far, but the movies are a different story.
My assumption is that in a world where John Wick isn't on a rampage, The Continental is a generally peaceful place. This series could prove that wrong, but if not, there needs to be a way for this show to travel outside the walls of the hotel for some action sequences. Don't lose sight of what made the movies successful and try to twist this franchise into something it isn't.
No, Keanu Reeves Was Never Going To Play The Villain In Hobbs And Shaw
Got an idea for something that should be in Starz's The Continental? There's still a long wait before its premiere, so anyone with something to say should throw it down in the comments below. As always, continue to stick with CinemaBlend for more analysis and news on the hottest shows and movies.
Your Daily Blend of Entertainment News
Mick likes good television, but also reality television. He grew up on Star Wars, DC, Marvel, and pro wrestling and loves to discuss and dissect most of it. He's been writing online for over a decade and never dreamed he'd be in the position he is today.