A Bones Movie? Here's Why David Boreanaz Probably Wouldn't Do It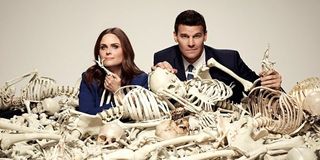 Emily Deschanel is one of the big cast members who headed to Animal Kingdom this past season, and the actress total got Temperance Brennan out of her system for the new role. However, Emily Deschanel has been asked about the potential for a Bones movie sometime down the line and while she wouldn't rule it out, she says her famous co-star would.
Deschanel's major co-star on Bones was David Boreanaz, who played Agent Booth, her partner at work and later partner at home on the show, too. According to Emily Deschanel, Boreanaz would never say yes to the possibility of a movie, given he simply likes to move on after a role is over.
Emily Deschanel's comments ended with a hopeful "we'll see," so I've certainly heard more discouraging comments surrounding these sorts of projects. Still, she also noted to TV Line that the show really hasn't had that much time away from network eyeballs since it wrapped back in 2017. So, even if we shouldn't rule out a potential Bones movie, we may be waiting on one, at least for a little bit.
Plus there's a good chance we shouldn't expect David Boreanaz to be involved even if Deschanel's popular character does get another adventure. Her comments echo some blunt ones the actor himself has made in the past, also about not moving backwards. He has also expressed a preference for the work he has been able to do on his new series SEAL Team. He's not like anti-Bones or anything, but he does seem to have moved forward.
Regardless of his personal feelings, the other reason this could be a no go right now has to do with David Boreanaz's schedule, which is also pretty hectic during the TV season given he stars in SEAL Team, which first hit the TV schedule two seasons ago. While Animal Kingdom is producing 12 episodes for Season 4, SEAL Team filmed 22 episodes during its first two seasons, which equals a helluva lot of work.
Still, although David Boreanaz is an actor who is constantly pressing forward, it was only recently that he did bring up the fact Angel is coming up on its 20-year anniversary and a reunion of sorts could be in the works. We have no clue what that means, but it does indicate the actor does look fondly back on the projects that made him a household name and does occasionally look backwards.
The dynamic between Seeley Booth and Temperance Brennan on Bones was really what made the procedural work so well. So, I have trouble imagining a future TV movie or another Bones reunion without both characters involved. Really, the dynamic of the show worked because of the full team, and that included characters like Angela, Jack and Camille. Throw in a few squinterns for good measure, and we'd have a movie.
The more I talk this idea out, the more I'm starting to like it, so I should probably stop here before I get too hyped about something that's not even in the works yet. On the bright side, you can catch David Boreanaz still on network TV when SEAL Team returns this fall. More on what's coming with our fall schedule.
Reality TV fan with a pinch of Disney fairy dust thrown in. Theme park junkie. If you've created a rom-com I've probably watched it.
Your Daily Blend of Entertainment News
Thank you for signing up to CinemaBlend. You will receive a verification email shortly.
There was a problem. Please refresh the page and try again.