Why You Should Be Excited For TBS's Snowpiercer TV Show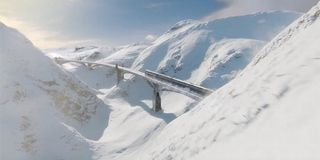 Bong Joon-ho's Snowpiercer is the type of high-concept science-fiction film that is increasingly becoming rarer and rarer — at least, on such a wide, prominent scale. The inventive, thoughtful and intensely engaging film was yet another strong effort from one of our top-tier directors, and it was aided well by beautiful art direction, an intelligent script, another great supporting turn from Tilda Swinton and one of Chris Evans' best performances. Now this high-minded idea is being expanded and elaborated in a major way with a new TBS TV show based on Joon-ho's inspired film.
While Chris Evans, Tilda Swinton and a number of the talented actors seen in the original movie won't be reprising their roles in this upcoming series, and Bong Joon-ho did not return to write or direct this new imagining of his work (though he does serve as an executive producer), Snowpiercer has the potential to be a really compelling TV series, similar to how it became an insightful and distinguished film. There are no guarantees that it'll live up to the high standards placed by the original film, but there are several reasons why we believe you should be excited about this new television series.
The Series Will Star Daveed Diggs And Jennifer Connelly
These days, television and long-form entertainment have become increasingly more commonplace for high-caliber actors. Could you imagine, even five years ago, the thought of Meryl Streep starring in an HBO series, or Julia Roberts at the forefront of a new streaming show? Television is where people can expect quality entertainment these days, and they don't even need to leave their house to watch so many great shows available today. It is, therefore, not surprising to know that both Hamilton's Daveed Diggs and Oscar-winner Jennifer Connelly have lent their talents to this new series.
While the cast of 2013's Snowpiercer was exceptional, with the aforementioned Chris Evans and Tilda Swinton joined by other great talents including Ed Harris, Jamie Bell, Octavia Spencer, Song Kang Ho, Allison Pill and the late John Hurt, to name a mere few members in this ensemble, it's safe to note that Jennifer Connelly and Daveed Diggs are well-proven talents. Their star power and charisma will go a long way towards making this new series something worth watching.
Knowing that the producers scored these two talents for this series proves that the show creators clearly want this new show to be something special, both for fans of the original and for newcomers unfamiliar with the film and/or its graphic novel source material.
Bong Joon-Ho Is Involved
As mentioned earlier, Bong Joon-Ho might not be writing or directing the Snowpiercer series — as far as we know at this time, at least — but he is involved. He is serving as an executive producer on the series, which might not mean that he's engaged on a day-to-day basis, but ideally it means that he is overseeing the project in some capacity and making sure that these showrunners are doing justice to the story that he helped foster the first time.
Since executive producer credits are never entirely clear to the public, it is possibly that this credit is in name only, which would mean that Bong Joon-Ho merely gave the show his blessing and nothing else. But we want to remain hopeful here.
Having his name on the project does show some bit of confidence in this project, and it gives the original director the respect he deserves when it comes to making this Snowpiercer reboot into a reality. And if the show isn't very good, at least we know that we have Bong Joon-ho's Palme D'or-winning new film, Parasite, to look forward to later this fall.
This Show Will Expand Upon The Ideas Presented In The Original
One of the best benefits with a TV show rather than a movie is that you have more time. You can flesh out ideas that weren't fully presented before and you can bring new thoughts and notions into the fold as a means of expanding and elaborating the original core concept. Snowpiercer (2013) had a mere two hours to tell its story. In the process, a lot of the concepts introduced were often talked about briefly or alluded to throughout the main story.
Snowpiercer the film tackles a lot of weighted ideas, but it doesn't give everything its full due in the service of the story. With Snowpiercer the TV show, however, the writers and directors have a great opportunity to expand on the themes of class warfare, social-economic ranks, social injustice, the politics of survival and several other ideas that were present throughout the movie.
If done well, this series could not only serve as a retelling of the show, but it could serve as a way for the story to be expanded and fleshed out in a profound, meaningful way, giving the story more breathing room.
They've Been Taking Their Time Making It
One of the biggest fears with TV shows based on movies is that they slap something together with minimal effort, believing that name recognition alone will make it worth the while and guarantee viewership. While that might be true for a short time, there are a lot of people who will catch on quick if you're half-assing it. Especially in today's high-quality TV landscape, you can't be mediocre or even just decent. You have to be good to stand out.
Thankfully, it doesn't sound like Snowpiercer is half-assing it. The show has been weathering production issues due to disagreements between the studio and the producers, which suggests that everyone involved wants to make the show something worthy. Or, at the very least, the producers are hopefully wanting to make it something that doesn't fit into the generic norms of a dramatic series.
The show was once set up to appear on TNT, but it has dealt with a number of back-and-forths involving creative differences. This doesn't necessarily spell doom. In fact, it's actually fitting, since Bong Joon-Ho had to fight a number of tough battles with The Weinstein Company before his film made it to theaters in the way he intended. Hopefully, this extended back-and-forth is beneficial rather than disastrous. The last thing we need is a show about a train to go off the rails, if you catch my drift.
Scott Derrickson Helped to Direct The Pilot
Snowpiercer certainly had big shoes to fill when it came to assigning a director to help the pilot of this series. It's hard to live up to Bong Joon-Ho, and the producers seemed to know that it wasn't an easy task.
That's why they hired another movie director to take on the reigns: Scott Derrickson. The horror filmmaker has helmed a number of big movies, including Sinister, The Exorcism Of Emily Rose, and, perhaps most notably, Doctor Strange.
Unfortunately, during the show's turmoil with its original station, TNT (which we'll dive into more in just a bit...), Scott Derrickson ended up leaving Snowpiercer (2020) and other filmmakers were hired to helm the show. This is disappointing to hear, but Derrickson is reportedly still getting a co-director credit on the pilot at least, and he's involved as an executive producer. Hopefully his influence in the early stages can still be seen in here.
TBS Already Renewed The Series For A Second Season
As mentioned earlier, Snowpiercer the show was once meant to be broadcast on TNT. The show faced a number of setbacks and delays due to the disagreements between the showrunners and the network, and it was eventually taken off TNT's roaster of original programming, leaving it in a bit of turmoil for the foreseeable future. But it was revealed just a few months ago that TBS has picked up the series, and that network is moving full speed ahead.
Now that the show is once again on the fast-track, it appears that TBS has a lot of confidence in the show that TNT lacked (or was uncertain of). It has already renewed the show for a second season well before its spring 2020 premiere date, and the station's desire to make it something big and epic is not only admirable, but inspiring.
In recent years, TBS has proven itself open and willing to producing more audacious, wide-thinking TV programs, and it's eager to inspire showrunners to get big and wild. This is hopefully going to be a good platform for this new series to flourish. It is also, hopefully, an encouraging sign that the show's twisted, off-beat sense of humor will hopefully stay intact, since that was vital to its success.
Making a popular TV series off a famous film isn't a guaranteed recipe for success, but there's good reason to believe that Snowpiercer will be a show worth looking out for in the next year. With the proven talent on-board and the desire to expand the material and make something that is not only worthy of the original film, but that's also willing to be bigger and more expansive, but just as thoughtful and weighted as the original film, is an encouraging note.
We can only hope, then, that, despite all these setback and delays, Snowpiercer the series will be a show worth checking out when it airs on TBS in spring 2020. For now, you can find out what's currently on the airwaves in our summer premiere guide.
Will is an entertainment writer based in Pittsburgh, PA. His writing can also be found in The Playlist, Cut Print Film, We Got This Covered, The Young Folks, Slate and other outlets. He also co-hosts the weekly film/TV podcast Cinemaholics with Jon Negroni and he likes to think he's a professional Garfield enthusiast.
Your Daily Blend of Entertainment News
Thank you for signing up to CinemaBlend. You will receive a verification email shortly.
There was a problem. Please refresh the page and try again.