Daveed Diggs' Rise From Experimental Hip-Hop To Hamilton's Marquis De Lafayette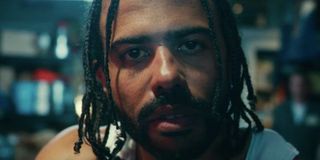 Everyone gets their start somewhere. Especially famous people. With the incredible success of Hamilton both on and Off-Broadway, as well as touring around the country, including Puerto Rico, Lin-Manuel Miranda has created one of the most beloved musicals of the 2010s. Its legacy continues to shine. When it comes to the stars of the show, many of them are moving on to different projects, continuing to prove themselves — including Daveed Diggs, who played Hamilton's Marquis de Lafayette.
Both an actor and a musician, Daveed Diggs has forged a path for himself as man of a multitude of talents. While he has been working consistently as a performer and rapper throughout the years, he's only been recognized in full for his talents, and we're watching a major league talent on the rise now.
But there are some who don't know where Daveed Diggs got his start before Hamilton. In this article, we'll talk about Diggs' early career as a rapper, and how his music helped the talented performer play the role of Marquis De Lafayette in Lin-Manuel Miranda's acclaimed, award-winning musical.
Hurtling Past Hurdles
Daveed Diggs was born in Oakland, California, which is where he also grew up. His mother is Jewish and his father is African-American, and these two ethnic and racial identities helped shaped the actor's self-identification, notably as he got older. His parents gave him the hebrew pronunciation of the name Daveed because his father liked the look of two E's. After graduating from Berkeley High School, Daveed Diggs studied at Brown University.
While Daveed Diggs is best known for his fast lyrics, he was recruited to Brown University on account of his tracks skills. Specifically, the young athlete broke the school's school record during the 110 meter hurdles when he was a sophomore. His time was 14.21 seconds, which is definitely impressive. He later graduated from Brown University in 2004, although he was also pursuing acting ambitions. Diggs was in experimental theater early in his career, and while his skills in school were often related to his athletic prowess, it was ultimately his passion for the arts that would propel him into stardom.
Before "Guns And Ships," There Was "Body & Blood"
A few years after his college years, Daveed Diggs became a vocalist and writer for clipping., an experimental hip-hop and rap group based on L.A. The musical team was initially formed in 2009 by William Hutson and Jonathan Snipes, then Diggs joined one year later. The group's first mixtape was titled midcity and it was released in 2013. One year later, they released their follow-up album, CLPPNG, which included tracks like "Work Work" and "Body & Blood," to name a couple. In 2016, they released the EP Wriggle, followed by the album Splendor & Misery. In 2017, clipping. released The Deep, which was nominated for a Hugo Award for Best Dramatic Presentation (Short Form). They also released the single "Stab Him in the Throat" in 2018.
In addition to his work with clipping., Daveed Diggs is also a member of True Neutral Crew alongside Margot Padilla, Brian Kinsman and Signor Benedick the Moor. They released their debut album, soft rules, in 2016. Before that, they released two EPs, #MONSANTO and #POPPUNK in 2013 and 2014, respectively. Furthermore, before his work with either music group, Daveed Diggs made an album called The BAY BOY Mixtape with Rafael Casal in 2010. Casal and Diggs would later work together on the acclaimed 2018 film Blindspotting, but that will be discussed in more detail later on.
Daveed Diggs also founded a hip hop triumvirate The Getback alongside Chinaka Hodge and Casal. In 2012, Daveed Diggs also released his first solo rap album, Small Things to a Giant. If that weren't enough, Diggs is also a member of the freestyle rap group called Freestyle Love Supreme, or FLS, with Thomas Kail and Hamilton's Lin-Manuel Miranda. Daveed Diggs helped with the music for Zootopia, as he made a rap number for the Disney film.
Becoming The Fighting Frenchman
While Daveed Diggs was becoming a prolific rapper in niche circles, it wasn't until he performed in Hamilton that he became a very big deal. The actor appeared in the national tour for Word Becomes Flesh around 2016, and he had frequently performed in regional Shakespeare productions. But in 2012, while Lin-Manuel Miranda was in the early stages of creating Hamilton, the In The Heights actor/writer asked Diggs to read some of the material.
Even during these early stages, Daveed Diggs was reportedly impressed by what Lin-Manuel Miranda had put together. He was inspired by Miranda's passion for the project, as well as the early demos he was sent. But even beyond that, Diggs was impressed by Lin-Manuel Miranda's desire to turn this production into a rap-musical, and it didn't take long before he agreed to become a member of the show.
During the play's initial Off-Broadway production in 2015, Daveed Diggs played both Thomas Jefferson and Marquis de Lafayette, and he also became a member of the show when the production moved to Broadway later that year. His role was wide-acclaimed in an already well-celebrated show, and the actor took home the 2016 Tony Award for Best Featured Actor In A Musical. Furthermore, Daveed Diggs was honored with a Grammy Award, along with the rest of the cast of Hamilton, in 2016.
The actor continued to play the part for a good run, but he stepped down in the summer of 2016 in order to pursue other creative ambitions. His final curtain call took place on July 15th, 2016. From there, Daveed Diggs went on to become an even bigger name than he was already.
Off The Stage, On The Screen
Beyond his stage work, Daveed Diggs has also proven himself as an actor on the screen, both big and small. On television, Daveed Diggs extended his acting talents to Netflix's The Get Down and Unbreakable Kimmy Schmidt, as well as ABC's Black-ish. He had recurring roles on all of these shows. In addition to these television programs, Diggs also worked on the short-lived sitcom The Mayor, where he wrote original music and made a guest star appearance. And this isn't the end of his television career. Diggs is set to make an appearance or two on the upcoming TV adaptation of Snowpiercer.
Meanwhile, when it comes to the movies, Daveed Diggs made his Hollywood debut with a very high-profile film, Zootopia. As mentioned earlier, he helped with the music, specifically the track "Parlez Vous Rap," which he wrote and performed. Diggs then made his first live-action appearance in the 2017 weepy drama, Wonder. He once again returned to the voice booth for a role in Ferdinand, voicing the character of Dos. But his biggest film role would be a very meaningful one for the rising actor. Specifically, because Diggs wrote it with his co-star and past music collaborator, Rafael Casal.
That film, titled Blindspotting, premiered at the Sundance Film Festival to wide acclaim. The musical comedy-drama would find Daved Diggs playing his first lead role in a motion picture, and the actor was celebrated for his scripting duties in addition to his performance. A work of love from the actors and writers, Blindspotting was a personal and heartfelt story about a gentrifying town they lived in. The writing process took over nine years in total.
Daveed Diggs' most recent film performance was in Netflix's Velvet Buzzsaw, which premiered earlier this year to mixed reviews. And that's merely the beginning. At the moment, Daveed Diggs is working on the upcoming Dr. Seuss adaptation, Green Eggs And Ham, where he'll be providing his voice to the role of Mouse. Additionally, Diggs has also lent his voice to other animated projects, including Netflix's BoJack Horseman and Fox's Bob's Burgers.
The future is looking bright for Daveed Diggs, and it's clear that he has been working hard in order to earn his success. It's never easy to make a name for yourself, especially in the entertainment business. But it's clear that Diggs has been an exceptionally talented and versatile performer, and one who has excelled in a number of different mediums, including music, theater, movies and more. We should only expect him to do more great work later on.
For now, however, he's keeping busy with a variety of different things, and we'll continue to keep you posted on his developments right here at CinemaBlend. Because there's no doubt that Daveed Diggs has the potential to expand himself in a major way, both in front and behind the camera. And we should hopefully expect him to do more music work in the future, particularly with his outstanding popularity arriving from Hamilton's success.
I wonder if Daveed Diggs will reprise his roles in the inevitable Hamilton film adaptation that we'll get one day? Even if he doesn't, it's clear he has a lot of different projects in the work, which should keep him very busy and active in a variety of different ways — no matter where his career will go next.
Will is an entertainment writer based in Pittsburgh, PA. His writing can also be found in The Playlist, Cut Print Film, We Got This Covered, The Young Folks, Slate and other outlets. He also co-hosts the weekly film/TV podcast Cinemaholics with Jon Negroni and he likes to think he's a professional Garfield enthusiast.
Your Daily Blend of Entertainment News
Thank you for signing up to CinemaBlend. You will receive a verification email shortly.
There was a problem. Please refresh the page and try again.