Why Kevin Smith Is A Great Choice For Netflix's Masters Of The Universe TV Show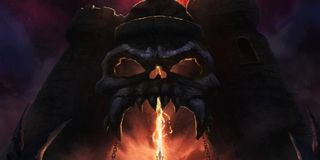 Get excited, fans of 80s nostalgia, because Netflix just made a great decision involving Kevin Smith and Masters of the Universe. For those not in the know, the iconic movie director is bringing his skills to animation and will be the showrunner of what will be a continuation of the original He-Man and the Masters of the Universe.
The series, Masters of the Universe: Revelation, will pick up with many of the characters after the original show's ending, and according to Smith, will chronicle the "final battle" between He-Man and the evil Skeletor. The announcement was met with applause when Kevin Smith was trotted out during Power-Con 2019, although it wouldn't be surprising if there were some afraid that Smith's canon continuation may ruin the series they remember so fondly from their youth.
For anyone worried about that, take my word that if ever there were someone to helm a project like this, Kevin Smith is one of the best people for the job. He's got a track record to back that up, and a love we'll get into that may convince even the most skeptical minds that Smith not only "has the power" to add to this franchise, but elevate it with his upcoming work.
Kevin Smith Takes Source Material Seriously
One of the best things about Kevin Smith and why he's cultivated such a following in the geek community is that his contributions to existing franchises are often very well done. His best-selling graphic novel Batman: Cacophony is a great example of this, and a case in which Smith blended his extensive knowledge of Batman lore and managed to create a unique story that even incorporated some of his original creations for DC Comics.
One of Smith's strongest strengths he has, in my opinion, is his ability to stay true to source material but also adapt and present it in a way that feels fresh and inventive. A great example of that would be many of the episodes he's done for Supergirl and The Flash, both of which featured iconic comic book moments that Smith managed to squeeze into an episode organically. Given one of those examples includes The Flash and a dinosaur, that's pretty damn impressive.
If there's one thing He-Man and the Masters of the Universe fans can expect from this new series, it's that Kevin Smith will approach this continuation with the utmost care. And, if he does happen to expand the lore with a new character or previously unknown plot point, rest assured that he's likely racked his brain about it well in advance and wouldn't have incorporated something that wouldn't fit the lore. At least, he isn't known for that to this point, so one wouldn't think he'd start now.
Kevin Smith Understands Fandoms And Is A Fan
One of the reasons Kevin Smith tends to do so well on the well-known franchises he works on is due to the fact that he himself is a fan. Audiences are probably well aware of this from the way his opinions on popular films tend to get traction in headlines, as do his ideas for franchises. By and large, the general public tends to value Smith's opinion, and he's become a bit of a mouthpiece for the geek community.
In short, he's a longtime fan who often gets the opportunity to work on the very things that he grew up loving. This puts him on both sides of the table, and perhaps more able to empathize and understand what fans want out of a series like Masters of the Universe: Revelation. This is important for a show like this that, in all honesty, is being developed for a niche fandom with possible hopes it'll branch out to a broader audience.
Is the He-Man fandom as large and vast as Marvel and Star Wars? I feel pretty confident in saying no, but putting Smith in a niche like that is almost a better call. Star Wars and Marvel directors have to play to the mainstream, while Smith is very much a guy who likes to make things "for the fans." That's presumably the core of people who will be watching this series on day one, so once again, solid move by Netflix in locking him down.
Kevin Smith Knows A Lot Of Geek Icons, And May Get Them Involved
Successful Hollywood directors are usually well-connected people, and Kevin Smith certainly seems to have the ear of several prominent geek icons. Need evidence? Peep the number of big names and familiar faces that have appeared in his various projects, which are rarely the types of films anyone would categorize as "blockbuster."
Now, of course, it'd probably be best to try to get the original voice cast before doing something like asking someone like the great Dean Cain to voice a character, but celebrity castings are always a great way to bolster attention for a project. Kevin Smith has no shortage of working relationship with people who fans of He-Man would be excited to see involved in this thing. I mean, don't be expecting Ben Affleck or Matt Damon to join up, but he might convince some other talents to hop on board.
One person who would be great to have incorporated in some way is Smith's long-time friend and co-star in many of his projects: Jason Mewes. We're not exactly sure who Mewes could voice in the project, but great things always seem to happen when these two work together in any capacity. Plus, a Mewes role may pull in the Jay and Silent Bob crowd and potentially get Netflix to give Smith even more iconic geeky franchises to helm!
Kevin Smith Says Zack Snyder Cut Of Justice League Is Real, Studio Would Be Silly Not To Release It
Masters of the Universe: Revelations is in development over at Netflix (opens in new tab), so be sure to stick with CinemaBlend in the meantime for updates on its progress and for news on other things happening in the world of television and movies.
Your Daily Blend of Entertainment News
Mick likes good television, but also reality television. He grew up on Star Wars, DC, Marvel, and pro wrestling and loves to discuss and dissect most of it. He's been writing online for over a decade and never dreamed he'd be in the position he is today.