Grey's Anatomy Emmy Winner Jokes Her Co-Star Is To Blame For Her Firing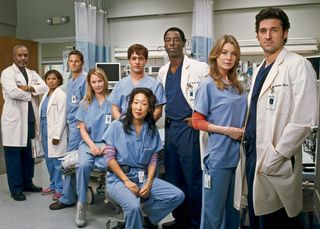 With a show that's been on the air as long as Grey's Anatomy, there are bound to be a plethora of character casualties. One of the more notable and unexpected deaths happened when Loretta Devine's character, Adele Webber, died from a heart attack right after the actress received an Emmy Award for her guest-starring role. Though it's been years since Adele's death in Season 9, Devine recently revealed that she knows exactly the reason behind why her character was killed off. Allegedly it has everything to do with her co-star, Debbie Allen.
Loretta Devine began her Grey's Anatomy tenure back in Season 2. Adele was the wife of Dr. Richard Webber and Alzheimer's was a consistent struggle for her throughout the series, though their marriage was often a point of contention as well. Debbie Allen's Dr. Avery was introduced as a love interest for Richard not long before Adele's eventual demise. Appearing on Couch Surfing, Devine jokes that the Alzheimer's was greater than her Emmy win.
However, Devine suggests that it wasn't the heart attack or the Alzheimer's that left her out of a job, but Debbie Allen swooping in and setting her sights on Devine's fictional husband. Adele was a recurring character for several seasons prior to Allen joining the cast, but it wasn't long after Adele's death that Debbie Allen's Dr. Avery became entangled in a romantic relationship with Adele's husband, Richard.
Though Debbie Allen and Loretta Devine are real-life friends and have worked together on several occasions, Devine jokingly cites Allen's arrival on the show as the reason Devine's character didn't make it out alive.
Loretta Devine has since gone on to star in The Carmichael Show, Supernatural and, most recently, in Netflix's Family Reunion alongside Tia Mowry-Hardrict, so perhaps the loss of Adele stings a little less after so many years. Loretta Devine is known for being funny, so it's clear there is no bad blood between her and Debbie Allen.
Heading into Season 16, Grey's Anatomy is still enjoying a flourishing primetime career. It seems Loretta Devine is booked and busy, but that doesn't mean she could never make her way back to the series. After all, Jeffrey Dean Morgan famously played a ghost on the show, so the possibility of Adele returning to haunt Dr. Avery would make for an interesting twist.
Grey's Anatomy will return -- and likely shake things up with some deaths once more -- on Thursday, September 26 at 8 p.m. ET. Take a look at what else is coming with our full schedule.
Your Daily Blend of Entertainment News