Why Big Little Lies Costs Just As Much As Game Of Thrones Per Episode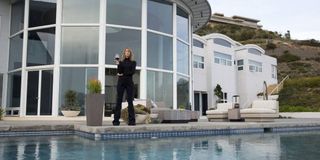 Beyond the fact that they're both on HBO, you'd think that the operatic white collar mystery-drama Big Little Lies and the high courts fantasy drama Game of Thrones would share few similarities. Especially when it comes to their budgets. Yet, would you believe that both shows have the same, very expensive budgets per episode? According to a new study, it would appear that both Big Little Lies and the recently-concluded Game of Thrones cost the same to produce per episode. Because let's face it, it's not cheap to get Meryl Streep, Reese Witherspoon and Nicole Kidman all together. Those dragons don't have three Oscars!
All joking aside, how did this happen? How is it possible that Big Little Lies, which is a very grounded, naturalistic show with realistic settings, intimate human interactions and placed primarily in the households of its central characters, could cost as much as the fantastical, high-stakes world we see in Game of Thrones? Even taking the A-list stars into account, one would think that Game of Thrones would still cost way more than any given episode of Big Little Lies. Alas, the numbers provided by Onward suggest otherwise. And they provide a few more surprising factoids about how to make TV.
How Much Does It Cost To Make A Season Of Game Of Thrones And Big Little Lies?
Television isn't necessarily cheap. While TV shows don't often cost the same high rates as some big screen movies, it cost a lot of money to make upwards of eight to ten hours of television. Sometimes more, sometimes less, obviously. Sure enough, Game of Thrones is certainly a very expensive show to make, with the study posted above claiming that the average episode costs £11.8 million per episode, which is roughly $14.5 million. While it is not surprising that the show costs that much per episode (if anything, some people might expect it to cost more than that), it is surprising to know that the budget of Big Little Lies per episode is nearly the same. How does it mathematically make sense that the two shows cost roughly the same?
So where does all the money go? We know Renata Klein (Laura Dern) will not be poor. But surely, there must be an explanation for how much money goes into this relatively low-scale series. Indeed, it appears that the explanation is a relatively easy one: Nicole Kidman, Reese Witherspoon and Meryl Streep, along with the other lead stars, aren't cheap talent. When it came time to shoot a second season, their contracts asked for far higher salaries.
How Much Did Reese Witherspoon and Nicole Kidman Want Per Episode For Big Little Lies Season Two?
According to a report from Vulture, Nicole Kidman and Reese Witherspoon each reportedly requested to make one million each per episode. This is a very high demand, as you would expect, but it's also understandable that they'd want more money with the additional season. Originally, these stars made $250,000 to $350,000 per episode during season one, but that original contract was back when Big Little Lies wasn't planning to have a second season. Based on the popularity of season one, it became clear that season two was going to be a much bigger deal, and Witherspoon, in particular, was allegedly hoping for more money. She reportedly received her spike thanks in part to the forthcoming new Apple series, The Morning Show, which also stars Jennifer Aniston.
On The Morning Show, Reese Witherspoon and Jennifer Aniston are reportedly making $1.25 million per episode. That's a whole lot of cash, and the new contract for Big Little Lies season two reflected that pay increase. And naturally, if one star is going to make a million an episode, everyone wants more money. Nicole Kidman, similarly, found herself in the million-per-episode club, while Zoe Kravitz, Shailene Woodley and, presumably, Laura Dern (at least, hopefully, because she's amazing on the show) also earned a "sizable" raise in their contracts. Add up the paychecks, and that's big money.
How Much Did Meryl Streep Make For Big Little Lies Season Two?
Certainly the biggest change between season one and two (besides the obviously decreased role of Alexander Skarsgard) was the introduction of the great Meryl Streep, playing the role of Mary Louise Wright, the mother of Skarsgard's character. Even in today's Peak Television ™ era, it was a huge deal to get Meryl Streep for a television series. She's not an easy get, to say the least, and there was no question that HBO would cough up a lot of dough to get the actress on their side, especially for a commitment as big as a whole season of TV. Therefore, Streep's paycheck was no big surprise.
According to The Cheat Sheet, Meryl Streep reportedly made about $800,000 per episode. While that isn't quite as steep as one million, it's worth noting that Nicole Kidman and Reese Witherspoon were also producers on Big Little Lies, and therefore that extra duty was accounted into their cost.
The Houses On Big Little Lies Cost A Pretty Penny!
The numbers as far as shooting locations on Big Little Lies aren't entirely clear, as there are no publicly announced costs when it comes to the budget required to shoot in these fancy places, but it's apparent from their asking prices (compiled by TV Over Mind) for these lavish and lovely homes that production costs were likely high. For instance, Madeline (Reese Witherspoon) and Ed Mackenzie's (Adam Scott) abode cost $14.8 million. Celeste (Nicole Kidman) and Perry Wright's (Alexander Skarsgard) lakeside house cost $6 million. The absolutely gorgeous, picturesque house owned by Renata (Laura Dern) and Gordon Klein (Jeffrey Nordling) cost a whopping $12.4 million. These are very rich people; they live in expensive places.
Therefore, it's easy to see why these very gorgeous places might cost a lot of money to shoot in, even for a limited amount of time. Getting them all again for season two, when the asking prices were almost certainly higher after television exposure, was probably even harder, and more costly too. It is hard to know without the exact numbers what it cost to get the houses again for filming, but it's clearly something that cost more than a great deal.
With that in mind, not to mention all the other expenses that go into making Big Little Lies season two, it makes more sense why this second season was so damn costly. So, to sum up, you can spend your production budget on dragons or the Monterey 5. Was it worth the investment? Well, let us know below.
Your Daily Blend of Entertainment News
Will is an entertainment writer based in Pittsburgh, PA. His writing can also be found in The Playlist, Cut Print Film, We Got This Covered, The Young Folks, Slate and other outlets. He also co-hosts the weekly film/TV podcast Cinemaholics with Jon Negroni and he likes to think he's a professional Garfield enthusiast.
Your Daily Blend of Entertainment News
Thank you for signing up to CinemaBlend. You will receive a verification email shortly.
There was a problem. Please refresh the page and try again.