Why The Actor Playing Superman On Supergirl Avoided All The Other TV Portrayals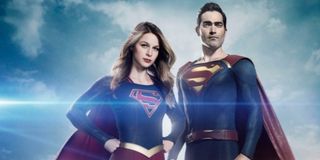 When an actor takes on an iconic role like Superman, there are large boots to fill, especially when the role has been previously played by several other actors. Supergirl actor Tyler Hoechlin was definitely feeling the heat when it came to stepping into Superman's boots for the first time. Though it's astonishing that Hoechlin managed to have never seen other Superman portrayals, the actor recently admitted to maintaining a safe distance from anything involving the good-natured hero for fear of imitating other actors.
Tyler Hoechlin, who first appeared in Supergirl's Season 2 premiere, "The Adventures of Supergirl," appeared at Fan Expo Canada over the weekend, greeting fans and speaking at a panel. Hoechlin (via ComicBook) brought up the fact that he'd kept minimal contact with other Superman properties for a reason.
Since his debut as the Arrow-verse's version of Clark Kent, it's safe to say that Tyler Hoechlin's done a fantastic job portraying the Man of Steel. Now that it's been a few years since being cast and he's more comfortable in the role, the actor isn't against going back to watch other actors portrayals of Superman, especially that of Christopher Reeve.
Hoechlin will be reprising his role as Superman in what's sure to be the Arrow-verse's most epic crossover yet, "Crisis on Infinite Earths," but the actor will have some competition. It was announced at San Diego Comic-Con that Legends of Tomorrow actor Brandon Routh will not only play Ray Palmer/the Atom, but he'll also be taking on the role of Kingdom Come Superman in this year's crossover. This Superman is an alternate version of the character, one who is immune to Kryptonite and hails from Earth-22.
The idea of Hoechlin's version of the Man of Steel having to battle Routh, who played the iconic character in Superman Returns, will be fun to watch. Tyler Hoechlin will return to the Arrow-verse when "Crisis on Infinite Earths" kicks off in December with a five-episode crossover. Elizabeth "Bitsie" Tulloch will also be reprising her role as Lois Lane, who first appeared in last year's crossover, "Elseworlds."
Supergirl Season 5 premieres Sunday, October 6 at 9/8c on the CW. For all your TV needs this fall, make sure to check out our full schedule of shows.
Your Daily Blend of Entertainment News