We Finally Know When Jack Ryan Season 2 Is Going To Premiere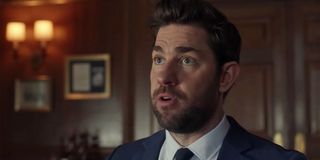 Jack Ryan, aka the show I like to think of as John Krasinski Jacked, actually was renewed for Season 2 before Season 1 had even premiered. I know, that's crazy high trust in a brand new streaming series. However, while an early renewal is probably super cool on the creative end, it also means we have been waiting, and waiting, and waiting for a Season 2 announcement. Well kids, it's finally here!
Amazon announced today that Jack Ryan Season 2 will be back—and before the end of 2019 even. The new season is hitting the schedule – globally I might add – starting on November 1 of this year.
Even better news is the fact we finally know a little bit more about what's coming in Season 2. Per Amazon, Jack Ryan Season 2 will pick up with our titular hero tracking a suspicious package in Venezuela. In the first look trailer for Season 2, Jack Ryan talks about how Venezuela is the single biggest threat on the world stage before we get to see more clips regarding what's going down in the South American country.
But don't take it from me, you can see more with the Jack Ryan Season 2 trailer below.
Power, politics and Russia all come into play, as does Jack Ryan seeing his body beat up thanks to an explosion near a vehicle he happens to be in. Ryan went through a lot of physical tribulations in Season 1 too. Wendell Pierce also comes into play a few times in the trailer, which is great because their witty banter and serious talks are some of my favorite parts of the show.
In fact, given the promotions at the end of last season, I wasn't sure how the Greer/Ryan partnership would work out, but it seems to be coming along nicely here and I'm really glad they brought Wendell Pierce back because he makes most TV shows he joins even brighter.
There seems to be some sort of maybe-femme fatale in the clips, and Abbie Cornish's likable Cathy Mueller is nowhere to be found, at least in this early look. The actress is set to be in Secret Bridesmaids Business for TV this year and her character was pretty furious with Jack Ryan about his secrets when stuff came to a head in Season 1. Regardless, given Mueller's importance in Tom Clancy's book series, I suppose we'll have to wait and see how Ryan's romantic storyline ultimately plays out in Season 2.
Related: Stats Show Jack Ryan Is The Huge Hit Amazon Has Been Hoping For
Ultimately, Jack Ryan Season 1 dropped in August of last year, which means it's been over a year since we've gotten new episodes of the series. Although there are plenty of pros, that's one drawback of streaming. Unlike regular television, which keeps people invested through a tight schedule every year, streaming plays it fast and loose. Sometimes it can be well over a year between seasons.
I suppose in this case, we should just be grateful we're getting new episodes this year and not having to wait until 2020 for them to drop.
In the meantime, on the bright side, Amazon (opens in new tab) seems to love Jack Ryan and has already renewed the show for Season 3, which will come, you know, at some point.
Your Daily Blend of Entertainment News
Reality TV fan with a pinch of Disney fairy dust thrown in. Theme park junkie. If you've created a rom-com I've probably watched it.
Your Daily Blend of Entertainment News
Thank you for signing up to CinemaBlend. You will receive a verification email shortly.
There was a problem. Please refresh the page and try again.