James Corden Addresses Bill Maher's Fat Shaming Commentary In Emotional Address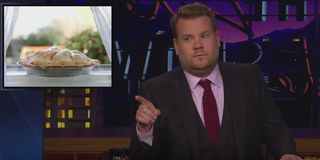 It was about a week ago when Bill Maher took to HBO to talk about the obesity epidemic in America, choosing to take the tact that fat shaming should make a comeback. It was a big news story at the time the episode of Real Time with Bill Maher aired, so much so that late night host James Corden even noticed, and eventually decided to address the commentary.
Speaking on The Late Late Show with James Corden, the host, comedian, and upcoming Cats actor expressed his thoughts about Bill Maher's criticism of fat people, noting that he, like a lot of overweight people, understands that being fat is not good for your health. Regardless, he still "struggles" with maintaining the right weight, openly noting: "I suck at it."
But he says he feels that's exactly why he needed to address the fat shaming commentary, noting,
Hollywood has a tendency to buoy up people who are fit, not flabby and who spend hours at the gym or in the kitchen counting calories and watching their physique. But there are some people, like James Corden, who have managed to become famous despite not looking as if they should be featured on a Wheaties box.
James Corden has a late night platform that reaches millions of people and this week he decided to use that platform to highlight the fact he feels that Bill Maher's "tough love," no matter how well intended, is not going to help him or the millions of other people struggling with their weight.
James Corden revealed he was surprised to learn that Bill Maher thought fat shaming needed to make a comeback, given he believes it's a thing that never went away.
The full clip from The Late Late Show with James Corden is a lengthy one, but it covers some of the comments Bill Maher made on his own HBO show Real Time with Bill Maher, as well as Corden's own reactions to them. He even includes some funny jokes about how his career trajectory has been really similar to Bill Maher's so they have a lot in common – just not the weight struggle stuff.
Late night monologues are often both joke-filled and topical, but it's a much rarer situation when hosts like James Corden, Jimmy Fallon, Stephen Colbert, Jimmy Kimmel, or Seth Meyers get super personal about their thoughts or feelings. Of course, we've seen this before, for example when Jimmy Kimmel opened up about his young son's health struggles or Jimmy Fallon's accident that nearly led to a finger amputation.
We very rarely see late night hosts in a position of vulnerability or relatability, but that's exactly what happened with James Corden this week. New episodes of The Late Late Show with James Corden air weeknights on CBS.
Your Daily Blend of Entertainment News
Reality TV fan with a pinch of Disney fairy dust thrown in. Theme park junkie. If you've created a rom-com I've probably watched it.
Your Daily Blend of Entertainment News
Thank you for signing up to CinemaBlend. You will receive a verification email shortly.
There was a problem. Please refresh the page and try again.