Watch Jimmy Fallon Explain His Disgusting Finger Injury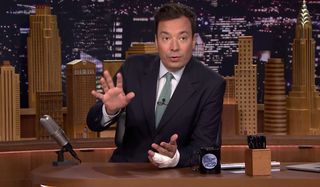 The Tonight Show Starring Jimmy Fallon was on hiatus for a couple of weeks, and when Fallon popped back up on that NBC stage, he did so with a bit less spring in his step than usual, likely due to a pretty ouchy-looking injury on his left hand. Sporting a pretty intense bandage, Fallon took a little time to explain his horrible finger injury and the fact that he was close to needing an amputation, below.
An accident was the cause behind the finger injury. Fallon says he was chilling at his house and walking over this braided rug his wife is obsessed with when he tripped. He looked up and his finger was literally sideways. Here's what he says the injury looked like, if you can imagine that sort of imagery:
So, Fallon thought at the time that his finger was broken and headed to the emergency room, where doctors explained the serious nature of the injury. Fallon didn't just break his finger, he actually had ring avulsion, a much more serious condition. Apparently, when he fell his ring got caught on the counter and ripped his finger off. It sounds disgusting and it got worse; Fallon says the doctor told him that most people with ring avulsion end up losing their finger because it cannot be saved. But in Fallon's case, it seems to have worked out. He went under for a lengthy surgery, spent 10 days in the ICU and won't even begin to feel his stitched up appendage for eight weeks, but he'll get to keep his finger.
In the segment, the late night host also talks about sitting around in recovery and feeling that an injury—even an injury as serious as ring avulsion—shouldn't sideline him. So, when he appeared on The Tonight Show for Monday's episode, he really felt like he needed to use the opportunity to thank the hospital staff and say super nice things about the medical profession, which he did.
On The Tonight Show, Fallon is frequently known for his fun games with celebrities and other amusing viral moments that end up all over the internet in the days following the initial broadcast. However, sometimes when the man is at his best, he's actually just sitting onstage, telling an amusing anecdotal story with serious components. He did this in the episode following NBC's now-famed SNL 40 special, and he did it again last night.
It's always rough when a celebrity gets injured, but it's good to see that Jimmy Fallon is back on the late night circuit, finger intact. You can catch new episodes of The Tonight Show Starring Jimmy Fallon on weeknights at 11:35 p.m. ET.
Your Daily Blend of Entertainment News
Reality TV fan with a pinch of Disney fairy dust thrown in. Theme park junkie. If you've created a rom-com I've probably watched it.