Jon Favreau Wants To Give Star Wars Fans The Best Christmas Gift Ever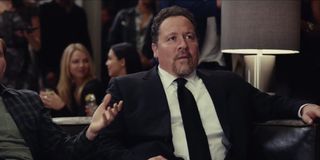 Jon Favreau can now add series showrunner to his resume. The actor-turned-director has been a staple in the Marvel Cinematic Universe since Iron Man and has directed The Jungle Book and The Lion King live-action adaptations for Disney. Now that he's headed into Star Wars territory with the Disney+ series The Mandalorian, Favreau is not against doing a Star Wars holiday special. He expressed his interest while at the Saturn Awards last week and is rallying fans to pitch Disney+ with their interest.
During an interview with Entertainment Tonight, Jon Favreau revealed that he was the one to bring up the holiday special idea to Star Wars producer and director David Filoni. Favreau greatly admires the special, admitting that he drew inspiration from the old Boba Fett cartoon holiday special that aired back in 1978.
Considering Favreau's work with all things Disney over the last decade, it wouldn't be beyond the realm of possibility for an eventual holiday special to be made. Now that it's been mentioned in an interview, Star Wars fans can come together and help turn the possibility into a reality.
The Mandalorian has already been renewed for a Season 2 before a single episode of Season 1 has aired, so it's clear that Disney is confident that the series will do well. The show is set five years after the events of Star Wars: The Return of the Jedi and will follow the story of a lone Mandalorian bounty hunter, played by Pedro Pascal. Gina Carano is set to play Cara Dune, a mercenary who had previously sided with the Rebellion prior to the fall of the Galactic Empire. The series also stars Giancarlo Esposito, Nick Nolte, and Thor: Ragnarok director Taika Waititi.
In the same interview, Jon Favreau expressed his excitement in working on the Star Wars series and how he collaborated with the producers to bring their vision and his style to the show. He believes the fans will like what they've brought to The Mandalorian.
You can watch Jon Favreau's full interview below.
The Mandalorian will be available to stream on Tuesday, November 12 on Disney+, which is the same day the streaming service is set to launch. The series will follow a weekly episodic format instead of the binge strategy that Netflix is famous for. To see what else is premiering this Fall, be sure to check out our complete guide of new and returning shows.
Your Daily Blend of Entertainment News
Your Daily Blend of Entertainment News
Thank you for signing up to CinemaBlend. You will receive a verification email shortly.
There was a problem. Please refresh the page and try again.