How Carnival Row Makes Its Fae Wings Look So Real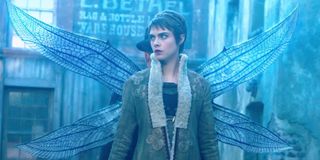 Some spoilers ahead for Season 1 of Carnival Row**.**
Carnival Row (which had a big presence at San Diego Comic-Con earlier this year) not only paralleled several of its plot-lines to reality, but it did the same for its props and special effects as well. It's a testament to how much the Amazon Prime series wanted to set itself apart that it often blurred the lines between fiction and reality. Even when it came to creating the fae's beautiful wings, VFX supervisor Betsy Paterson wanted it to look as authentic as possible.
Season 1 follows Orlando Bloom's Rycroft Philostrate and Cara Delevingne's Vignette Stonemoss, star-crossed lovers who come from different sides of the track. Rycroft, who's referred to as "Philo," is a detective who later discovers he's half-human and half-fae, while Vignette is a fae and former librarian-turned-fighter in the war between the humans and the fae folk. It's an exceptionally multidimensional world with a built-in mythology that combines fantasy with realistic sociopolitical content.
To ensure Carnival Row looked just as realistic as the subjects it was tackling, Betsy Paterson worked a lot on the aesthetics of the wings. Speaking with SYFY WIRE, Paterson discussed the details of her job, how she and her team worked on creating the CG wings, and how they specifically used a "hybrid solution" to give the wings both a magical and practical look. She explained:
The wings appear all throughout Season 1 as the fae fly above and throughout the Victorian-style fantasy world. The final product, a display of intricate beauty and a symbol of freedom for the fairies, truly exemplifies just how much effort and hard work was put into making even the smallest details work onscreen. The combination of the CG and practical effects work very well and lend credibility to the gritty world of Carnival Row.
Additionally, it wasn't that long ago that actress Cara Delevingne revealed that she had to wear corsets onset everyday while working on the series. She admitted they were painful and that she couldn't breathe, which circles back to the series' use of realism in every aspect of the show.
Carnival Row Season 1 is currently available to stream on Amazon Prime and has also been renewed for Season 2. Are you looking for a new show to watch? Fall TV is almost here, so make sure to read through our complete list of new and returning shows to find out when your favorite series premiere.
Your Daily Blend of Entertainment News
Your Daily Blend of Entertainment News
Thank you for signing up to CinemaBlend. You will receive a verification email shortly.
There was a problem. Please refresh the page and try again.