Is Dancing With The Stars 2019 Voting Unfair? New Format Change May Or May Not Help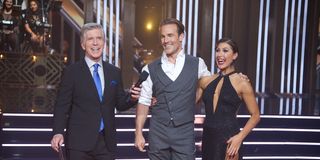 Since the premiere of ABC's wildly popular Dancing with the Stars, not much has changed in the reality dance competition's format. Sure, the costumes have gotten glitzier and the dance rules have been tweaked, but fans have always been able to count on the voting staying exactly the same. However, after twenty eight seasons, Dancing with the Stars is changing the way votes are counted, but a new format change might prove helpful.
Dancing with the Stars has been an ABC staple since debuting in June 2005. Currently hosted by Tom Bergeron and Erin Andrews (a former Dancing with the Stars competitor), the series didn't return for a new season in the spring, primarily because the show was getting a few upgrades. One of the biggest changes included a whole new voting system that fans weren't thrilled about. However, the show is once again introducing a new change that may or may not help with the voting predicament.
According to ABC's most recent press release, "a big format change in voting will change everything and will be revealed during the broadcast" of the show on Monday, September 23. Could this be in response to Dancing with the Stars' drastic voting changes for the 2019 season? It's possible. Fans are speculating that the "format change" means that the judges will now have their votes counted in addition to fan votes. While that might provide some semblance of balance and a better outcome for the show's contestants, it still wouldn't change the new and unfair voting rules.
Prior to the change, fans were able to call in to vote for their favorite dancer both during the live telecast and after the show wrapped. That way, every fan could fairly vote for their choice pairing no matter what time zone they were in. However, fans will now only be able to put in their votes while the show is airing between 8 p.m. and 10 p.m. ET.
While every fan across the U.S. will still get a chance to vote, audiences in Pacific and Mountain time zones won't be able to see the actual performances prior to calling in. They'll only be able to cast their votes based on the previous week's routines, which is strange change considering how much the series has come to rely on audience participation.
If that doesn't sound fair, that's because it isn't, and several fans are upset about this change. When they asked for the updates to be made to the show, this was probably not what they expected. After all, it is a competition show and how can eliminations be counted fairly if Dancing with the Stars alienates a large amount of their fans? Fans will have to wait until Monday to find out what the format change entails, but Season 28 has already started off on the wrong foot.
Dancing with the Stars Season 28 airs Mondays at 8 p.m. ET on ABC. For more of Fall TV's premiere dates, be sure to check out our detailed guide to all new and returning shows.
Your Daily Blend of Entertainment News